By: Michael Cooney



How do you measure performance? Is it straight line acceleration? Top speed? Mere numbers often fail to tell the whole story. And where does "fun" fit into the equation?

Nissan's Sentra Spec V is the performance version of the Sentra econo-sedan. While the Spec V may not have blistering acceleration or a 350Z's top speed, it happens to be tremendously fun to drive.

The reason it's fun is because the Spec V is a genuinely well balanced performance sedan. Sentras come with a choice of 140, 177 and 200 horsepower engines. The Spec V comes with the 2.5L 200 horsepower 4-cylinder engine and 6-speed stick. Acceleration is satisfyingly quick.

The Spec V also has sharp handling, with capabilities high enough so that most drivers will find plenty of room to grow in their quest for honing their performance driving skills. And for me at least, the driving position with it's very comfortable 6-way adjustable driver's seat and tilt wheel was absolute perfection. Can you tell I enjoyed driving this car?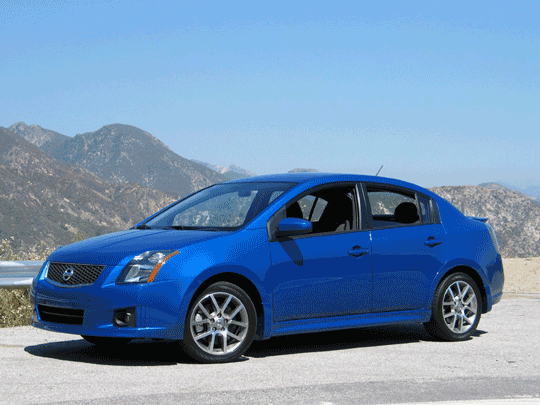 On winding mountain roads, cornering was precise and sure-footed. The limiting factor was its tires, which are good but not great. If you want even greater cornering forces you can just mount stickier tires; the suspension seems up for it.

The Spec V also exhibited a low level of wind noise and just moderate road noise, making for relaxing freeway trips. The only real nit to pick is that the combination of a wide A-pillar (framing the windshield) and outside mirror attachment point creates a substantial blind spot in the forward-left area of your view ahead.

On the opposing end of Nissan's economy car range is the Versa. It's mission in life is quite different, and it completes it well. As a 4-door with hatchback, and 1.8L 122 horsepower 4-cylinder engine mated to a CVT automatic trans, the Versa is a practical and thrifty "do-it-all" kind of car.

Fold the rear seats down and you have a reasonably large cargo area. For a small car it was surprisingly comfortable on the road. My business partner Paul and I took it for an 800-mile round trip to a trade show, and its front seats did an admirable job of keeping us content the whole way, hour after hour.

With it's soft suspension and narrow all-season tires, the Versa trades handling for comfort. It has more body lean, and tires squeal early and often when pushed around tight curves. All to let you know you are running up against its limits and it's better to just relax and take it easy.

Adding to the Versa's comfort quotient was good rear seat legroom. Interior materials were pleasing to the eye and the upholstery had a nice feel to it.

ABS brakes are standard on Sentras but optional on the Versa, and highly recommended for Versa buyers.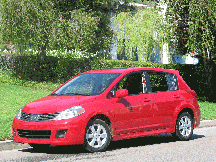 The Sentra Spec V is EPA-rated at 21-city, 29-highway MPG. In my week of driving I got a commendable 28.3 MPG. It's sticker came to $21,510 including destination charges and options including limited slip differential for you racers out there.

The Versa is EPA-rated at 27-city, 33-highway MPG. On the 800 miles we racked up, we stayed away from freeways as much as possible to enjoy country roads, which no doubt used more gas. Even so, we averaged a great 31.8 mpg. It's sticker totaled $19,055 which included $3,400 in options plus destination charges.

Depending on your needs, these mission-specific Nissans did their jobs commendably well, and are worth a close look. The Versa is a practical runabout that is comfortable, economical and carries a fair amount of cargo. The Sentra model's top-dog Spec V is great if you're seeking a truly fun, sporty yet economical performance sedan.