By: Michael Cooney



Everywhere you look you see Ford SUVs—they've sold millions of them. In these times of high fuel prices, it's fitting to cast our focus on the good old American sedan. In this case, two from Ford Motor Company, sporting attractive designs and economical 4-cylinder engines.

The Milan is a midsize front wheel drive sedan, and is Mercury's entry level car. It's an upscale version of the Ford Fusion. Tastefully styled inside and out, the Milan has a lot going for it. You can choose between 4- and 6-cylinder engines. The Six comes standard with a 6-speed automatic. My 4-cylinder 160 horsepower test unit had the optional 5-speed auto; a 5-speed stick is standard with the smaller engine.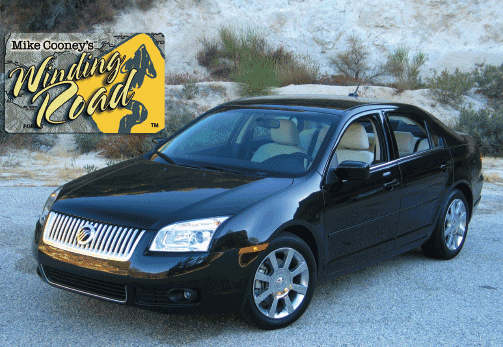 Inside, the Milan's interior is quite attractive, with very comfortable seats front and rear, and spacious rear legroom. This example had the Voga Package which included perforated leather seating, additional trim items plus special wheels. I liked the white needles on warm green instrument lighting. Attractive and classy. The gauges were clear and easy to read at a glance, night or day.

Both Milan and Focus came with Ford's Sync system. In partnership with Microsoft, it gives you a hands-free link to your MP3 player and cell phone by using voice commands. It even syncs up with your cell phone's address book and more. Very cool.

Comparing the Milan's two engines equipped with automatics, the 4-cylinder is rated two MPG higher in both city and highway use. The 6-cylinder's extra 61 horsepower (221) is the way to go if you need the extra oomph, but you'll pay roughly a $2,400 premium. I found the 4-cylinder engine to be peppy and just fine.

It's not as smooth sounding, and requires a bit more planning when passing others on a two-lane road. If those don't concern you, get the four and you'll save on the initial cost and also each time you fill 'er up.

Driving the Milan is a pleasure. The ride is very comfortable. Even so, it handles the curves quite well. There is some body lean, but the engineers did a great job of hitting a good compromise between ride and handling. If you're willing to push the tires to their limits, you can hustle along a mountain road quickly while maintaining good control. I had no complaints there.

Ford's small sedan, Focus, was restyled for 2008 and its new design moves away from shouting "economy car" like the old one did. It looks like someone took a midlevel sedan and just shrunk it a bit. A 2- door coupe version is also available.

The interior is nicely finished. Materials are entry level but manage to come across as pleasing to the eye and touch. My unit was the top level SES, with firmer suspension and optional leather seating for $695. Room up front is generous; in the back just adequate.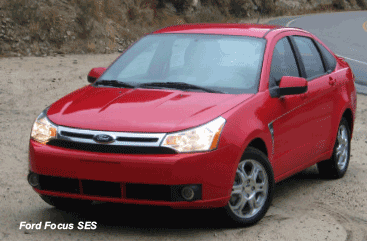 The optional audiophile sound system is nice, but open the trunk before you buy it. A speaker enclosure there takes up a lot of space.

With a 2.0L 4-cylinder 140 horsepower engine and optional 4-speed automatic, acceleration is peppy and should please most owners. Handling is good, with little body roll and decent cornering limits. One must-have option is the ABS brakes and traction control combo for $385.

Mercury's Milan Premier 4-cylinder is EPA-rated at 20-city, 28-highway MPG. It gave me a noteworthy 25.2-MPG in my usual city, freeway and mountain driving.
It's sticker came to $27,265 including destination and over $4,000 in options. The Ford Focus automatic is EPA-rated at 24-city, 33-highway MPG. I was pleased with the 30.6 MPG I got. This Focus SES was priced at $20,085 including destination and about $2,000 in options.

Both cars were enjoyable to drive. The Milan won me over with it's good fuel economy, upscale looks, comfort, and good handling. The Focus, especially in silver or black, is a handsome economical car that really saves on gas. Here are two good choices for value-minded drivers.