By: Larry J. Kosmont



The 14th annual Kosmont-Rose Institute Cost of Doing Business Survey has been released by the Rose Institute of State & Local Government at Claremont McKenna College. The Survey reports that California cities are more competitive than in the last few years; however, costs for businesses remain high.

According to the President & CEO of Kosmont Companies, Larry Kosmont, "California and many of its cities have been expensive for a long time, but some have tried to compensate with aggressive economic development and redevelopment programs. In this difficult economy, the State deficit is now the largest in history. Grappling with substantial cost increases in gas, health care and overly robust pension plans, local cities are stepping on their rates hike gas pedal. They are upping local fees or going directly to the voters to ask for a bailout in the form of increased taxes. The truth is most cities have little choice, but businesses can choose where they operate."

Los Angeles County Highlights for 2008:
• Of the 71 cities surveyed in Los Angeles County, less than one third (21 cities) have Cost Ratings in the lowest two brackets; with only 7 cities in the lowest bracket.
• Thirteen Los Angeles County cities are in the Average Cost bracket; 20 cities are in the High Cost bracket; and 17 cities are in the Highest Cost bracket.
• The ten least expensive cities in Los Angeles County in 2008 (in alphabetical order) are: Agoura Hills; Bell Gardens; Cerritos; Diamond Bar; La Puente; Lancaster; Santa Clarita; Signal Hill; Walnut; and Westlake Village.
• The ten most expensive cities in Los Angeles County in 2008 (in alphabetical order) are: Bell; Beverly Hills; Compton; Culver City; El Segundo; Inglewood; Los Angeles; Manhattan Beach; Pomona; and Santa Monica.
El Segundo, despite its unenviable position in the Survey from its high numerical costs, has managed to overcome an otherwise expensive regional climate and compensate with incentives and an amicable "hands-on" approach to business.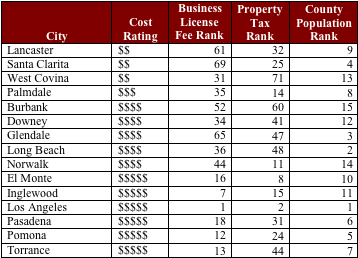 The Survey as a "Tie-Breaker"
The 2008 Kosmont-Rose Institute Cost of Doing Business Survey uses a proprietary basket of costs approach to compare government fees as determinants of what drives businesses' location choices. The Survey objectively compares 402 cities nationwide based on the array of taxes and fees cities impose on businesses and significantly affect business interests such as sales, utility, income, property, and business taxes.

According to the Survey's founder, Larry Kosmont of Los Angeles-based Kosmont Companies, the Survey is best used as a "tie-breaker" for companies that are contemplating a move or an expansion and have already determined the best mix of factors important to them such as the quality of the labor force, the cost of housing, and the proximity to their suppliers and customers. The Survey is an opportunity for these companies to narrow their short list of cities by comparing the "hard" numbers and ultimately make a comprehensive and strategic decision to remain, expand, or relocate.
A Culture of Disincentives in Los Angeles
Despite the reductions in business taxes that LA has implemented over the past three years, Los Angeles remains bogged down by red tape and indifference to business. In 2008, the City is saddled by too many departments who participate in real estate approvals, council districts that are land use fiefdoms, and are largely populated by no-growth neighborhoods with increasing political clout. The City will have trouble wooing back business using further business tax reductions. Given the City's 400 million dollar budget crises, further reductions seem unlikely.

Big business has continued to be thwarted from taking root or expanding in the City of Los Angeles. Most of the metro area's Fortune 500 companies reside just outside the city limits and take full advantage of the regional market, suppliers, and labor pool. Since the City's name is often used with geographic ambiguity, companies commonly claim an LA Office while never paying into City coffers.

That leaves smaller firms as the best hope for a rebirth of business in Los Angeles, but the new economy of smaller entrepreneurial businesses is LA's version of the proverbial golden goose. Once a business hits a certain volume, the sector is disproportionately burdened with taxes and fees that are scaled for larger enterprises. In the past decade, Latino- and Asian-owned small business comprised the fastest growing segments of entrepreneurs. Ironically, LA's complex project approval processes and comparatively expensive business tax frequently end up worsening conditions for minorities and immigrants - the City's labor and constituent base.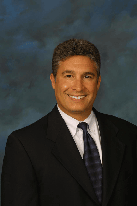 Ordering Information: The 2008 Edition is available for purchase by individual city profiles or in its entirety on CD. The entire report is available and includes the 402 city profiles, the executive summary, the cost comparison index, and an index of taxes by state. The survey is published by The Rose Institute of State & Local Government at Claremont McKenna College. Data customized for your community is available on request. Contact the Rose Institute at (909) 621-8159, or via e-mail at: TaxSurvey@claremontmckenna.edu Additional Lists and Maps are also available from the Rose Institute. Larry J. Kosmont, CRE, President & CEO
Kosmont Companies/Renaissance Community Fund16501 Ventura Blvd., Suite 511
Encino, CA 91436 Tel: (818) 536-5026 Fax: (818) 981-8588
lkosmont@kosmont.com www.kosmont.com,www.rcf-development.com