By: Michael Cooney



While GM's Cadillac CTS and Chevrolet Malibu are aimed at different markets, they share two things in common: they're all new for 2008, and they're both winners. Besides accolades galore, the CTS is Motor Trend's Car of the Year, while the Malibu is North American Car of the Year. And deservedly so.

When you're gunning for competitors such as the Audi A4, BMW 530i, Mercedes Benz C-Class and Lexus GS, nothing less than an all-out effort will suffice. Cadillac stepped up to the plate and produced a sedan competitive with every car on the list.

This year, a wider track, pronounced fender flairs and sharp-edged lines combine for a more aggressive exterior design and somewhat menacing stance. It's a beauty.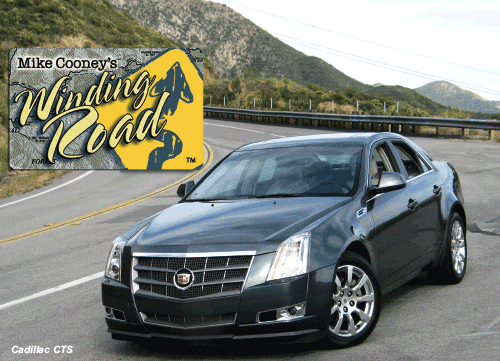 Stylistic upgrades continue inside, where you'll find a fine melding of sport and luxury. Leather, vinyl, wood and metal work together in harmony to coddle you in luxurious surroundings. The highly adjustable, supportive and well-bolstered bucket seats hold you in place on those tightly winding roads the CTS lives for. A tilt-tele steering wheel adds to the secure feeling.

Two engine choices are available for this rear-drive sedan. Standard is a 3.6L 263 horsepower V6. My unit had the optional 3.6L Direct Injection V6 good for
304 ponies. A 6-speed manual gearbox is standard in both, while a 6-speed automatic is optional. You can also choose All Wheel Drive.

At cruise it's a quiet, smooth riding car, with little wind or road noise penetrating the cabin. That quiet vanishes the instant you hit the gas and are treated to a just right raspy V6 snarl, along with a quick sub-6-second 0 – 60 time.

Suspension tuning was done in BMW's backyard—the famed 14-mile 73-turn Nurburgring circuit. With wide tires and a taut suspension, the CTS delivers outstanding handling and stability.

While substantially less expensive than the CTS, the all-new Chevrolet Malibu doesn't feel like an inexpensive car. The interior, for instance, is a stunning achievement in comfort and beauty of design, with lots of thoughtful touches. Especially attractive are the two-tone leather combinations with contrasting stitching. As the wood trim winds its way around the interior, you may just be reminded of the last $50,000 luxury car you sat in. Yet the Malibu is half that.

Exterior design is a giant leap forward for the Malibu, and pushes this model ahead of everything else in its class. Stylish, sleek, bold…and even upscale. Interesting factoid: the length of these two cars is within a quarter inch of each other.

Several power combinations are available: a 2.4L 169-hp 4-cylinder, a mild hybrid with the same engine plus electric assist, and a 3.6L 252-hp V6. Transmissions are 4-speed and 6- speed automatics depending on engine and trim level.


With the V6 and 6-speed auto, my Malibu LTZ was fun to drive. When pushed hard through an uphill series of very tight curves, this front wheel drive sedan performed admirably, carving the corners with gusto and treating my ears to a surprisingly enjoyable snarl. While cruising, though, the new Malibu is a quiet car thanks to new and higher levels of sound-deadening materials throughout. As with the base engine CTS, this V6 only requires regular fuel.

The 2008 Malibu has effectively closed the gap between Chevrolet and the Honda Accord and Toyota Camry. GM's added confidence is expressed by the new 5-year, 100,000-mile warranty which most new GM models carry.

Pricing for the new Cadillac CTS begins at $34,220, and my loaded example came to $46,940 with destination fee. It is EPA-rated at 17-city, 26-highway mpg, and I averaged nearly 21 mpg. Chevrolet's Malibu begins at $20,550 and my loaded LTZ came in at $28,045 including destination. It is EPA-rated at 17-city, 26-highway mpg, and I averaged 22 mpg. The 4-cylinder is rated at 22–30 mpg, so check that out.

Down the road, the new CTS and Malibu will be remembered as milestone cars, beginning a new page for GM not only in beauty, but in higher quality as well. In the here and now, these two deserve a close look for mid-size sedan shoppers.

Mike Cooney is a lifelong auto enthusiast living and writing in Southern California. Comments are welcome at Michael@GlobalBrand.com.