By: Michael Cooney



Here are two interesting and economical cars you should know about that show GM's foreign ties.

The Chevrolet Aveo is made in Korea by a GM partner. And the Vibe is made at a plant in California that is a joint venture with Toyota, and uses a Toyota engine and transmission. Toyota's Matrix is made at the same plant, so the Vibe and Matrix are kissing cousins.

The Vibe is a marvelously practical car that neatly fills the bill for those seeking comfort, good-to-excellent fuel economy, and very good handling.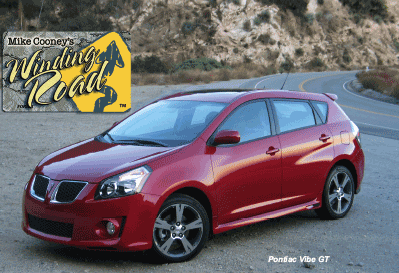 Choose between a 132-hp 1.8L or the GT's 158-hp 2.4L 4-cylinder engines, and automatic or manual transmissions. I drove the GT with the 5-speed stick, and found it to be plenty quick for most needs. If you favor better fuel economy, get the smaller engine, which is EPA-rated at 26-city, 32-highway mpg with the stick shift. Both engines, commendably, use regular gas.

The Vibe's seats are all-day comfortable, with great lower back support. Perfect for me, anyway. For those who like to sit a bit higher up, you'll like the Vibe. It's not SUVhigh, but you sit higher than in most sedans. Its ride is firm but quite comfortable as well. Note that the GT's suspension is a bit firmer than with the standard smaller engine. This gave my test unit quite good cornering ability.

Fold down the rear seats and you have a large storage area that will swallow quite large boxes. With seats up, rear seat legroom should be fine for most passengers. Four fit comfortably, five if a few of them are kids.

The Vibe is also available in All Wheel Drive for you skiers. At 172 inches in length, it's short enough to be very easy to parallel park, yet carries enough to make you think it's a bigger wagon. I don't know if it's a wagon or a mini-SUV, but it strikes a great balance between utility, comfort and attractive style. I guess you can tell I like it a lot.

The Chevrolet Aveo is another interesting car. You get to choose between this 5-door hatchback, or a handsome 4-door sedan.

With its 1.6L 4-cylinder Ecotec engine and 5-speed stick (a 4-speed auto is optional), acceleration was peppy enough and suitable for those who favor economy over power.

With narrow allseason tires, charging corners was not its forte, as it's tires can be made to squeal easily if pushed hard. For most chores, though, it's just fine. You can always find stickier tires in the aftermarket if you want. Hmmm…a hotrodded Aveo? Could be a fun project.

The hatchback had a somewhat choppy ride, to be expected in cars with very short wheelbases. Nevertheless, it was still fairly comfortable because the seats offered good support. The seat fabric in my 1LT model was quite attractive. Rear seat legroom is tight but still serviceable for most under 6-feet tall.

With rear seats down, its cargo area is still not very big, but it does give you a practical cube-shaped area for stowing a decent amount of stuff. In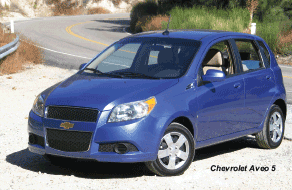 exchange you get a frugal car that easily fits into any parking space and is extremely easy to drive and maneuver.

The Vibe GT is EPA-rated at 21-city, 28-highway MPG, while the Aveo is rated at 27-city and 34-highway mpg, both with sticks. Sticker on the well-equipped Vibe GT totaled $20,595 including destination fees, and the Aveo 5 1LT came to just $14,930 including the optional power package (power windows and locks, remote keyless entry), cruise control, and destination fees.

Both of these get the top 5-star rating in frontal crash tests. Both also carry a 5-year, 100,000 mile powertrain warranty, and are certainly worth a look if you're seeking a practical, economical, frugal new car.

Mike Cooney is a lifelong auto enthusiast living and writing in Southern California. Comments are welcome at Michael@GlobalBrand.com.