By: Michael Cooney



Two cars. Big fun. Personalities 180 degrees apart.

Lucky me. I had reserved the Sebring Convertible in frigid December. But when mid January came 'round, it was nothin' but sunshine and 80s.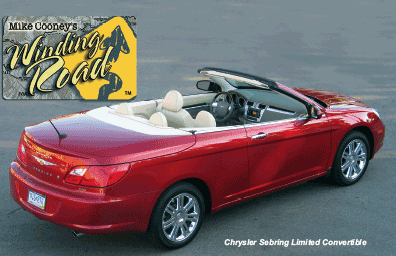 Good thing, too, because the Chrysler Sebring drop-top is one smooth customer. The power hardtop is worth every penny of its $1,995 option price. A simple rocker switch is all you touch. Press and hold— windows drop down, trunk lid swings up, top folds and reclines into the trunk, then the lid closes and locks tight. Slick.

Top down, wind buffeting was minimal, allowing for quiet, unruffled cruising. Its ride is comfortable, and on the soft side. All-season tires contribute to the comfort, but lack the bite needed for high cornering ability. Handling is not bad, just not sporting. It's 232 hp 3.5L V6 with 6-speed auto gives decent passing power. A smaller flex-fuel V6 and a four are also available.

This convertible's true forte is relaxing with the top down, evening sun at your back, satellite radio playing your favorites, and just cruising along in a mellow state of mind. At that, it truly excels and quickly removes you from the cares of this world.

Exterior styling is smooth, except for the egg-crate grill which fails to complement otherwise attractive lines. Interior design, though, is perfection in look and feel within the constraints of its price level. Sophisticated neutral browns and creams along with fabric-like texturing and thoughtful design lends an upscale and calm feel. Even the chrome-rimmed analog clock is a classy touch. Everyone who saw it loved it. I only wished for more seat bolstering to better hold us in place.

Just call this one a cool, comfortable, convertible cruiser.

For a 180-degree turn from the Sebring, consider the Dodge Challenger. With styling derived from the early-70s Challenger, its exterior design is bold, intimidating, menacing. From the front three-quarter view, it possesses "the stance" which says this one's all-business.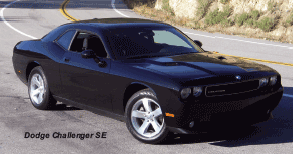 Here's the coolest things about it: although you can order it with as much as 425 tire-smokin' Hemi-V8 horsepower, the Challenger you see here carries a 3.5L 250 horsepower V6. Just order Customer Preferred Package 26G for $2,795 and you'll get all the stuff you really want, including anti-lock 4-wheel disc brakes and traction control, along with those cool 18-inch wheels. Now you can hardly tell the difference between this V6 and the stompin' Hemi V8s. And you'll save a bundle, assuming you don't require the extra 175 horsepower. A smaller 370 hp Hemi V8 is also available.

The two V8s come with 5-speed autos, and a 6-speed stick is optional on both. The V6 makes do with a 4-speed auto only.

With my tester's V6, firm suspension and all-season tires, handling was quite good. Body roll in the curves was minimal and well managed. The suspension can handle stickier tires. As it was, the Challenger SE could be hustled through the canyons quickly. Those seeking greater cornering grip can mount "summer tires" and do even better.

Acceleration with the V6 is good. Zero to 60 times are in the mid-sevens. The top V8 should take you to the low fives. For many, though, the V6 with its slightly softer suspension and more compliant tires is really a good choice, and still gives you "the look."

The Sebring Convertible 3.5L V6 is EPA-rated at 16-mpg city, 27-mpg highway. I averaged 23.3 mpg. With its Inferno Red paint, traction control and push-button hard top, this one carried a sticker of $37,560 including destination. The Challenger SE V6 is EPA-rated at 17—25 mpg. It totaled just $24,790 including the great option package and destination fee.

For true muscle car look at an economical price, the Challenger SE pulls it off while still being fun to drive. Hard to go wrong there. And the Sebring Convertible Limited was equally fun in a different way. Relaxed top-down cruising while enjoying its lovely interior can be just what the doctor ordered to relieve all that stress you're carrying around. Visit Dodge.com and Chrysler.com for more details.

Mike Cooney is a lifelong auto enthusiast living and writing in Southern California. Comments are welcome at Michael@GlobalBrand.com.