By: John Krikorian



One of America's True Superstars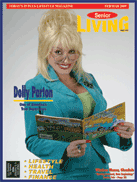 Throughout a career that has spanned four decades, Dolly Parton has contributed countless treasures to the world of music entertainment: songs such as "Jolene," "Coat of Many Colors," and "I Will Always Love You;" acting performances such as her Oscar-nominated film debut in 9 to 5, as well as roles in motion pictures like The Best Little Whorehouse in Texas and Steel Magnolias; her 1994 autobiography, Dolly: My Life and Other Unfinished Business; and her Smoky Mountain heritage-preserving entertainment park (Dollywood) located in Pigeon Forge, Tennessee, just miles from where she grew up

Dolly Rebecca Parton was born the fourth of twelve children to a hard working farm couple, Robert Lee and Avie Lee Parton, who struggled to make ends meet in the impoverished East Tennessee hills of Sevier County at the foothills of Great Smoky Mountain National Park. This hard, rural (or "country") life was the foundation for Dolly's career, and it gave her the opportunity to study life in all its forms; sadness, joy, heartbreak, rapture and serenity. It was during her early childhood that Dolly began assembling the wealth of observations and experiences that eventually became her songwriting arsenal.

Her father recalls that Dolly was singing almost before she could talk. By age six, Dolly was singing in her grandfather's church, and at seven, she started playing guitar. Dolly made her first guitar from an old mandolin and two bass guitar strings. When she was eight years old, her uncle gave her first real guitar, a Martin. Dolly says about making music, "It's all I've ever known."

At the age of ten, Dolly was performing on a local television program called "The Cas Walker Show" in Knoxville, Tennessee. Dedicated to her first job, Dolly performed on every broadcast she could fit into her schedule, sometimes taking an unauthorized vacation from school.

Dolly began Sevier County High School in 1959. She joined the high school band, and Judy Ogle (Dolly's best friend from early childhood to the present day) remembers, "I was in the band with Dolly, and we both played drums.

Dolly left for Nashville the day after graduating from high school. On her first afternoon there, she met a young man who was to become her husband, Carl Dean. Two years later, in May 1966, they were married.

Carl is reluctant to appear at public functions with Dolly and insists on maintaining a strict separation between the different worlds he and Dolly move in. To Dolly, Carl has always maintained the proper perspective on things. "My husband is a very home-based type of person. He's very moral and the most unselfish person I've ever known. He's very deep and very witty. He's good for me because he's so different in nature from me."

Throughout the 80's and 90's Dolly's efforts focused on the schools in her native Sevier County. She gave money for scholarships, computers, and teacher's assistants. In the early 90's she decided the best way to break the cycle of her alma mater's high drop out rate was to convince the 7th and 8th graders to stay in school. She offered each student $500 if they graduated from high school and promised to personally hand them the check the day of their graduation. Not surprisingly, the graduation rate soared and the gesture initiated a community wide effort that sustains the graduation rate even to this day.

In 1996, Dolly unveiled a program called her Imagination Library. Her aim was to inspire a love of reading and a love for books amongst the preschoolers of Sevier County. Each and every child in the county, regardless of their family's income or situation, was mailed a new, age appropriate hard cover book. If the child was registered at birth, he or she will receive 60 new books by the time of their 5th birthday.

Of all of Parton's songs, "I Will Always Love You" has had the most curious history. She first recorded it in 1973, and it grew into a No. 1 country hit the following year. In 1982 she recorded it again, and again it went No. 1, making Parton the first artist ever to score two No. 1's with the same song. Then, in 1992, Whitney Houston recorded it for the soundtrack of her film, The Bodyguard. This became the most popular version of the song. It stayed No. 1 on the pop charts for 14 weeks and escalated into a worldwide hit. As a result, it was BMI's Most Performed Song Of The Year in 1993.

Dolly has been inducted into the East Tennessee Hall of Fame and the Small Town of America Hall of Fame. She has her own star on the Hollywood Walk of Fame, as well as the Nashville Star Walk for Grammy Award winners.

In 2001 Dolly became a member of the National Academy of Popular Music's Songwriters Hall of Fame. Broadcast Music, Inc. honored Dolly with their Icon Award in 2003. In 2003 she also received the Lifetime Achievement Award from the Governor's Awards for the Arts, Tennessee Arts Commission. Then in 2004 the U.S. Library of Congress presented her with their Living Legend Award.

Perhaps her most cherished honor, however, is a bronze sculpture of herself that the citizens of her hometown erected on the courthouse lawn in Sevierville, Tennessee.