By: Milder Asep



Injustice to the Elderly—Experiences in a Labyrinth for Aunt Lena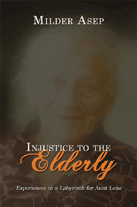 The true story of conman's takeover of an incompetent woman and what her family endured rescuing her—

With age comes uncertainty. Questions like Will I get sick? Who will care for me when I can't? What will become of my possessions, my home, my money? take root in the forefront of our minds. Although families can prepare themselves and their loved ones for getting older, they can never be certain how their senior years will unfold.

According to the American Psychological Association, an estimated 2.1 million older Americans are victims of physical, psychological or other forms of abuse or neglect.

For Lena Holmes, it was psychological and financial abuse that resulted in years of turmoil for her and her family. Her niece, and persistent caregiver, Milder Asep documents her family's story of stopping a conman who destroyed Aunt Lena's remaining years.

Asep documents her family's tumultuous account of overthrowing Aunt Lena's conman. Today, fourteen years after it all began, Asep still waits for her legal case to be settled and the thousands of dollars that her family was robbed of to be returned.

After her husband died, Lena Holmes lived alone and received frequent visitors. She was capable of taking care of herself, even through the early stages of Alzheimer's. It was not until her neighbor, Cay, entered her life that she lost all of her independence, fortunes and dignity.

After 14 years of ongoing court battles, after both Lena Holmes and Cay have passed away, after dozens of witnesses were brought before the judge to testify Cay's criminal actions, Mildred Asep's case remains op

Themes in Injustice to the Elderly include:
• A factual account of a family's struggle to save their mentally unstable aunt from a conman
• How the court systems deal with cases of elderly abuse and neglect
• How to prepare—and protect—your loved ones for old age
• The overall injustice to the elderly in the United States

I Injustice to the Elderly is available at authorhouse.com and amazon.com.