Woodbury University: A Southern California Tradition Since 1884.

A Southern California mainstay, Woodbury University is celebrating its 125th Anniversary this year - and it may easily be concluded that its future has never looked so promising. Initiated by a broadening global economy, as well as increasing student enrollment, over the past few years Woodbury decision makers devised a campaign that would succeed in increasing the value of a Woodbury education.

Historical Glance at WoodburyWoodbury's rise alongside the city of Los Angeles has been slow and steady. While the beginnings of the school were modest, the background of its founder was not. Francis Chute Woodbury had, for twenty years, been the head of Heald's Business College in San Francisco. Educated at Brighton Academy, on July19, 1884, F. C. Woodbury opened a correspondence school in a city of approximately 11,000 residents and called it Woodbury's Business College. Founded in a downtown Los Angeles storefront on North Main Street, the first classes were offered in bookkeeping, English, penmanship and spelling.
Then, as now, programs expanded according to the needs of the students. Woodbury's proximity to Hollywood influenced the decision to provide a Professional Art Division in 1931. The School of Architecture was established in the 1980s and the San Diego campus opened in 1998.
Over the 125 years in existence, enrollment grew with the population of Los Angeles. During the mid twentieth century, Woodbury was most attractive to working adults who wanted to increase their income-generating capabilities. At that time, the University also offered direct job placement – a feature not offered by other colleges.
Through many property sales, moves and expansions, Woodbury found its legs and in 1937 built its own designated site at 1027 Wilshire Boulevard. The school remained
downtown until 1987 when relocation to the more traditional campus in Burbank, where it continues to grow in population and square footage.



Woodbury Today
At 125 years old, Woodbury is proud of its recent accomplishments, such as raising $26M for a Building Initiative that provided the campus with a new School of Business and School of Architecture Building as well as graduating its largest class to date last 2007 - 08. Campus-wide initiatives and programs continue to be adopted. The goal to become an AACSB accredited University, to be on par with other southern California schools such as UCLA, USC and Pepperdine, is evidence that the School of Business is focused on providing an enriched, valuable and competitive education.

The recent unification of the design disciplines into one alliance as the NASAD accredited School of Media, Culture & Design, and the establishment of the Institute of Transdisciplinary Study, are steps to provide students with an expanded and critical understanding of the world at large, while gaining practical applications to address global needs in an ever-expanding economy.
One final indicator that Woodbury is and continues to be an institutional stalwart is the expansion of the Architecture Department to include a Master's of Architecture Degree. Come Fall, 2008, undergraduate architecture students and transfers alike may continue to pursue a graduate level education at Woodbury, further proof of the University's goals of selfsustainability. Celebrating its 125th Anniversary, Woodbury continues to strive to achieve its Mission to provide the highest level of professional and liberal arts education…in a rapidly changing and complex world.

Corporate Leadership Award: 2009
RECIPIENT WOODBURY UNIVERSITY
The L.A. Live complex in downtown Los Angeles, the Los Angeles Area Chamber of Commerce bestowed their 2009 Corporate Leadership Award to Woodbury University. This award is presented "to a company that demonstrates superior leadership assuring the growth and prosperity of the Los Angeles region. The company's ideals embody integrity, innovative thought and a strong commitment to the community". Woodbury has made a difference for generations by shaping the economic, social and cultural landscape of Southern California and beyond. Now celebrating its 125th anniversary Woodbury's vision is to give the best and the brightest from diverse backgrounds the finest education possible that prepares them for personal and professional success in the world they enter upon graduation.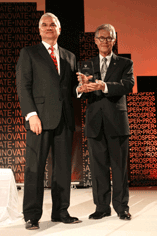 Presenting the 2009 Corporate Leadership
Award to Woodbury University, from left LA
Chamber, Chair, Timothy McCallion,
President, West Region, Verizon and Dr.
Kenneth R. Nielsen, President, Woodbury
University.