Winning Director, Producer, Actor and Composer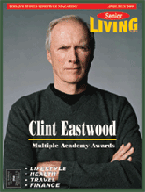 Perhaps the icon of macho movie stars, and a living legend, Clint Eastwood has become a standard in international cinema. Born Clinton Eastwood, Jr., on May 31, 1930, in San Francisco, the son of a steel worker, Clinton, Sr. and Ruth Eastwood. He has one older sister, Jean. As a child of the Depression, he was obliged to move about constantly as his father looked for work—most of it marginal—all over California. The family finally settled in Oakland, where Eastwood graduated from Oakland Technical High School in 1948.
As a young man trying to find himself, Clint spent a couple of years drifting around, doing hard manual labor-lumberjacking, working in steel mills and aircraft factories. Moreover, his lifelong passion for jazz drew him at an early age into the low dives where the music he loved was played. All of this gave him the sympathetic sense of working-class life, neither patronizing nor indulgent, that marks some of his best, and possibly most enduring, work.
In 1950, he was called to military duty with the Army Special Services, based at Ford Ord in Monterey, California. Eastwood may have been too young to fight in World War II, but he managed to miss out on action in Korea too. On leave as a G.I., his plane crashed into the Pacific Ocean and steely-eyed Clint swam three miles to shore. He later was made boot camp swimming instructor and missed out on action in Korea (confined to base).
Encouraged to try acting by two of his Army buddies, David Janssen and Martin Milner, he landed a contract at Universal Studios in 1954, earning 75 USD a week playing bit parts in B-grade movies like Revenge of the Creature (1955) and Tarantula (1955). He was dropped when some studio execs decided his Adam's apple was too big. The determined Eastwood swallowed his pride and, over the next few years, dug swimming pools between playing bit parts in movies and on television. While visiting a friend at CBS, Eastwood was spotted by a network executive who cast him as cattle driver Rowdy Yates in the long-running western series "Rawhide" (1959), which ran for eight seasons. In 1964, he went to Italy to star in a trio of westerns directed by Sergio Leone. Like most superstars, Clint Eastwood's success can be attributed to equal parts good fortune, tenacity, and talent. That, in turn, led to spaghetti stardom in a string of Sergio Leone westerns, beginning with Per un pugno di dollari (1964) ("A Fistful of Dollars").

The dominant movement in Eastwood's career as a director has been towards a focus on characters and interpersonal relationships, deepening an investigative project begun many years before. This is partly rooted in his exploration of acting roles suited to his own ageing self, and yet he has not entirely pulled away from roles that centre significantly upon physical action.

Nevertheless, if Space Cowboys (2000) was Eastwood's successful gesture towards attracting a new generation of younger film viewers, the commercial success of The Bridges of Madison County (1995) demonstrated that in today's youth-oriented market, an audience can still be found for old-fashioned classically constructed dramas focused upon mature themes and characters. His increasing appeal to older cinemagoers can be seen as symptomatic of his growing desire to adopt the persona of respected auteur. Whilst his films of recent years have made few gestures towards contemporary filmmaking fashions, the positioning of his work within an older Hollywood tradition confers what now seems a startling singularity. Any perceptions of anachronism should give scant cause for concern when, as Geoff Andrew has written of the forthcoming Mystic River, "the sheer classical elegance of Eastwood's direction is a delight to behold"

In 2007, Eastwood earned dual Academy Awards nominations, in the categories of Best Director and Best Picture, for his acclaimed World War II drama "Letters from Iwo Jima," the companion film to his widely praised "Flags of Our Fathers." Eastwood will next direct and produce the historical drama "The Human Factor," starring Matt Damon and Morgan Freeman in the role of Nelson Mandela.

Eastwood is a cinematic icon both in front of and behind the camera. His presence on screen is quiet yet powerful, as seen in the drama "Gran Torino," marking his first film role since his Oscar-winning film "Million Dollar Baby."

Eastwood has seven children from five different women. He has been divorced once and had a long time relationship with frequent costar Sondra Locke. He lives in Carmel and has been married to Dina Eastwood since 1996.

For additional information on the Santa Barbara International Film Festival and more contact Carol@cmarshallpr.com