By: Teri Haux



Expert Offers Tips For Families Looking for Cinema That Matches Their Morals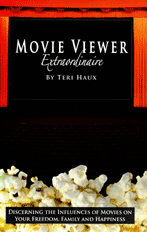 Since the days of the first movie serials and double features that would open with a Bugs Bunny cartoon, the movies have been a part of Americana.
We can't get enough of movie stars, the Internet is loaded with trailers and movie news, and every weekend, millions of Americans take that time-honored stroll through those velvet ropes – down the aisle that's lit from the floor – to a plush seat looking up to that giant silver screen.

But one expert, a mother AND screenwriter, believes that as the movies reflect more of the violence, sexuality, drug use and corruptive influences found in our society, they are ceasing to be an experience that families can enjoy together.

"I grew up loving the movies, so much so, that I wanted to write them," said Teri Haux, author of Movie Viewer Extraordinaire:

Discerning the Influences of Movies on Your Freedom, Family and Happiness, from Book surge (www.movieviewerextra.com). "When I had children, one of the first things I wanted to pass on to them was an appreciation of the movies, but I discovered that there were precious few movies in the firmament that were appropriate for a family audience. I realized that I was going to have to do some research to figure out how to give my kids the movie bug without exposing them to stories that ran contrary to my family's values."
Teri Haux has been a screenwriter for nearly a decade. Her scripts have been optioned for production and she has placed as a finalist in the Scriptapalooza and the Bluecat Screenwriting screenplay competitions.