By: Michael Cooney



Distinctive and handsome...two Lincolns for sophisticated tastes

Lincoln's MKS is an all new model for 2009, and possesses a presence befitting this long established luxury brand. Reaching back to the 1930s and '40s for inspiration, the split vertical grille nicely shows off Lincoln's new design trend. From every angle, the new MKS looks the part.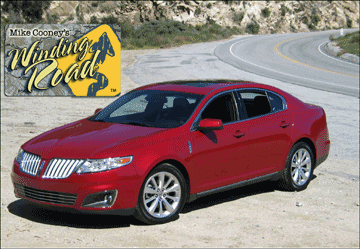 Inside, the MKS does not disappoint. With thick, soft perforated leather seating, front passengers can enjoy warm or cool air flowing through the seats, increasing comfort levels regardless of the weather outside. The seats are well shaped with good back support. In the back you'll find lots of leg and headroom, and heated seats.

The MKS brings a new level of connectivity through a broad array of technological features. It's Next Generation Navigation System gives you command over a variety of audio listening options, let's you track traffic conditions in real time, plus way too much more to list here.

Another great feature is the optional backup camera. Superior to others I've seen, this one has on-screen lane markers, showing your projected path as you're backing up. You can look into the screen and see if your path will allow you to avoid what's behind you.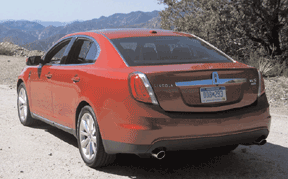 How does it drive? Well, the MKS may surprise you. It did me. With a 3.7L V6 pumping out 273 horsepower mated to a 6-speed automatic with sport shift controls, its acceleration should please most buyers. Sounds great too. With optional AWD, hard cornering becomes a confident affair. You feel its 4,300 pound weight in the curves, but with power going to all four wheels, you can hustle the MKS along winding roads more quickly than you might imagine. Wide low-profile tires on 19-inch wheels helped too. Road feel through the steering wheel is over isolated, but I was pleased with its handling ability.

The trunk is large, and has a between the-seats pass-through for skis. This is an ideal car for cross-country cruising with its comfortable, stable ride and generous creature features. The same is true for its crossover cousin, the MKX.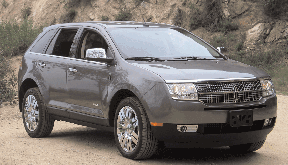 Now in its second year, the MKX luxury crossover has a handsome design and great features. Clean lines and a smooth shape with short overhangs suggest upscale urban sophistication rather than rugged hauler, but it is capable at either.

Powered by a 3.5L 265 horsepower V6 with 6-speed auto, the MKX has decent acceleration. Quiet while cruising, it has a nice snarl at higher revs.

Inside, seating areas are spacious, with room for cargo in the back. Of course, the rear seats fold down for carrying more stuff. Pressing a level folds the rear seatbacks forward to quickly and easily double the storage capacity. The seats are comfortable, and as with the MKS, the front seats let you blow warm or cool air through the thick perforated leather. Heavenly! The rear seats recline, and are heated.

Ford's great SYNC system for coordinating your entertainment and navigation needs uses buttons or voice commands. You'll love it once you get to know it.

The MKX has a comfortable ride and handles well for a taller vehicle. Wide low-profile street tires on 20-inch wheels helped in the handling department. It corners well on winding roads and you can push it along at a good clip. AWD is available if you like taking it off road or up to the ski resorts. Road and wind noise are kept low for a quiet ride. When backing up, an audible warning helps you get the most out of the MKX's better-than-most maneuverability.

The MKS AWD is EPA-rated at 16-city, 23-highway mpg. Add one mpg if you forgo the AWD. Prices start at $38,490. This one totaled $46,070 including destination fees. This MKX FWD is EPA-rated at 17-city, 24-highway mpg. Subtract two mpg for the AWD version. My nicely equipped tester came to $43,945 including destination.

Besides the smooth styling, great versatility is offered in both these cars due to your choice of FWD or AWD. Visit www.lincoln.com for more.