By: John Krikorian



Unflappable and as poised as ever, at age 77 Angie Dickinson acknowledges the lull in quality scripts arriving at her door these days. "They're usually the grandmother role, they don't amount to much," she says. However, when the Hallmark Channel recently approached the notoriously choosy Dickinson with a movie offer, she perked up. "I'd been wanting to do a Hallmark movie for ages," she said. "There's a sense of credibility, that it's something worthwhile and special."

Hallmark's Prosper's Last Stand aired, July 4. Dickinson, who is perhaps best known for playing the starring role of Sgt. Pepper Anderson in the 1970s TV crime drama Police Woman plays Ruth Hanson, a role rich in character that offered the actress more than just the job of providing background-mother tones. "She's not just a convenient tool for the story," says Dickinson. "She's a woman who had a terrific life on this piece of property with nature, animals, and peace and quiet."

Hallmark's filming schedule of Prosper's Last Stand was far from easy, Dickinson admits, she wasn't prepared for the speed in which the movie was shot; and there was something else weighing on her mind. Not only was this the first acting Dickinson had done in several years, it was the first role she'd accepted since the loss of her daughter Nikki to suicide in January 2007. Playing the role of a mother, Dickinson confided, made this role that much more "special."

Dickinson was born Angeline (Angie) Brown on September 30, 1931 in Kulm, North Dakota, the second of four daughters of Frederica and Leo H. Brown. She grew up around the sights and sounds of the newspaper offices that her family owned and operated in the 1930s. Her father was the publisher and editor of their family's small-town weekly newspaper the KULM MESSENGER and later the EDGELEY MAIL.

In 1942, Dickinson's family moved to Burbank, California where Angie Brown graduated from Bellamarine Jefferson High School in 1947 at the age of 15. While in high school she won the Sixth Annual Bill of Rights Essay Contest, and after graduation studied at Glendale Community College, continuing to graduate from Immaculate Heart College in 1954 with a degree in business. She worked as a secretary at Lockheed Air Terminal in Burbank (now Bob Hope Airport) and in a parts factory.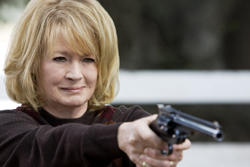 With a family history in publishing, Dickinson originally had visions of becoming a writer, but gave up the idea after winning her first beauty contest. She married Gene Dickinson, a former football player in 1952 (divorcing in 1960). In 1953 she entered the local Beauty contest one day before the deadline and she received second place in the pageant. In August of the same year, she was one of five winners in a beauty contest sponsored by NBC and appeared in several TV variety shows.

Dickinson made her acting debut on New Year's Eve 1954 in an episode of Death Valley Days. This led to other roles in such productions as: Buffalo Bill Jr., Matinee Theatre, City Detective, Gray Ghost, General Electric Theater, The Life and Legend of Wyatt Earp, Broken Arrow, Northwest Passage, Gunsmoke, Tombstone Territory, Cheyenne, Meet McGraw, The Restless Gun, Perry Mason, Mike Hammer, Wagon Train, Men Into Space, and a memorable turn as the duplicitous murder conspirator in a 1964 episode of the classic The Fugitive series with David Janssen and fellow guest star Robert Duvall.
Dickinson won her first bit part in a Warner Brothers movie in 1954 and gained television fame in the TV series The Millionaire (1955). She then earned her first substantial film role opposite John Wayne and Dean Martin in Rio Bravo (1959).
Her success skyrocketed and she became one of the nation's most glamorous movie stars, making many lifelong friends along the way, including Frank Sinatra. Dickinson played Sinatra's wife in the film Ocean's Eleven, and the two remained friends until his death in 1998.
Dickinson married legendary musician/composer Burt Bacharach in 1965 (divorcing in 1980). Their daughter Lea Nikki, known as Nikki, was born in 1966, three months premature and was eventually diagnosed with Asperger's Syndrome. Dickinson refused many acting roles at the height of her career to devote her time toward caring for her daughter. Nikki spent several years at the Wilson Center, a psychiatric residential treatment facility for adolescents located in Faribault, Minnesota. Although Nikki had earned a degree in geology, poor eyesight made it impossible for her to pursue a career in that field. Unable to cope with the effects of Asperger's, Nikki ultimately committed suicide in her Los Angeles condo at the age of 40.
Dickinson's portrayal of Ruth Hanson in Hallmark's Prosper's Last Stand may prove to be a poignant crossroads in the actress's long and successful career. One that will likely inspire more scripts of substance and magnitude to land at her door. Perhaps we'll even be lucky enough to see her in a heist with Ocean's Fourteen.