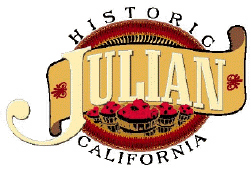 When autumn arrives, a crisp soothing breeze sweeps over San Diego complementing the region's warm temperatures and welcoming vibe. As the San Diego Chargers gear up for another exciting football season, and the sweet aroma of homemade apple pies escapes from Julian, visitors can enjoy a variety of annual festivals and fairs, haunting Halloween celebrations and diverse cultural entertainment.

JULIAN, this premier mountain getaway, just an hour east of San Diego, in the beautiful Cuyamaca Mountains. Take a step back in time to the days of Julian's beginning rooted in the 1870s gold rush. Get away from the hectic rush of city life . . . discover the charms of Julian.
See where gold was discovered. Shop in stores housed in historic buildings — some dating back to the 1870s. Sleep in a romantic B&B or historic hotel. Sample Julian's famous apple pies. Hike and picnic amid oaks and pines. Ride down Main Street in a horse-drawn carriage. Enjoy!
A San Diego tradition "as American as apple pie" is the popular Annual Julian Fall Apple Harvest, September 15 – November 15. This year, the Apple Harvest celebrates its 100th birthday as thousands of visitors venture to this historic East County mining town, nestled in the Cuyamaca Mountains, to sample fresh crisp apples, homemade apple pies and ciders. Visitors can also enjoy acres of colorful fall foliage, charming bed and breakfast inns, art shows, quaint antique shops and live entertainment. www.julianca.com

Wine Tasting:
California Overland Back Country Wine Tours: San Diego County's only wine tasting tour explores Julian's beautiful back country. Price includes free admission to wine tasting rooms, full BBQ on the grounds of Menghini Winery and much more! (866) 6- EXPLORE 1233 Palm Canyon Drive, Borrego Springs Email: info@californiaoverland.com —www.californiaoverland.com

Country Cellars: Featuring San Diego Wine & Beer—Beer & Wine Tasting, Retail Store. 4510 Highway 78, Wynola — (760) 765-0089 Email: info@countrycellars. com —www.countrycellar. com

Eagles Nest Winery & Cottage: We are a premium boutique winery, featuring handcrafted, estate grown red wines and Rhone region white wines. (760) 505-8229 18261 Chablis Road, Ramona, CA 92065—Email: info@eaglesnestwinery.com
—www.eaglesnestwinery.com
Hawk Watch Winery: Family owned and operated, offering an intimate tasting experience while enjoying our picturesque mountain setting. (951) 326-4692 —27054 Chihuahua Valley Road, Warner Springs, Ca 92086 — www.hawkwatchwinery.com
J. Jenkins Winery: A familyowned winery located in a picturesque valley overlooking Volcan Mountain. We will specialize in estate Pinot Noir, Pinot Grigio and apple wine. (760) 765-3267 1255 Julian
Orchards Drive, P.O. Box 2094, Julian, CA 92036—Email: jenkinswinery@earthlink.net

Menghini Winery: Drive down a two-lane country road leading you to the local winery where you can bring a lunch and sample a variety of locally produced wines. (760) 765-2072 — 1150 Julian Orchards Drive, Julian, CA 92036 www.menghiniwinery. com

Orfila Winery: Tasting room, gift shop, tours, events and weddings. Open daily 10 a.m. – 5 p.m. Visit our tasting room in Wynola, Art Center, French's Antiques and Country Seasons Shops (760) 765-0102 4470 Highway 78, Julian, CA 92036. Visit www.orfila.com.

Pamo Valley Vineyards & Winery: We are a licensed and bonded wholesale winery that markets its wines to restaurants, stores, events and wine clubs. We produce our wines with locally grown grapes. (760) 271-3090— Email: info@pamovalleyvineyards.com www.pamovalleyvineyards.com

Shadow Mountain Vineyards and Winery: A third generation family estate vineyard & winery business operation, we offer tours, wine tasting and a picnic area. (760) 782-0778 —34680 Highway 79, Warner Springs, Email: shadownose@ earthlink.net www.shadowmountainvineyard.com

Witch Creek Winery: Please visit our tasting room at 2000 Main Street in the Stonewall Building. We offer a variety of high quality wines, both dry and sweet. (760) 765-2023 (760) 720-7499. 2100 Main Street, Julian, CA 92036. Email:
rich@witchcreekwinery.com —www.witchcreekwinery.com
Woof 'n Rose Winery: A boutique winery located in the lovely Ramona Valley, featuring estate grown Cabernet Franc, Merlot, Cabernet Sauvignon & Grenache Noir wine. (760) 788-4818 — Email: woofy@woofnrose.com – www.woofnrose.com