By: Angelo R. Mozilo, Chairman and CEO, Countrywide Financial Corporation



After a five-year period of virtually uninterrupted growth, the housing industry entered a downward phase in 2006. Sales data on existing homes and new homes has reflected declines throughout the year and inventories of available homes have been growing in most local markets.

Cycles during which the market slows and even contracts have always been a fact of life in the real estate and mortgage industries. However, since we haven't seen a downward phase of the housing cycle for a while, there is a tendency to over-emphasize the severity of our present situation. After all, despite the slower market, 2006 may well prove to be the third or fourth highest year on record for home sales. What about 2007?

Downward housing phases generally last for about two years and are triggered by the rising phase of the interest rate cycle. The trough of a downward housing cycle usually occurs about a year or so after the peak in the interest rate cycle. There are indications – such as the recent pause in Fed rate hikes – that suggest we could be close to such a peak. For this reason, many believe that the housing market may be poised for a re-awakening before the end of 2007.

Certain economic factors signal that housing market conditions will not trigger a dramatic economic slowdown. Of particular note is that fact that the national unemployment level, as reported by the Department of Commerce, for October 2006 stood at 4.4% – actually somewhat better than the 5.0% mark that many economists consider "full employment." We normally associate less-than-favorable housing markets with much higher rates.
Fundamentals Remain Strong
While we do expect further slowing in home sales in 2007 and flat-to-down price appreciation, the long-term prospects for housing are very favorable. Growth in the home purchase market is driven by a combination of factors, including:
• New Household Formation. Household formation is expected to approximate 1.5 to 1.6 million households annually over the next decade, as younger generations reach an age where they set up households of their own and as immigration rates also grow. This expected annual rate of household growth represents numbers that are approximately 10-to-20 percent higher than the last decade*.
• Home Price Appreciation. Though some markets may experience flat or declining appreciation over the short term, the long-term rate of house appreciation is expected to be similar to the rate of income growth, which is about 5% per year.
• Increases in the Homeownership Rate. Homeownership rates are expected to continue to move higher, particularly among minorities.
In addition to these factors, the home purchase market drivers also include housing turnover—people moving to new locations and/or larger homes—and the purchase of second homes and vacation homes as investments, a phenomenon the Baby Boomers have been driving.
Homeownership is a Cultural Imperative, Not a Fad
Though a slower market rarely inspires celebration, especially among businesspeople whose growth may also slow, it is imperative that we keep the situation in perspective. Homeownership is intricately interwoven into our culture. Homeownership is not a fad.
The American dream burns as bright as ever—more and more Americans want to own their homes. For the vast majority of people, a home is their largest asset – an asset that generates wealth, as individuals and families leverage their home's equity to achieve other goals, including paying for college education, starting businesses and saving for retirement.
Though 2007 may not necessarily be remembered as a "milestone" year for the housing industry, homeownership remains at the core of our nation's economic, social and cultural well being. I expect that by 2008, we will have returned to a period of impressive achievement in the housing and mortgage industries.
• According to the 2006 State of the Nation's Housing Report from the Harvard Joint Center of Housing Studies.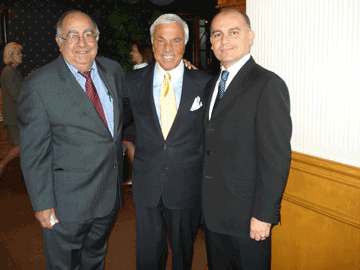 At a special event at the Oakmont Country Club in Glendale are from left,Angelo R. Mozilo Chairman and CEO. Countrywide Financial Corporation, John Krikorian, Publisher, Business Life and Alan Pezeshkian, Glendale Branch Manager, Countrywide
This article may contain forward-looking statements regarding Countrywide's estimates, projections, and assumptions with respect to, among other things, Countrywide's future operations, business plans and strategies, as well as industry and market conditions, all of which are subject to change. Actual results and operations for any future period may vary materially from those projected herein and from past results discussed herein as a result of, among other reasons, those included in documents filed by Countrywide with the Securities and Exchange Commission from time to time. Countrywide undertakes no obligation to publicly update or revise any forward-looking statements.