By: Michael Cooney



What happens when you pull that all-aluminum, dual overhead cam V-8 out of the big LS430 and place it into a lighter, more nimble sedan? FUN-that's what! The combination of exciting performance and Lexus refinement make for a stimulating package that can act sedate and proper when you're chauffeuring around those out-of-town guests, but really hauls when storming along mountain roads toward your weekend getaway. Is it the best of both worlds? You decide.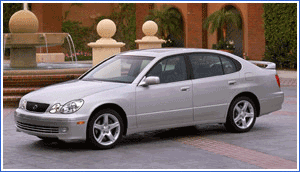 Powertrain Options
The GS is a rear wheel drive mid-size four-door sedan offering two engine choices. Standard is a 220 horsepower 3.0L Inline-6. My test unit had the optional 4.3L V-8 delivering a solid 300 horsepower at 5600 rpm and 325 lb-ft of torque at 3400 rpm. A 5-speed automatic is standard with both engines. When you want manual control, the GS430 uses a zig-zag gate for the shift lever, allowing for secure shifts up and down without skipping gears unintentionally. This also allows you manual selection of first gear, something not all manufacturers offer on 5-speed autos.
Exterior Style
Compared to the overly conservative LS430, the slightly smaller, lighter GS is visually more engaging. You'll like it or you won't, but at least it's not boring. From the sloping hood to the rather stubby rear end, the outer skin is full of interesting styling cues. Example: the chrome strip surrounding the side windows creates the illusion of "sleekness" because the rear side glass actually ends short of the chrome outline. Overall, the shape says "sport" more than "luxury," but you get a nice mix of both in this model.
Interior Features
This test unit's combination of cream-colored leather and darker brown carpeting and vinyl panels made for a warm, cozy environment. Its deeply sunken instruments are always backlit, are attractive and easy to read, and include a shift-gate outline-handy when you're new to the car and don't remember the pattern yet. The instrument lighting automatically dims or brightens as needed to give you good readability whether in daylight or darkness.
While the front seats lack serious side-bolsters, the seatback was dished enough to hold me in place fairly well during hard cornering. Rear seat legroom is good for a car this size, and should be comfortable for most passengers.
Music-lovers will enjoy the optional Mark Levinson stereo, which includes a 6-CD changer and sounded great.
Driving the GS 430
Designed to compete against BMW's 540 sedan, you'd expect a high level of performance in every area-acceleration, handling, braking, and steering feel. In a word, the GS430 delivers.
Acceleration is strong and rapidly builds in a creamy-smooth fashion. Expect 0-60 mph in 6.0 seconds (according to Motor Trend). Its 300 horsepower combined with a taut, well-controlled suspension allows for great fun on winding roads. The steering has a firm, accurate feel with strong on-center return. The GS430's ride is comfortable but not plush, and it exhibits only moderate body roll when pushed hard in the curves. For its role in life as Lexus' premier sport sedan, it's properly set up.
Standard tires are 225/55s on 16-inch wheels. This unit had the optional 235/45 lower profile tires on 17-inchers. While no doubt contributing to even sharper handling, there are trade-offs to consider. With the greater width and shorter sidewalls of the 45 series tires, there was noticeable tire noise on most surfaces, and considerable harshness over small, sharp-edged bumps, with an accompanying "thump-thump" entering the cabin. To their credit, though, they stuck like glue on sharp curves. If you intend to regularly push your Lexus to the extreme on winding roads, you may appreciate the optional wider tires. I suspect most buyers, though, will find greater overall satisfaction with the quieter, but still fine-handling, standard wheel-tire combo.
The GS430 is EPA-rated at 18-city, 23-highway mpg. My mix of city, freeway and mountain driving brought an average of 20.1 mpg.
Final Word
Lexus' GS430 is a competent, powerful automobile that rewards your decisive inputs with high levels of acceleration, braking and handling performance. Loads of driving fun is there for the asking. Prices begin at $47,980 including delivery and handling fees. My unit's options included a $5,770 package containing navigation, sound system upgrade, power moonroof and heated seats, and totaled $56,150. That's solidly in BMW 540 territory, but its performance numbers and overall persona compare favorably. If you're considering a sport-luxury sedan in the $50,000+ category, the Lexus GS430 may deliver all you could want.