SCORE "Counselors to America's Small Business" named Blake Welch of Los Angeles, as regional director for California. Welch is responsible for leading efforts to provide more mentoring and training for entrepreneurs seeking help from SCORE. "Blake's record as a dynamic leader, plus his proven ability to grow sales and improve business operations, offers a strong foundation to build on for his work with SCORE," says SCORE COO Devin Jopp, Ed.D. "His professional savvy and experience will help SCORE offices in California ensure that entrepreneurs get the mentoring and training they need to build success." Since 1964, SCORE has helped more than 8.5 million aspiring entrepreneurs and small business owners through mentoring and workshops. For more information about starting or operating a small business, call 1-800/634-0245 for the SCORE chapter nearest you. Visit SCORE on the Web at www.score.org and www.score.org/women.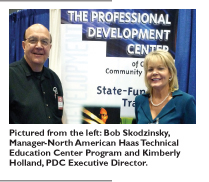 The Professional Development Center of Glendale Community College has partnered with Haas Technical Automation and joined the tool builder's Haas Technical Education Center. HTEC is a global network that provides advanced CNC (computed numerically controlled) education for learning institutions and Haas factory outlets. The partnership with HTEC will expand CNC training programs at the Professional Development Center for California manufacturers. For twenty-five years, PDC has provided customized state-funded training programs for manufacturers at their Montrose, training facility and at company worksites. Glendale Community College founded the Professional Development Center in 1985 in cooperation with the State Chancellor's Office and the California Employment Training Panel (ETP). The Professional Development Center is located at 2340 Honolulu Avenue in Montrose. Visit: www.ProfessionalDevelopmentCenter.com or call: (818) 957-0024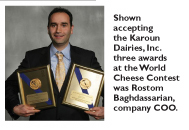 Karoun Dairies, Inc. won two gold medals in this biennial event, one for the Mykonos Creamy Feta in the Feta category and another for the Panela in the Quesos Frescos category. The basket Feta took a Bronze Medal. The 2010 World Championship Cheese Contest hosted by the Wisconsin Cheese Makers Association and is the largest international cheese and butter competition in the world. Karoun itself has an international story, as the Baghdassarian Family immigrated to the United States from Lebanon in 1990 to pursue the American Dream and a passion for the art and science of cheese making. Shown accepting the Karoun Dairies, Inc. three awards at the World Cheese Contest was Rostom Baghdassarian, company COO.

Foothill Transit Elects New Board Members, Approves 2011 Budget: Foothill Transit's Governing Board recently held their Annual Meeting and election of officers and the appointment of representatives to the Foothill Transit Executive Board. Patricia Wallach, councilmember from the City of El Monte and Supervisor Gloria Molina's appointee to the Foothill Transit Governing Board, was elected to serve as a Foothill Transit Executive Board Member representing the County of Los Angeles. She is filling the seat left by outgoing Supervisor Michael Antonovich appointee Michael De La Torre; Executive Board members also elected Arcadia Council Member Roger Chandler to serve as Foothill Transit's Executive Board Chair. Executive Board Members Carol Herrera and Peggy Delach were elected to the Vice Chair and Treasurer positions respectively. For the latest news, route maps, job openings, and past press releases, visit foothilltransit.org

Dr. Richard Merkin, President and CEO of Heritage Provider Network sponsored the second in a HealthCare dialogue series discussing the impact of HealthCare Reform Legislation on the Community and the economic implications for businesses. The event was co-sponsored by The United Chambers of Commerce and Lakeside Medical Organization, part of the HPN family The panelists included Dr. Keith Richman, Lakeside Medical Organization, part of the HPN family and former California State Assemblyman; Paula Wilson, president and CEO of Valley Community Clinic, Mark Meyers, president and CEO of Glendale Memorial Hospital. Sean McCarthy of United Chambers of Commerce, Chair of Government Affairs, and McCarthy and Associates, moderated the panel. The discussion centered on the impact of Healthcare Reform on the community, including how to keep healthcare costs down while integrating newly insured to our distressed hospitals and community clinics.

The Pasadena Community Foundation's (PCF) Local Heroes Celebrations this year awarded $540,199 to 39 local nonprofit agencies in Pasadena, Altadena and Sierra Madre. Joining in the celebration was Pasadena Mayor B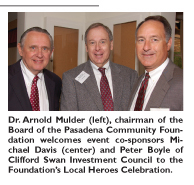 ill Bogaard who presented a special proclamation designating May 21st 2010 as Local Heroes Day in Pasadena. Receiving the proclamation was the Chairman of the PCF Board, Dr. Arnold Mulder and the Foundation's Executive Director, Jennifer DeVoll. The 57-year-old Foundation is "very focused geographically but very inclusive in terms of the type of work it supports" says Foundation Executive Director, Jennifer DeVoll. "For that reason, PCF is often referred to as a 'one stop" giving opportunity because one gift supports many organizations that serve a broad range of needs in the community Pasadena Mayor Bill Bogaard and Pasadena Community Foundation Executive Director, Jennifer DeVoll share a moment at the Foundation's Local Heroes Celebration. In honor of the Celebration where 39 organizations received a total of $540,199, the Mayor issued a proclamation declaring Local Heroes Day In Pasadena. Dr. Arnold Mulder (left), chairman of the Board of the Pasadena Community Foundation welcomes event co-sponsors Michael Davis (center) and Peter Boyle of Clifford Swan Investment Council to the Foundation's Local Heroes Celebration.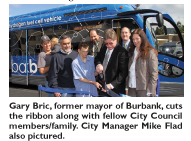 Southern California's first plug-in hybrid fuel cell bus was unveiled at a recent ceremony in Burbank. The City of Burbank has been selected as the national test site for a new zero-emission, ultra-quiet prototype bus that uses a hydrogen fuel cell instead of a diesel or gasoline engine. The vehicle will be in service on most Burbank bus routes beginning in May. Designed and fabricated by Colorado based Proterra, the revolutionary bus can travel 250 miles before needing to be recharged, can run at double the fuel economy of a diesel bus and will release nothing but water from the engine exhaust. The legislature allocated a $25 million grant from Senate Bill 1811 funds, for the purpose of incentivizing the use and production of alternative fuels. The California Air Resources Board and the California Energy Commission awarded the City of Burbank $1.37 million from this program for the project. Gary Bric , former mayor of Burbank, cuts the ribbon along with fellow City Council members/family. City Manager Mike Flad also pictured.