Standing Apart: • Blending Confidence • Leadership • Commitment • Community
Women Extraordinaire, Sept. 22nd, Glendale Hilton — 5:30 -7:00 p.m. Reception & Networking 7:00 -9:00 p.m. Dinner &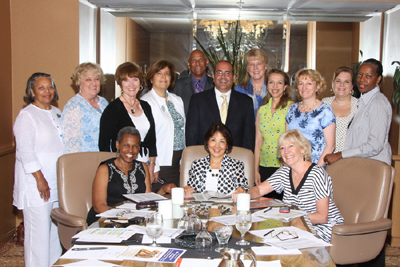 Women Achieveers Awards Program

Pictured seated are from left: regional co-chairs; Gerda Govine, Pasadena/San Gabriel Valley; Adel Luzuriaga, Glendale/La Canada Flintridge/Foothills: Pam Corradi, Burbank/San Fernando Valley. Standing from left: Kitty McKnight, Lynda Burns, Cathy Zappala, Zarmine Naccashian, PhD, Derrick Chevalier, Greg Krikorian, Kathy Lefkovits, Liza Boubari, Elizabeth Manasserian, Marlen Bello and Yolanda Oliver.
They came from all corners of the region to help set the plan in motion to observe the
20th Anniversary Celebration of Business Life Magazine's Women Achiever's editions. The setting was the Glendale/LA Hilton, the site of the Celebration Banquet on Sept 22nd.

"The first Business Life Women Achiever's edition was published Sept 1990, highlighted 36 fantastic women who to this day "Make a Difference" in our communities noted Greg Krikorian, executive vice president, Business Life. He further noted that in the past 20 years Business Life has recognized over 325 women leaders. Women Extraordinaire". For a full listing and to enter your vote for the top 20 visit www.businesslife.com and/or email: krik@businesslife.com. They will be recognized at the Gala Banquet, along with those Women Achievers for 2010. Please vote!

Publisher John Krikorian stated, that each year at the photo shoot gathering, the Women Achievers would ask for a reunion to continue networking and building relationships. We have finally taken up the call for action. The timing is right for the 20th event that will also have a showcase for sponsors and non-profits that participate. The timing on target with the state of the economy will inspire, motivate and lift the spirits of those outstanding achievers, who give of themselves year after year. This will be truly a Celebration for "Women Extraordinaire".

This event will honor the top women over the past two decades, along with the 2010 women leaders making a difference not only in their profession and business, but the community at large. Honorees will be women of outstanding accomplishments, leaders, innovators, problem-solvers, and mentors to others and are philanthropist.

As word spreads for this spectacular event, names are being submitted, from previous women non-profits, civic organizations, by email for those to be honored for the past 20 years, along with those wishing to participate and support this year's special event.

Past winners include prominent CEOs of businesses and service organizations, large and small, partners in professional service firms, education leaders and other fields with a commitment to reaching out to those in need.

The meeting announced the Honorary Co-Chairs for the event as Supervisor Michael Antonovich and Mrs. Christine Antonovich, a 2005 Women Achiever. The Advisory Team is made up of former Women Achievers and those that called to be part of this Celebration.
For more information please visit www.businesslife.com, call 818-240-7088, fax 818-240-7320, email: krik@businesslife.com