By: David LaBonte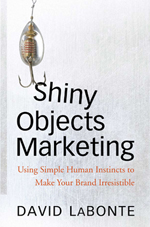 "Shiny Objects Marketing" – How to Invent Abundance in Any Economy
By David LaBonte

"Shiny Objects Marketing." Written in plain, clear language, published by Wiley & Sons, explains how to make any product, service or brand irresistible.

"Ask yourself, 'What will stop my customers dead in their tracks?'" LaBonte says. "'What will make them want to grab your product or service and not let go?'"

Written in an infotainment style, the message is simple and compelling. "Shiny Objects Marketing" shows how to use the law of irresistible attraction to build business success. The author, David LaBonte, is also President of AdMatrix Advertising Agency, a successful Orange County firm. LaBonte has been pivotal in developing effective marketing programs for elite franchise companies, like Yoshinoya-America Inc., Fantastic Sams, Robeks, Pat & Oscar's, Subway Sandwiches, and Coco's Restaurants.

"Make your brand a shiny object and you'll sell truckloads," LaBonte concludes. "Match your shiny object with what sparkles for your customer…that is irresistible attraction!"

For information on book, call 714.769.1521 or visit www.Amazon.com. Or, sign up for a seminar at www.shinyobjectsmarketing.com.