By: Manny Otiko,



Baxter Biosciences and Pacific Lock are Los Angeles-area businesses that the California Enterprise Zone Program has played a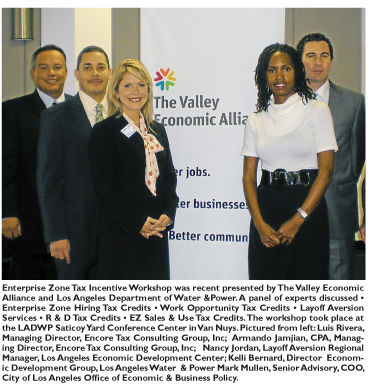 key role in keeping them here or assisting in their expansion. This has led to not only job retention, but more importantly the creation of hundreds of jobs in the region. Still, some doubt how useful this program has been to our state.

This year has been a year of heavy debate over state programs and the appropriate allocation of taxpayer dollars. The Enterprise Zone Program is one such program that has been a target of scrutiny. With several zones in the greater Los Angeles area, regional business and economic development leaders have gone to bat to sustain and even expand the local reach of what is considered one of the state's few remaining tools for retaining and attracting jobs and businesses.
Since their establishment in 1984, Enterprise Zones have given businesses located in designated Zone areas tax credits and other incentives for hiring local workers and contributing to the economic prosperity of their regions.

In recent years, the effectiveness of the program and its value has come into question by groups facing cuts to their portion of the state budget. These opponents of Enterprise Zones question whether or not the program has been useful in creating new jobs and have argue that the program has been abused.

Advocates for the program acknowledge that there is room to improve the program and don't see it as the only solution to job creation.

"A growing misconception about the program is that it was solely designed to create jobs," said Craig Johnson, president of the California Association of Enterprise Zones (CAEZ), and zone manager of the Long Beach Enterprise Zone. "The program has many purposes, which include improving the economic prospects of a designated area, encouraging business investment and helping workers who face significant barriers to employment. The Enterprise Zone Program cannot single-handedly bring down our unemployment numbers, but it can provide the additional support companies need to cope with the high cost of doing business in this state so they can continue to employ local workers."

Johnson goes on to recognize that reform of all long-term programs may be necessary to ensure policies are adapting to the conditions of today's business climate. "CAEZ is working with legislators to identify ways to ensure the long-term efficacy of the Enterprise Zone Program," Johnson said.

For years, the Enterprise Zones that encompass areas such as Pasadena, Santa Clarita and Palmdale have played a part in the region's business attraction and retention efforts, and that is even truer today.

"We can only anticipate that those coming into office will see the benefit of having business-friendly programs that assist workforce and business development initiatives," said Melissa Alva, enterprise zone manager for the Pasadena Enterprise Zone.

"We get calls every day from businesses in and out of the state inquiring after properties in our zones," said Clifford Weiss, economic incentive zone manager overseeing the East Los Angeles and Los Angeles Hollywood Enterprise Zones. "For many businesses such as Westfield Properties and Baxter Bioscience, the program has been a major factor in helping them pencil out their investment in the area."

According to Irvine relocation expert Joseph Vranich, the number of companies leaving California for more business-friendly states has tripled in the last year. In 2009, 51 businesses left California, and so far this year 158 companies have relocated jobs or facilities to other states. In Los Angeles County, Haynes Corp., a precision parts manufacturer in Norwalk, International Rectifier Corp., a semiconductor firm in El Segundo, and The Boeing Company, an aviation firm with facilities in Long Beach, are among the companies to announce their moves to other states.

Enterprise Zone supporters argue that we may see more businesses leave the state if programs that offer business incentives are gutted. "At a time when businesses need all the help they can get and the reasons to leave California mount, the Enterprise Zone program is one of the few tools helping the state stay competitive," added Johnson. "Many companies across the state have credited the program as one of the central reasons they remain here."

"Businesses that employ our local workforce have taken a strong stand to preserve this program by rallying for its expansion in our region and testifying to its importance on business and job development," said Biery. "Through continued education among legislators and the business community, we can ensure the success of the program and improve our business climate."

For more information on CAEZ, visit www.caez.org
Source: Manny Otiko is a freelance writer based in Southern California who writes about business, government affairs and environmental issues.