By: Leo Pearlstein



For the past five decades, 82-year old Leo Pearlstein has found a way to publicize every type of food imaginable with the help of a movie, TV, music, sports or political celebrity. How he ingeniously concocted his campaigns is revealed for the first time in his just-released book, "Celebrity Stew." The coffee-table book includes over 200 nostalgic and rare photos of many of Hollywood's top stars.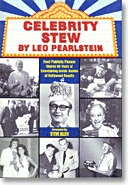 Pearlstein's publicity campaigns not only helped sell food, but also the projects of the celebrities he teamed with including Abbott & Costello, Groucho Marx, Dinah Shore, Bob Hope, Vincent Price, Phyllis Diller, Doris Day, Mickey Rooney, Jimmy Durante and his good friend, Steve Allen, who wrote the book's foreword.
Pearlstein recognized early in his career that celebrities could help him orchestrate food demonstrations, contests, parades, photo ops, recipe books, conventions, endorsements, tie-ins and awards that would increase the visibility and sales of his clients' products. And when there wasn't a star available to guest on a radio, TV or personal appearance, the ever-resourceful Pearlstein created his own: finding the most beautiful model-spokespersons whom he would meticulously coach about every aspect of the product, and then anoint them with titles including Miss Prune, Miss Turkey, and Miss Boysenberry, to name a few.

They would then appear on shows such as, "Dinah!," "The Steve Allen Show," and "What's My Line?" Seasoning each chapter are classic photos of the famous who found themselves as ingredients in Pearlstein's publicity recipes, including Bill Cosby, Angie Dickenson, Pat Boone, Wayne Newton, Jack Nicklaus, Gerald Ford, Arnold Schwarzenegger, Liberace, Bob Barker, Barbara Eden, and favorite TV families including Lassie, My Three Sons, The Danny Thomas Show and The Real McCoys.

This book is full of interesting facts about food, woven throughout his many stories. The book also shares 10 classic celebrity recipes including Bill Cosby's "Prune-Nut Dressing," Phyllis Diller's "Baked Dill-Stuffed Sole," health guru Jack La Lane's "Apple Pie," Bob Hope's "Honeyed-Fig Grapefruit Halves," and Dinah Shore's "Prune Whip and Port Wine."
"Celebrity Stew" is available in most bookstores or can be ordered from Hollywood Circle Press, P.O. Box 48051, Los Angeles, CA 90048. For more details, or to order on-line, visit www.celebritystew.com, which shares Steve Allen's entire Foreword, as well as photos of some of the celebrities featured in the book.