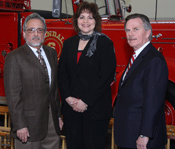 Urgent Care Centers for Non-Emergency
Medical Care, from left: Richard Foullon,
President, Medical Director Verdugo Hills
Medical Associates; Jill Young, Director
of Integrated Service Lakeside Medical
Group; James Garrison, President, Pacific
Federal Insurance Corporation. Photography
As An Art, By Harvey Branman
In a growing trend, consumers increasingly turning to walk-in clinics and urgent care centers for treatment of minor ailments and injuries instead of trying to squeeze in an appointment with a primary care provider or waiting at a crowded emergency room.
These shifting habits and the rising prominence of clinics and centers are reshaping the health care model that for decades sent patients to their primary care doctors, and if necessary, the emergency room.
In fact, urgent care clinics are getting so popular that a handful of physicians groups and entrepreneurs are starting to franchise them as. Doctors Express, based in Towson, Md., bills itself as the "first-ever national urgent care franchise."
This has major ramifications on health care spending, as well. A RAND Corporation study released last month in the journal Health Affairs said about 17% of all visits to hospital emergency departments across the United States could be treated at retail medical clinics or urgent care centers, potentially saving $4.4 billion annually in health care costs.
Medical professionals say urgent care centers started popping up in sizable numbers over the last decade, as health care costs began skyrocketing and physicians became increasingly frustrated as they fought for better Medicare reimbursements.
By 2007, the Urgent Care Association of America said there were about 8,100 urgent care centers in the United States. That has grown more than 7% since then to about 8,700 today.
"The reason they are growing is the same reason they exist in the first place," said Lou Ellen Horwitz, the associations executive director. "That is because of limited access to primary care physicians and obvious recognition there are obviously many cases in an emergency room that don't belong there."
Horwitz said patients often go to urgent care clinics for "that middle ground of issues that need to be seen immediately but aren't life-threatening emergencies."
Urgent care center operators like to stress the differences between their facilities and the walk-in clinics like those found at Walmart and other retail settings. The latter typically are staffed with nurse practitioners or physician assistants, not doctors, and they tend to focus on treating minor illnesses such as upset stomachs, allergies or the flu.
Filling A Void
Nationally, many hospitals and physician groups are guarded in their comments about urgent care centers and walk-in clinics, though they do see urgent-care centers filling a void.
"To the extent that patients have access to places where they can have their immediate needs met outside a hospital, that can be a positive," Caroline Steinberg, vice president for trends analysis for the American Hospital Association.
But medical professionals also caution that the public needs to understand when an urgent-care center won't suffice. A person suffering chest pain, symptoms of a stroke, or any kind of life-threatening trauma needs to head to an emergency room.
Shafrin said there are pros and cons to urgent care centers. While convenient and less expensive, urgent care centers have the ability to turn away patients forcing them to go the emergency room.
There's also a lack of knowledge about a patient's medical history, he said. "One physician may not know what procedures or drug another physician prescribed in a different setting," Shafrin said.
Verdugo Hills Urgent Care Renewing for the Future
From our inception Verdugo Hills Medical Associates, dba Verdugo Hills Urgent Care, founded by Dr. Richard Foullon, February 1984, has always been rather innovative, as exemplified by our having been:
• One of the first Urgent Care facilities to open in the United States.
• One of the first free-standing, independently owned, non-hospital affiliated Urgent Care facilities to open.
• One of the first medical practices to break the long established, unwritten medical professional code of 'no advertising (perceived or otherwise) by running educational and promotional articles in our local newspapers.
• One of the first medical practices in our community to have put up a website.
• One of the first medical practices in Southern California to have begun using electronic medical records.
Pursuing our continued interest in evaluating and implementing innovations that can lead to better delivery of quality patient care, within the next several months VHMA will be making available to you, our patients, a next generation Web 2.0 'HIPAA secure' website through which several on-line applications will allow our patients to:
More conveniently communicate with our practice and our providers
Access and grant access to portions of their personal health records should they so desire (Convenient and important while away from home)
Have personalized health related information from trusted sources, and specifically pertinent to them, delivered to their on-line 'Personal Healthcare Manager'.
Authorize us to more efficiently share pertinent portions of their secure medical records on-line with their specialists or consultants.
Through the functionalities found in today's various popular social media applications, that will be securely integrated into our website, they will be able to 'collaboratively communicate' with any one individual or groups of individuals that, for instance, may have experienced or are experiencing what they may be going through or care about.
Take a more active role in managing their own healthcare, if so desired
Opt to receive by secure email important and timely VHMA healthcare alerts, a periodic newsletter, as well as periodic healthcare related service promotions and/or discounts.
Verdugo Hills Medical Associates, located at 544 North Glendale Ave, Glendale. For information visit: VHMA's new website www. Vhma.com
Pasadena Community Urgent Care Now Offers Comprehensive
Occupational Medicine Services
Pasadena Community Urgent Care (PCUC) has opened a new occupational medicine program designed to serve local employers and businesses. The program includes immediate care for on-the-job injuries as well as an array of employee health services such as pre-employment physicals, drug screenings and more. "Our goal is to support the local business community by providing much-needed services in an easy-to-access, affordable and comfortable environment," said Al Moreno, manager, Pasadena Community Urgent Care. "Our highly trained staff is experienced in all aspects of occupational medicine, and we're excited about being able to offer our services to employers throughout the greater San Gabriel Valley."
Pasadena Community Urgent Care is staffed by Huntington Medical Foundation physicians and includes 11 examination rooms, a procedure room, laboratory and X-ray. The center opened in October 2010 as a way to provide community members with the "right care, right place, right time" for all of their urgent care needs.
PCUC is a unique collaboration among the city of Pasadena, Huntington Medical Foundation, and Huntington Memorial Hospital. One of the goals of the center is to alleviate some of the pressure on the hospital's emergency department while ensuring that community members have access to the care they need in the most appropriate setting.
"Urgent care is for those times when you can't wait for a doctor's appointment, but your need isn't life threatening," said Stephen A. Ralph, president and chief executive officer of Huntington Memorial Hospital. "Pasadena Community Urgent Care can provide the kind of immediate care, easy access and peace of mind not found anywhere else in the Pasadena community."
Pasadena Community Urgent Care is located at 3160 East Del Mar Blvd. The center is open daily from 7 a.m. to 10 p.m. For urgently needed care, appointments are not necessary; however, appointments are required for employment physicals and screenings. For more information call 626-270-2400 or visit HMFUrgentCare.com.
Lakeside/Regal Urgent Care
Make sure you know how to deal with the unexpected. At the Lakeside/Regal Urgent Care, our board certified physicians, trained in dealing with urgent care situations, are ready, willing and able to care for you right away. Our state-of-the-art facility provides a wide range of services, to patients of all ages, including on-site X-ray and laboratory services; infusion therapies, such as antibiotics and hydration, and much more. Open 7 days a week from 11:00 a.m. to 10:00 p.m., including holidays, we accept patients on a walk-in basis and offer discounts to cash pay patients.
With lower co-payments than emergency rooms, our full service urgent care facility delivers affordable care for wide variety of sudden illness or injury that requires immediate care, but is not serious enough to warrant a visit to the emergency room. These include coughs, colds and sore throats; minor burns; fractures and sprains; cuts and scrapes; fever or flu-like symptoms; nausea, vomiting and diarrhea; urinary tract infections and ear infections.
Lakeside/Regal Urgent Care accepts most HMO, PPO, private insurance plans and Medicare. When the unexpected happens, come visit us:191 S. Buena Vista Street, Burbank, 818-295-5920. Other locations: 18055 Ventura Blvd., Encino 818-818-8117; Thousand Oaks Urgent Care, 620 E Janss Rd 805-495-6866; Regal Urgent Care, 117 E Live Oak Ave, Arcadia, 626-445-8492; Regal Urgent Care, 2755 Alamo St, Simi Valley, 805, RMG-CARE.