By: Robert Vaughan



Decorated veteran uses unique sources to craft a World War II epic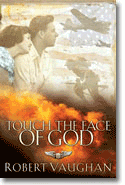 For retired Army officer and accomplished author Robert Vaughan, creating his latest war novel included some unique research tactics. With tours of duty in Germany, Korea, and Vietnam, and awards including the Distinguished Flying Cross, the Bronze Star, and the Purple Heart, he is a veritable wellspring of source material.

In his latest work Touch the Face of God, which follows a B-17 crew during WW2, Vaughan has gone to great lengths to not only get the facts straight, but also give the reader "the tone and tint of the times" through the use of unusual source materials.

During the research stage for Touch the Face of God, a true-to-life look at World War II, Vaughan wanted to take the reader back to a time when life was the war—both across the Atlantic and on the home front. Knowing that attention to detail was the key to reaching an elevated level of authenticity, Vaughan:
Framed his story by using veteran B-17 pilot Hiram Griffen's mission log, who flew over 35 missions before he was 22 years old.

Collected and referenced an extensive collection of period media, including the complete wartime run of Time magazine and dozens of hours of vintage radio broadcast recordings.

Conducted hours of extensive interviews with veterans and their wives to better understand how memories shape perspectives of the war.

Incorporated actual letters exchanged between soldiers and loved ones during the war to better capture the fear, hope, effects of separation and the daily coping with life in wartime America.
Touch the Face of God (April 2002, Thomas Nelson Publishers, ISBN: 0-7852-6627-5, $14.99) marika@bookpros.com