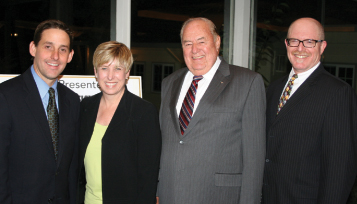 L.A. City Controller Wendy Greuel joined VICA members for the first VICA After Dark reception of 2011. Greuel provided attendees with an update about her work as City Controller, noting that the position has not won her many friends. She thanked VICA for its cooperation in working to have audits heard by the City Council and recommendations implemented. Pictured from left: VICA Board Member Andrew Kugler (Mayer Brown); L.A. City Controller Wendy Greuel; VICA Board of Governors Member Clay Lacy (Clay Lacy Aviation); and VICA 1st Vice Chair David Adelman (Greenberg & Bass).



Yulanda N. Davis-Quarrie has joined Verdugo Hills Hospital (VHH) as Foundation President. Ms. Davis-Quarrie brings more than 25 years of leadership experience in the field of philanthropy to the community-based hospital. In her new role at VHH, Ms. Davis-Quarrie oversees the fund development efforts, public relations/marketing and volunteer services. VHH President and CEO, Len LaBella, said: "Yulanda's scope of experience and professional credentials will benefit VHH and its fund development programs. We are excited about her joining the VHH team."Ms. Davis-Quarrie's specialties include Board development, major gift solicitation, capital campaign experience, annual fund development, strategic planning and implementation.

City Manager Michael J. Beck announces that Vince Bertoni has been appointed as the new director of the Pasadena Planning Department effective Feb. 28. Over the past two years Bertoni has overseen and managed the planning operations of the Los Angeles Department of City Planning. "Vince Bertoni has a strong background in development and a reputation as an excellent manager who is sensitive to community issues," said Beck. For more information please visit: www.cityofpasadena.net/planning.



Ron L. Wood, former publisher for the San Gabriel Valley Newspaper Group, has been named president and CEO of the The Valley Economic Alliance, the San Fernando Valley's premier economic development organization. Wood, who most recently headed the San Gabriel Valley Economic Partnership from 2007 through 2009, replaces Bruce Ackerman, who joined the alliance in 2000 and passed away in August 2010 after a battle with cancer. Alliance Chairman David Fleming said Wood was an easy choice to fill his organization's top slot. "Ron has a proven track record of success working with public and private sector partners to foster economic growth."

Kelly G. Richardson, a veteran business trial lawyer and prominent authority on real estate and common interest development law, has been appointed to the National 2011 Board of Trustees of the Community Associations Institute (CAI). . Richardson, who is the Co-Founder and Managing Partner of the Pasadena, CA-based law firm of Richardson & Harman, PC, is one of 14 members of the prestigious Board which will help shape the national organization, CAI chapters and the community association marketplace at large in 2011.

The Los Angeles Board of Airport Commissioners (BOAC) elected attorney Michael A. Lawson as its president for term ending June 30, 2011. Lawson has served on the Board for more than five years. He heads the Employee Benefits Group at the Los Angeles office of Skadden Arps LLP. Other current commissioners are Vice President Valeria C. Velasco, Joseph A. Aredas, Boyd Hight, Fernando Torres-Gil and Walter Zifkin. Rothenberg's vacancy is expected to be filled in the near future with an appointment by Los Angeles Mayor Antonio R. Villaraigosa.



Local business and community leader, Sunder Ramani, has joined the well known post-production studios at Westwind Media in Burbank. Ramani, most recently a candidate for the State Assembly seat, has been named Senior Vice-President, responsible for all media and campus ventures. "I am thrilled at the opportunity to work along side my friends here at Westwind," stated Ramani. "I have had a long-term relationship with this company, and it will be fulfilling to achieve objectives on behalf of Westwind and the community in this new role." "Sunder has been a lot of things to a lot of people and has been known to be the 'go-to' person. It is going to be fun to work with him and the great people at Westwind," stated Mike Flad, City Manager for the City of Burbank.

After more than 25 years of notable accomplishments as a nonprofit leader in the developmental disabilities community in Pasadena, Jim Hall will retire from his position as Executive Director of Foothill Vocational Opportunities in early 2011. Jaylene Moseley, President of the Flintridge Center and owner of J.L. Moseley Company, Inc. has long been a supporter of Foothill Vocational Opportunities and has worked closely with Jim Hall on numerous projects. She notes that Jim's "committed and compassionate leadership has empowered hundreds of adults with disabilities to lead productive and fulfilling lives." As a result of his efforts, Foothill Vocational Opportunities now provides a wide range of vocational services to over 250 adults with disabilities annually. Foothill's clients come from throughout the San Gabriel Valley and Los Angeles County.

In a recent ceremony, the Pasadena Tournament of Roses Association's Board of Directors confirmed Richard W. Jackson as President for the 2011-2012 Tournament year. President Jackson revealed Just Imagine… as the theme for the 123rd Rose Parade. As his first official duty, Jackson, announced the leadership and organizational structure for the 2011-2012 Tournament year. Gerald K. Freeny, a Tournament volunteer since 1988, was elected to the Executive Committee and will serve as the Tournament's president in 2019. He will provide leadership for the 130th Rose Parade and 105th Rose Bowl Game on January 1, 2019.



Mark Wilbur, President and CEO of Employers Group, has been elected and sworn in as Chair of the Los Angeles Business Federation (BizFed). "I am honored to serve as the chair of an organization dedicated to the promotion, advancement and expansion of business in the Los Angeles region." Wilbur said. Tracy Rafter, CEO of BizFed stated, "Mark's experience, innovative thinking, and strong dedication to promoting business in Los Angeles will serve this community well as we navigate economic and competitive challenges." Wilbur is a founding member of BizFed, most recently serving as the Vice Chair of Operations for the organization. Mark was the Associate Dean of the Marshall School of Business at the University of Southern California (USC) for three years. For more information, visit www.EmployersGroup.com.

Christopher D. Myers, President and Chief Executive Officer of Citizens Business Bank, has announced the following appointments: Margaret Blask, Vice President and SBA Credit Officer of the Bank's Real Estate Banking Group in Pasadena; Bradley J. Carter, Vice President and Investment Analyst with Citizens Trust in Pasadena; Olivia DeRossi, Senior Vice President and Support Services Division Manager in Ontario; Bruce McDonald, Vice President and Assistant Controller of the Bank's Finance and Accounting Division in Ontario; Kevin Cutter, Vice President and Credit Officer of the Bank's Credit Management Division in Ontario; William Jeffries, Vice President and Portfolio Manager of the Bank's Bakersfield Business Financial Center in Bakersfield;

The Cusumano family of Burbank has donated $1 million to the new Hycy and Howard Hill Neuroscience Institute at Providence Saint Joseph Medical Center, earmarking the funds for high-tech diagnostics equipment. In recognition of this gift, the institute's Neurodiagnostic Center will be named for the Cusumanos, whose family roots are deep here in Burbank, both in business and in philanthropy. The gift to the Providence Saint Joseph Foundation comes from Chuck Cusumano and Roger and Evelyn Cusumano, founders of the Cusumano Group: along with Michael and Caroline Cusumano and Charlie and Bettina Cusumano. "This $1 million contribution is the single largest contribution that we have ever made," said Michael Cusumano. "It is fitting that this special contribution is being made to the Providence Saint Joseph Foundation, where our esteemed late mother and grandmother, Anita Cusumano Strom, committed so much of her time and passion as a volunteer for decades.

KCLU, the local National Public Radio station for Ventura and Santa Barbara counties, was the biggest winner among radio and TV stations in the two counties for the 10th year in a row at the Radio & Television News Association of Southern California's 61st Annual Golden Mike Awards in Universal City.KCLU provides NPR and local news programming to Ventura County at 88.3 FM, and Santa Barbara County at 102.3 FM and 1340 AM. Listeners around the world can also tune in live or hear archived stories at http://www.kclu.org. The station is a community service of California Lutheran University in Thousand Oaks.

The Pasadena Convention Center held a ceremony recently unveiling the plaque it received for achieving LEED Gold Certification. LEED (Leadership in Energy and Environmental Design), established by the U.S. Green Building Council (USGBC) and verified by the Green Building Certification Institute, is the nation's preeminent program for the design, construction and operation of high performance buildings. Pasadena Mayor Bill Bogaard and Richard Schammel, chairman of the Pasadena Center Operating Co.'s board of directors, spoke briefly about the importance of this designation at a news conference at the convention center's outdoor plaza, 300 E. Green St.

A $152 million makeover of the historic Rose Bowl moved into another stage Thursday when workers dismantled the north video board to make way for a high-definition LED board more than double its size. As part of the renovation project, which began Jan. 10, the current video board is being replaced with a new 78-foot by 30-foot LED video board, flanked by LED advertising panels. The improvements are part of $2 million in video upgrades planned for the stadium. In addition, a new utility service loop is also under construction; deck repairs on the south side are underway; and workers are preparing to widen the tunnels on the south side. One of the project's main goals is to maintain the national historic landmark status of the stadium while improving facilities and generating revenue to fund the project and other long-term improvements.



Glendale Water & Power's General Manager, Glenn Steiger has been named one of 11 top "Movers and Shakers of the Electric Utility Industry" by Intelligent Utility Magazine. Steiger was recognized for having a clear vision of the future for GWP and transitioning the utility into the Smart Grid era. The magazine picked Steiger for "…leading his utility in deploying one of the most comprehensive smart grid projects in the country.