FWIB BUSINESS CENTER
A Program of the Foothill Workforce Investment Board
This comprehensive, full service business services unit is designed to meet the needs of employers throughout the foothill cities of Arcadia, Duarte, Monrovia, Sierra Madre, South Pasadena, and Pasadena through a variety of special programs. FWIB is the recipient of a recent congressional earmark grant from the Small Business Administration that will enhance and add value to all its service s through its work with the local chambers and the cities it serves. FWIB offers businesses services that include:

1. Staffing Solutions: Skilled Employment Recruitment to save you the time and expense of plowing through hundreds of resumes to find qualified applicants. FWIB will present you with only qualified, prescreened applicants to choose from. FWIB will provide space for interviews and recruitment. FWIB will post your employment opportunities and distribute them to other recruitment resources throughout Southern California to broaden your pool of qualified candidates. FWIB will help you access hundreds of resumes of qualified candidates from your office or any location any time of the day or night for maximum convenience. FWIB works with employers in the Foothill Corridor to identify the most needed job skills and trains applicants with similar skills for the specific needs of those occupations. FWIB Business Center sponsors several recruitment fairs annually. Your company can participate at no charge or at a fraction of the cost of a traditional job fair.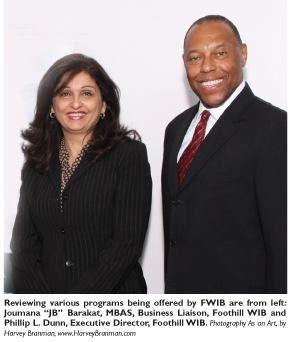 2. Labor Market Research
FWIB will make your business planning more efficient with the most up-to-date information available: Local and national unemployment rates, economic indicators, demographics, occupational and industry specific profiles, prevailing wages and more. Plan ahead effectively by making all your business decisions informed decisions, with the research resources available at FWIB.

3. Business Seminars and Consulting
Learn the skills you need: to thrive in any economy. Concentrate on your business and learn to recognize the signs that the environment is changing. Connect with the right people to keep your business healthy and going strong. All topics are up to date to meet the demands of the current economy. Receive business consulting at no cost.

4. On-Line Resources
Connect directly with invaluable resources: from the SBA, SCORE, SBDC, and myownbusiness.com. Sharpen your skills in Risk Management, Planning, Financing and Accounting, Marketing and Advertising, E-Commerce, Cyber Security, and hear from successful business owners who share the secrets of their success. Attend convenient online workshops to accelerate business growth and get personal mentoring.

5. Coping With Layoffs
Call on FWIB to help you perform corporate triage: during times of extreme economic stress. We come to your location to train your people in everything they need to move ahead. Our highly skilled professionals help with researching new employment opportunities inside and outside the Foothill Business Corridor. We give them access to the latest technology to help them carry on in their careers or even train them to build new ones.

FWIB is a proven force in the San Gabriel Valley that will help your business move forward by providing the resources and tools you need. We look forward to hearing from you.
For additional information visit www.fwibworks.org (626) 584-8381