Economic Resources:

The region's economic alliances and partnerships provide their perspectives on support they offer and solutions they propose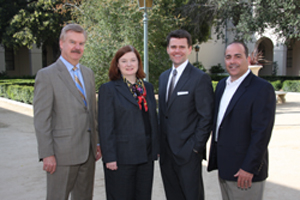 Economic Resource Executives, from left: Glenn Wallmark, Vice Chair, SGVEP, Partner, Lucas, Horsfall, Murphy & Pindroh, LLP; Maura O'Connor, Chair, LAEDC, partner in the Real Estate Practice Group; Daymond Rice, Chair VICA, Director, Public Affairs & Govt. Relations, Vons Division, Safeway. and Greg Krikorian, Executive Vice President, Business Life. Photography As An Art, By Harvey Branman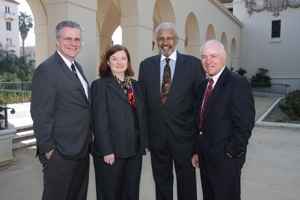 Business Life's Economic Resource Executives, from left: Don St. Clair, VEDC Board Chair, Vice President Marketing, Woodbury University; Maura O'Connor, Chair, LAEDC, partner in the Real Estate Practice Group; Ralph McKnight, Vice President Sales & Govt Affairs, Business Life; and David W. Fleming, Chair, Valley Economic Alliance, Latham & Watkins. Photography As An Art, By Harvey Branman

Working Together to Improve Our Business Climate
Our region's business community has seldom been more beset by the world's tragedies and conflicts. The state of our economy and high unemployment has been impacted by Japan's triple catastrophes of earthquake, tsunami and failing nuclear power plants, as well as the persistent unrest in the world's oil-producing nations. In the most recently available data, prices paid by
U.S. consumers for food, energy and other goods and services jumped again for the third straight month, adding to inflation fears.

As any business owner will tell you, the challenges facing our businesses in the San Gabriel and San Fernando Valley communities, as well as in greater Los Angeles, are more substantial than ever. As they battle with the twin-headed monster of increased costs and reduced resources, business owners are pushed to become more resourceful, more insightful and- dare we say-more heroic.

The region's economic alliances and partnerships fortify our communities with advocacy and resources. In our continuing quest to examine issues that matter most to businesses in our area, Business Life invited the chairmen of the region's five leading economic development entities to reply to their choice of several questions about how their organizations help and the solutions they propose. Their responses represent a "view from the top," rich with perspectives, accomplishments and strategies.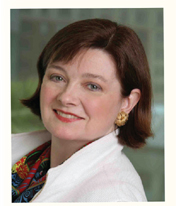 Los Angeles County Economic Development Corporation (LAEDC)
Maura O'Connor, Chairman,
Partner Real Estate Group: Seyfarth Shaw, LLP

Q: How is your organization helping in these challenging economic times?

A: As a public benefit corporation, the LAEDC's mission is to attract, retain and grow businesses and jobs in LA County, so that everyone who wants a job can have one. We offer confidential, free assistance to businesses of all sizes through our Business Assistance Department. After reaching out to almost 23,000 at-risk businesses, our staff conducted over 2,100 in-person consultations to develop action plans for each of them, then helped them access available resources (such as financing, reductions in energy costs, or employee training).

Our subsidiary, the World Trade Center Association Los Angeles - Long Beach, promotes investment in and trade with LA County, through trade and investment missions, outreach to the consular corps and other programs.

Our economists -- led by Dr. Nancy Sidhu -- provide economic and demographic information for Los Angeles County, which helps business and government leaders understand what makes LA County work.

Finally, our public policy experts have worked with more than 1,070 stakeholders representing business, government, labor, education and community-based organizations to create the first-ever LA County Strategic Plan for Economic Development, which, when implemented, should strengthen the economy, improve the environment and invigorate our communities.

Q: Governor Brown is proposing a "tough budget for tough times." How will it impact your region's businesses and economy?

A: By running deficits, the state amassed a huge problem of spending we cannot afford. It won't be easy: if spending is cut, we lose programs that have economic benefits to people in LA County. However, if taxes are increased, the economic burden will be spread across the taxpayers. Both are likely. Either way, the cure needed to balance the budget will have unpleasant side effects, and almost certainly will slow down our economic recovery.

Q: How will the pending elimination of redevelopment funds and enterprise zones impact businesses in your region?

A: The elimination of these programs will harm the ability to remove blight and redevelop areas, and will impact job growth negatively. California's Enterprise Zone Program is the state's most significant incentive program, which creates much-needed jobs in poor communities and for underserved groups (such as veterans and the disabled). EZs are one of the only dependable statewide economic development tools that encourage businesses to stay or locate in state.

Q: What can our region do to maintain and retain your businesses and the jobs they provide, and keep them from moving out of state?

A: Our governmental leaders need to understand that quality of life begins with a job -- and jobs begin with business owners being willing to take a risk -- to hire people. The multiplicity of regulations in California, however well intentioned, adds to the cost and risk of doing business here. We need to streamline and simplify regulations to make the costs of growing a business more predictable.

We also need to invest in upgrading our tired infrastructure, so that we can move goods and people through our region. Finally, but importantly, we need to fix our public schools both to maintain Angelinos' historic creativity and competitive strengths, and to help attract businesses to the region. For more details visit: www.laedc.org and/or www. LACounty StrategicPlan.com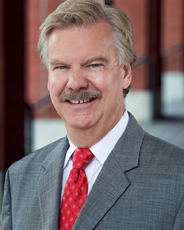 San Gabriel Valley Economic Partnership (SGVEP)
Glenn Wallmark, Vice Chair,
Partner, Lucas, Horsfall, Murphy & Pindroh, LLP

Q: How is your organization helping in these challenging economic times?

A: Each year, we ask our members what they want and then tailor the Partnership's work to focus on the areas that are most important to them. The annual survey of our members was completed this January. They told us they wanted the Partnership to: 1) Market the San Gabriel Valley so more businesses know what a great place it is to live and grow a business and 2) Make sure the impact on the economy in the San Gabriel Valley is considered when decisions are made regarding the state budget, legislation and regulations. Clearly, our members believe that when the economy is tough, we should build on the strengths we have and work together as a region.

The Partnership has active Committees working on both of the priority areas identified by our members. Our Regional Marketing and Promotion Committee, chaired by Blaine Fetter of Samuelson & Fetter LLC and Helen Romero Shaw of Southern California Gas Company, is working with the Art Center College of Design in Pasadena to develop a marketing campaign. We are excited about the opportunities available in the San Gabriel Valley for new and growing businesses and are looking forward to telling our story.

The Public Policy Action Committee, chaired by Henry Nunez of Henry Nunez Real Estate and Katie Mielke of MHi Development, meets monthly to review what is happening in Sacramento and Washington DC. We communicate regularly with the Valley's elected officials about how proposals will affect businesses and jobs.

On April 21, the Partnership will be holding a Legislative Networking Reception at The Huntington Library, Art Collections and Botanical Gardens in San Marino, giving businesses from the San Gabriel Valley an opportunity to talk directly to our state and federal elected officials about their issues and ideas.

We know that working together, as a region is a powerful way to leverage our individual voices and for 20 years the San Gabriel Valley Economic Partnership is proud to have been providing that voice in our valley. For more details visit www.ValleyConnect.com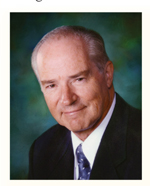 Valley Economic Alliance (VEA)
David Fleming Chairman, Counsel
Latham & Watkins, LLP

Q: How is your organization helping in these challenging economic times?

A: Formed following the 1994 Northridge earthquake, the mission of the Valley Economic Alliance (the "Alliance") has been to help amalgamate and coordinate all the business organizations within the San Fernando Valley in a joint effort to promote economic development, to retain and attract new businesses and to preserve and grow jobs throughout the region.

It has become THE strategic partnership of business, government and higher educational leaders in the San Fernando Valley, dedicated to creating livable communities and achieving prosperity for everyone.

Its members include VICA, VEDC, United Chambers of Commerce, Southland Realtors, the Valley Visitors Bureau, the Valley Leadership Institute, the Valley International Trade Association, the Valley Training Alliance of Community Colleges and the Architects Association, together with the governments of the cities of Los Angeles, Burbank, Glendale, San Fernando and Calabasas. It is supported by a diverse board of 150 governors and 45 directors.

Recently, it was chosen to represent the newly formed San Fernando Valley Council of Governments (the "COG"), which encompasses the greater San Fernando Valley region. The COG is composed of elected leaders from the cities of Los Angeles, Burbank, Glendale, San Fernando, Santa Clarita and the County of Los Angeles. The Mulholland Institute, which grew out of the Alliance, assists the COG and the Alliance in their day-to-day activities.

Alliance events include an annual Valley of the Stars Gala Dinner, Business Expo, and Business Forecast Conference together with Education, Transit, Rightsizing Government, Workforce Preparedness, Early Literacy, Business Assistance and International Trade summits.

Now, in these difficult economic times more than ever before, the work of the Alliance is essential to promote and assure the general welfare of all its residents. For more information visit: www. TheValley.net



Valley Economic Development Center (VEDC)
Don St Clair, Chairman
Vice President Marketing
Woodbury University

Q: How is your organization helping in these challenging economic times?

A: During the recession VEDC has been a primary, and in many instances, singular
source for small business financing. As the banking industry constricted access to small business capital, VEDC was able to raise loan capital that could be made available to small businesses. During this period, the VEDC has received infusions of loan capital and operational support from many financial institutions including Goldman Sachs, JP Morgan Chase, Bank of America, Wells Fargo and countless others. These resources have been quickly put to work by successful small business that otherwise would not have had access to credit.

In addition, VEDC has provided valuable and cost-effective
technical support to small and start-up companies. Many entrepreneurs are geniuses in their area of technical expertise, but have not had the formal business education so helpful in managing a growing concern on a day-to-day basis. The VEDC staff and consulting pool are skilled at helping these business owners manage their businesses in both good and challenging times.

As well, Roberto Barragan, CEO of VEDC, has become a nationally recognized spokesperson for the importance of small business in the regional and national economy. His messages of support for small business has reached not only financial institutions, but policy-makers in position to assist this sector.

Q: What is the role of Chairman in your organization?

A: It is the Chairman's role to oversee the board governance process. The non-profit governing board has primary fiduciary responsibility. It is our job to assure the organization is financially strong, mission-centered, and appropriately managed. We also assist with fundraising and business development when appropriate. Our executive staff, led by CEO Roberto Barragan, is skilled at the daily operation of the organization and raising capital to assist small businesses. The board is most valuable when we are focused on long-term strategy, organizational sustainability, and opportunities to innovate and grow. The Chairman must facilitate that process, keeping the board focused on higher-order strategy and maintaining the fine balance between governance and operations.

The Valley Economic Development Center has undergone significant change in the past three years. My role has chairman has been to create a sense of unity, common vision, and shared responsibility. It's also important to understand when to speak and when to listen. The best board chairs listen far more than they speak. For more information, visit: www.vedc.org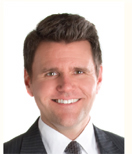 Valley Industry & Commerce Association (VICA)
Chairman Daymond Rice
Director Public Affairs & Govt Affairs, Von's

Q: How is your organization helping in these challenging economic times?

A: VICA is always working with elected and public officials to promote an economic climate that is conducive to a strong business community. VICA's advocacy work to eliminate regulation and reduce the tax burden for business is more important than ever as companies fight to survive the worst economic downturn the world has witnessed in decades.

Q: How will the elimination of redevelopment funds and enterprise zones impact businesses?

A: The loss of community redevelopment funds and enterprise zones would be devastating to the local business community and regional economy. These are local governments' only economic development tools and, in the current fiscal environment, governments need to do everything they can to help support job creation. Both programs encourage development and give employers incentives to locate in areas that need economic infusion. Businesses are vital to California's recovery and, to speed this process, redevelopment agencies and enterprise zones are a necessary investment.

Q: Would your group support raising taxes?

A: At this time, we are more concerned with collecting the taxes currently owed to the state. VICA is a proponent of AB 153 (Skinner) known as the e-fairness or "Amazon Tax." Currently, billions of dollars in state sales taxes are going uncollected. This bill would close the current tax loophole and force online retailers to collect and remit sales tax, just like brick-and-mortar companies. The current system creates an unfair advantage for online retailers. The e-fairness tax would level the playing field for California companies and help close the state's massive budget gap. For additional information visit: www.vica.org
_______________________________________________________________________
Business Life Staff, Rebecca Mikkelsen, APR and Elsie Krikoran assisted in editing, proofing the copy provided by the various Economic Alliance Resource Executives, Photography As An Art, By Harvey Branman