By: Betty Perkins-Carpenter, Phd



President of Senior, Fitness Productions

This diminutive former Olympic diving coach and fitness pioneer with the "Just Do It" attitude, embodies all that is right about being 50 plus.

Betty is internationally renowned in the sports in fitness arena through her accomplished swimming and diving career, and her physical education work with children and seniors.

A very young 65, Betty has successfully developed and run four corporations that incorporate her love of fitness: Perkins Swim Club, Fit-By-Five, Child Fitness Productions and Senior Fitness Productions. She also has authored two books on senior fitness: The Fun of Fitness and How to Prevent Falls, and Stretching in Bed.

These activities, combined with her affiliate work on children's and senior fitness with the President's Council on Physical Fitness, keeps this mother of two and grandmother of 2 on her toes. She wouldn't have it any other way. At 65, Betty has no intentions of retiring.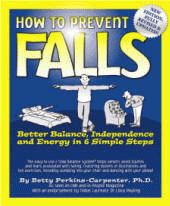 What advice does she have for her fellow seniors?
"Keep moving... what you can, as often as you can," Betty said. "Yes it may hurt a little, but disuse invites decay."
"Seniors deal with a lot of loss and stress in their lives. The best way to deal with these factors is with a strong emotional support system. Be actively involved with other seniors. Volunteer your time. Stay active and keep learning something new and different."
When I started to work with a senior clientele, I found they are very afraid of falling. People don't realize that falls can do more than break bones. Katharine Graham, David Brinkley, Dr. Robert Atkins, Kurt Vonnegut, and George Burns all died of a traumatic brain injury after a fall. Not one had a fracture. Over many years I have put together a six-step system for balance and fall prevention.
No. 1: Stretch in bed. When you wake up, you're relaxed and all your muscles and tendons are warm. You're not fighting gravity. By stretching, you have alerted your sensorimotor system and gross motor system.
No. 2: Do balance exercises. Start by doing them with your hands on a sink or a dresser, and after you feel the solidity of your balance, briefly take your hands off the furniture.
No. 3: Play ball. As you bounce a tennis ball, you are looking down at the patterns on the floor, which helps you become more alert to the edge of a rug, or a curb outdoors.
No. 4: Walk while talking on the phone. It's more challenging to stay balanced because you're thinking about something else.
No. 5: Dance with a pillow to music. If I ask older people to walk backward, they are afraid of falling. But when they're dancing, they're going forward and backward without thinking.
No. 6 I call it the slump. You have to learn to fall correctly; in an accident you won't have time to remember what to do. Hang loose and slump into a chair. When you go to bed slump first into a seated position, and then slump onto your side. The idea is to
practice keeping your body limp. A stiff body breaks. A limp body bends. One of my clients, age 79, put flowers on her church altar, stepped back, and fell down our steps. She wasn't hurt at all.