By: By Eric Tyson



What will you be looking forward to in the New Year? Buying your first home? Sending your last kid off to college? Or obsessing over an ever-growing mountain of debt? If that last one elicits a rueful nod, we may have hit on what should top your resolutions list—chipping away at that mountain. It may feel like "Resolution Impossible," but if you follow my advice, you'll remember '08 as the year you finally took control of your financial future.

Here are a few tips that will help you improve your financial health in 2008:

Make a plan and stick to it. Planning your finances doesn't have to be a long, complicated, dreary chore. The first step to successful planning is setting some goals. Decide the best ways to make the most of your money and start working on reaching those goals. Do so, and you'll soon turn your financial situation around.

Get rid of your four-wheeled debt. You don't need that $30,000 car. There are plenty of perfectly good cars out there that are within your budget and that you can actually pay for with cash. And trading in your $30,000 option for one of those will instantly help you free up money that you can use to pay off your other debts or invest in your future. Just think about what it would be like to save that $400-$500 each month rather than throwing it away to pay off the loan on your expensive car.

Research before you enter the stores. Prior to going shopping for necessities that aren't everyday purchases—say, a new refrigerator—do some research first. (Consumer Reports is a good source.) Your research will help you identify brands, models, and so on that are good values. You don't want to make an expensive mistake.

Watch your food budget. Dine out less and keep stock of the groceries you already have. Learn to cook if you don't know how. Try to keep a healthy inventory of groceries at home. This will minimize trips to the store and the need to impulsively dine out because your cupboard is bare.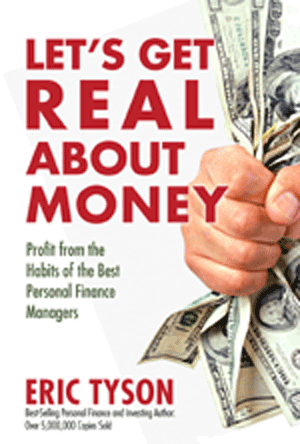 Watch what you are paying for insurance. Many people overspend on insurance by carrying coverage that's unnecessary or that covers small potential losses. Take high deductibles on your insurance policies—as much as you can afford in the event of a loss. Also, be sure to shop around. Rates vary tremendously among insurers. Ask insurers and agents selling policies to provide financial ratings for the company's policies you're considering.
Debt is emotionally crippling. It's a prison of your own making. Getting out of debt is
your ticket to true freedom, and that's a great gift to give yourself and your family in 2008 and beyond.

Eric Tyson, MBA, is one of the nation's best-selling personal finance book authors and has penned five national bestsellers (he is also the only author to have four of his books simultaneously on BusinessWeek's business book bestseller list).
Let's Get Real About Money! Profit from the Habits of the Best Personal Finance Managers (FT Press, December 2007, ISBN-10: 0-1323416-1-1, ISBN-13: 978-0-1323416-1-5, $19.99). available in bookstores nationwide and from all major online booksellers in December 2007. For more information, please visit www.ftpress.com.