Los Rios is considered California's oldest residential neighborhood. In 1794, its dirt path was lined with small adobe structures that were built for the families of soldiers and construction workers employed at the mission. At the time the road was called Calle Occidental.

In the late 1800s, it became Los Rios Street when a second wave of board and batten homes were built by European immigrants. Presently there are about forty homes on the street that vary in age from 50 to over 200 years old. Most of the buildings are private dwellings while others are home to cottage shops, gourmet restaurants, art galleries, a teahouse and a museum. Today, the Montenez Adobe, Silvas Adobe and Rios Adobe are all that remain of the original forty. The peaceful street still has no sidewalks or curbs but retains the charm of Southern California hospitality.

The city's downtown features an eclectic mix of historic buildings, funky shops, quaint cafes and of course, plenty of antique stores. The Los Rios District spans 40 acres and includes 31 historic structures, including the petting zoo's Olivares Home, built in the late 1800s.

The O'Neill Museum
Build in the 1880s by José Dolores Garcia, a saloon owner. It was one of the first wooden houses in San Juan. In 1903 Albert Pryor purchased the house for his family who lived there until 1955. In the late 70s, the San Juan Capistrano Historical Society acquired the house and moved it across the tracks where it now sits. They meticulously restored the home which now serves as a museum.

The Train Station -- Zoomars Petting Zoo
One of the more outstanding features of beautiful San Juan Capistrano is the train depot. As trains come in and out of the station, visitors cross the tracks to visit Zoomars Petting Zoo where children can ride the ponies and feed and pet rabbits, goats and other animals. www.zoomars.com

The Zoomars Petting Zoo is a surprising find amongst the glitz and glamour of Orange County. It's tucked away in the storybook setting of the Los Rios Historic District in San Juan Capistrano. The one and a half acre property on which it sits is a remaining parcel that was once part of a 2,500-acre Mexican Ranch. At the front of the grounds is the 100-year-old Olivares Home and was the residence of Delfina Olivares, a Matriarch of the City in the late 1800s.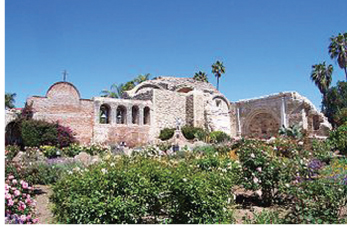 MISSION SAN JUAN CAPISTRANO
Today it is one of California's most important historical, cultural, and educational centers. The Mission is the seventh of 21 Spanish Missions established in California by Franciscan Padres. Spain controlled California until 1821, when Mexico won its independence. In 1845, the Mission was sold for $710 to Don Juan Forster. His family lived at the Mission for 20 years. In 1865, Abraham Lincoln returned the Mission to the Catholic Church. In 1915, Mary Pickford was married in the Mission chapel.

Areas of interest within the Mission walls include early adobe barracks, Friars' quarters, olive millstone, cemetery, aqueduct system, the beautiful gardens, and the original Stone Church. The Church was completed in 1797 and partially destroyed by earthquake in 1812.

The Mission is located on Ortega Highway west of Interstate 5 and is open daily from 8:30 a.m. to 5 p.m. (closed Thanksgiving, Christmas & Good Friday p.m.)

The Mission San Juan Capistrano continues on as a remarkable cultural center occupying a 10-acres with lush botanical gardens. The Great Stone Church monument has been placed on the 2002 list of 100 Most Endangered Historical Sites. The plan for preservation of the mission will cost an estimated $20 million and will hopefully stabilize the crumbling ruins to preserve this historic treasure for future generations.

For more information call (949) 234-1300 or visit the mission website at www.missionsjc.com