Small Business Financial Resource:
Valley Economic Development Center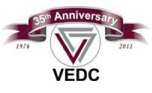 Access to Capital for Start-up and Existing Businesses
VEDC (Valley Economic Development Center) is the largest non-profit business development corporation and Community Development Financial Institution (CDFI) in the Los Angeles area and serves more than 6,000 small businesses annually. VEDC currently has 3 Capital Access Centers located in Van Nuys, Pasadena and Downtown Los Angeles.
This year VEDC is celebrating 35 years of experience providing affordable business services, direct financial assistance, entrepreneurial training and economic development with a gala celebration on September 25th on the grounds of Woodbury University in Burbank, CA.
The merger acquisition of the Pasadena Development Corporation (PDC) has allowed VEDC to broaden their geographic reach into the Northeast Pasadena area and the San Gabriel Valley. This collaboration brings extended financial resources, technical assistance and counseling programs to small business in these communities.
VEDC currently administers 17 small business loan programs. In addition, the San Fernando Valley Financial Development Corporation (SFV-FDC), a subsidiary of VEDC, operates the SBA 504 and the California Small Business Loan Guarantee programs. In 2005, VEDC opened a credit union in the northeast San Fernando Valley, Pacoima Development Federal Credit Union (PDFCU), through which a range of loan products are offered, including the SBA 7(a) loan program. This is the first credit union to open in the low-income Pacoima area.
With a $1 million loan received from Bank of America, VEDC launched a new microloan program partnering with ACCION USA, Inc., one of the largest micro-lenders in the United States. The ACCION USA Microloan will provide capital in amounts as low as $5,000 to early stage businesses and first-time business borrowers. The loan program offers access to capital for start-up and existing businesses in Los Angeles County with a strong emphasis on helping underserved Hispanic communities in Southern California.
VEDC depends on support from banks, government and community partners to continue to provide services to underserved communities. For the past ten years, Wells Fargo has played a critical role in supporting VEDC's mission and has invested in establishing many projects that have helped VEDC assist businesses.
Funding from Wells Fargo was used to establish the Statewide Small Business Growth Program. Implemented by VEDC, this is a capacity building initiative primarily focusing on business development and access to capital. Utilizing community partnerships, VEDC provides entrepreneurial consulting, training workshops and access to capital business expos in Los Angeles County, and now throughout the State of California.
The next Where's the Money? ® Access to Capital Business Expo, sponsored by Cathay Bank, will be held on Saturday, June 25th at the Sheraton Los Angeles Downtown from 8:00 am to 2:30 pm and appointments are available to meet one-on-one with a loan consultant to discuss business owner's needs in a more private setting.
And VEDC definitely has money to lend!!! In January 2011, JPMorgan Chase awarded a grant allowing VEDC to generate the loans that small and medium sized businesses need right now to stay alive and expand.
The JPMorgan Chase grant helped VEDC launch a statewide small business lending program – the Small Business California Loan Program – making loans in the amount of $50,000 to $500,000 statewide. VEDC has moved into the Bay Area and is ready to begin lending to business owners in that area and Statewide in anticipation of creating at least 2,000 jobs in California.
With seven locations throughout the state of California, VEDC has been working for 35 years supporting the small business owner with the goal of creating and sustaining jobs and businesses in low to moderate income communities by providing high-quality economic development services.
For more information on the loan programs mentioned or to register for Where's the Money? ® Access to Capital Business Expo, please visit www.vedc.org.
Small Business Owners who Received VEDC Services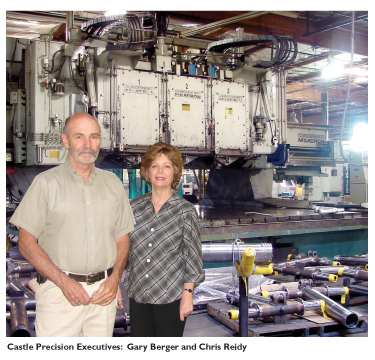 Castle Precision Industries
Gary Berger and William Windette founded the STL Enterprises in 1973 as a small aircraft parts brokerage firm. Over the years, the company emerged as an aircraft component manufacturer. The company has now grown into a parent company with three subsidiaries including Castle Precision Industries which produces their own aircraft parts, repairs and overhauls.
Castle Precision Industries has a long history of profitability however; in the aerospace downturn that followed 9/11 the company found itself struggling. In 2003, with lenders breathing down their backs, Castle Precision's owners contacted VEDC. The agency was able to put together a loan package and referred Gary Berger and William Windette to a bank to secure additional financing.
"The financial assistance and support we received from VEDC was crucial to the survival of the company at that time." said Gary Berger, CEO, Castle Precision Industries. "Since the debt restructure in 2007, the company sales have doubled and we have created more that 50 new jobs."
In the last 12 months, Castle Precision Industries generated revenues of approximately $19 million dollars. CIRCOR International, Inc. has just announced that its wholly owned subsidiary, CIRCOR Aerospace, Inc. has completed acquisition of Castle Precision Industries which will be integrated into CIRCOR's Aerospace segment.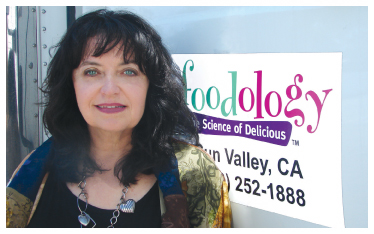 Foodology
Leslie Starus has a passionate interest in natural foods. In 1980, she founded Foodology, LLC specializing in Organic and Natural food products in Sun Valley, CA. Leslie's vision was to blend the art of preparing great tasting foods from fresh, natural ingredients with the most modern techniques in packaging.
In the shadow of a dwindling economy, Mrs. Starus approached VEDC. "VEDC helped me with funds to bridge a time when there was drop in sales and they gave me an opportunity to recover and garner additional clients."
Foodology, LLC weathered the economic downturn by reorganizing from higher end gourmet to value priced products. Today, their products can be found in almost every natural food stores and many main stream grocers in California and across the U.S.
"What's most important is that VEDC was supportive every step along the way, not like the banks where you feel their only concern is the bottom line. But VEDC was really on my side, they wanted me to succeed and they wanted to help me create more jobs." said Leslie. "I'm hoping to come back to VEDC soon to get a larger loan to expand my business."
Sway-A-Way, Inc.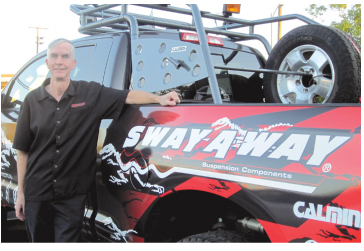 Sway-A-Way, Inc. has been in business since 1988 manufacturing high performance suspension products for cars, trucks, off road race cars and circle track cars. They also design, test and manufacture suspension products in house. The company's engineering and corporate offices are located in Chatsworth but their manufacturing, inventory and shipping functions were located in San Jose, CA.
Due to a slow economy and a decrease in sales, Brian Skipper, President and CEO of Sway-A-Way, Inc. determined that it was necessary to combine the two facilities in Chatsworth, CA. However, with many of their account holder behind in payments finding someone to finance this move became more difficult than Brian had imagined.
When Sway-A-Way learned that their current lender was no longer offering financing to any business in California - they came to VEDC.
"The VEDC was able to provide critical permanent replacement financing for my business. Without this financing, it would have been difficult for me to continue operations in this difficult economy," said Brian Skipper. "I am now able to work on improving operations instead of looking for financing. Thank you to all at the VEDC."
Thanks to the financial support they received from VEDC and the Goldman Sachs 10,000 Small Businesses program, Sway-A-Way. Inc. successfully combined their corporate and manufacturing facilities in the Chatsworth area. This restructuring has allowed them to stay in businesses and retain jobs as well as creating 10 new jobs in the San Fernando Valley.