Business Life Magazine's John Krikorian, Publisher and Greg Krikorian, Executive Vice President announced, with great pride the first ever Business Life's Women Scholarship award of $2500 to Jennifer Balajadia, a student at Woodbury University in Burbank.

The award was a direct result of the Business Life's Women Extraordinaire Gala held in the Glendale Hilton Hotel. Business Life coordinated the award with Kenneth Nielsen, Ed.D, President of Woodbury University and Don St. Clair, Ed.D, Vice President of Marketing, Woodbury. Business Life's goal was to recognize a worthy student majoring in Marketing & Communications and help give back to the community.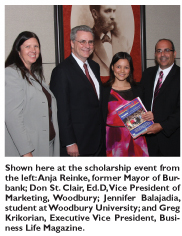 Jennifer Balajadia was selected from a top group of students. Jennifer is presently an Undergraduate associate working at The Walt Disney Company, Corporate Citizenship. Her favorite school projects are Thematic Seminar at Woodbury, working along side Hanze University on developing a game for the War Child Organization that would introduce normalcy back into the lives of children of Sudan, who have been affected by war.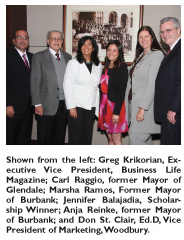 The presentation was made in the President's Board Conference Room, with near 40 in attendance representing past Business Life Women Achievers and community leaders. Present was Anja Reinke, former Mayor of Burbank, who offered Jennifer a Certificate of Recognition from the City of Burbank. Former Mayor of Burbank, Marsha Ramos, offered her kind words of confidence and that of achievement to Business Life in its 20 plus years of Service Dignitaries included former Mayor of Glendale Carl Raggio and Lynn Raggio, along with others representing various civic and service organizations in the region. Attending the ceremony was Jennifer's parents, grandmothers, brothers and friend.

Woodbury, founded in 1884, is a private university of business administration and professional design. Its 22-acre campus is located in Burbank, in the Los Angeles metropolitan area.

For additional information visit www.businesslife.com and www.woodbury.edu