Business Life Magazine honored women who bolster the region through their business skills, community service, and leadership at its annual Women Achievers event September 27, and again offered free morning career workshops.
Exhibitors at the event included sponsors Woodbury University, Wells Fargo, Glendale Adventist Medical Center, Southern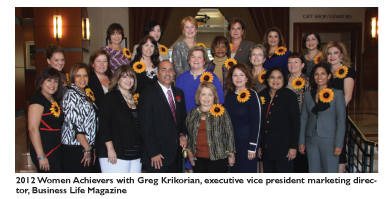 California Gas Company, and the Glendale Hilton where the event was held. The Pasadena and Glendale Commissions on the Status of Women shared a table, and other area nonprofits, women's organizations and workforce development agencies were given exhibit space.
The day began with workshops: a Career Clarity workshop led by HealWithin founder Liza Boubari, who related her own career change to understanding how body and mind work together, and how to manage stress. Attendee Ruth Brown, of Spring Investment Group, said the talk was both "very informative and very interesting." Boubari, who is a Women Achiever alumna herself, said that she was grateful for the opportunity to help other women seeking positive direction. "I heard a lot of great comments afterwards!"
Joumana "JB" Barakat from the Foothill Workforce Investment Board led a workshop with Diane Carter and Julie McElrath from FWIB. Stay focused, delegate tasks, and trust others in order to achieve business goals, was the advice to women business owners, said Juanita West Tillman, who introduced the panel. Tillman also introduced Thuy Pham from U.S. Dept of Labor, L.A. Region, who spoke about health care benefit changes in the law. "This was very helpful information for business owners," Tillman said. "Life for small businesses is going to be rough and choices difficult," commented attendee Carol Ann Burton, M.D.
Derrick Chevalier, principal of a business consulting and negotiation training firm, facilitated a rousing workshop on Balancing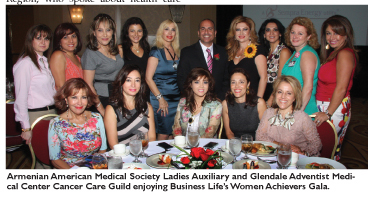 Work, Health and Family. Noting that all of us are each given the same amount of the most important resource in life – TIME – he urged attendees to Decide, Identify, Prioritize and Focus. Chevalier, who was one of the event organizers, stayed and answered questions and was on hand to honor the 2012 leaders at the luncheon. "Women are the life blood of our communities," he said. "Truly it was an inspiration to see, hear and learn more about the incredible range of talent and selfless contributions women make."
A Woodbury University team led a workshop focusing on leadership skills and issues for women. While a "nurturing" quality is a feminine stereotype, said Professor Phyllis Cremer, women often find that they have facilitative styles that are a source of strength in the workplace. Also covered: rejecting doubts about women, and focusing on "self-leadership" as a way to overcome gender-stereotyping obstacles.
Pam Corradi, another Woman Achiever alumna, was there as an organizing committee member throughout the day to greet attendees and manage the schedule. "The Women Achievers event is one that has become THE annual event to attend in the San Gabriel and San Fernando Valleys. The fact that those nominated are selected by their peers is an honor in itself, and the addition of an annual scholarship is a bonus!"
After the morning workshops and exhibit networking, another wave of attendees arrived at the Hilton's main ballroom. Women Achievers for 2012 were led to the stage as the award luncheon began. Former Burbank Mayor (and Woman Achiever) Marsha Ramos greeted the audience, and honorary event chair State Senator Carol Liu gave a welcome on behalf of herself and co-chair Supervisor Michael Antonovich.
Luncheon keynote Cynthia Kurtz, Executive Director of the San Gabriel Valley Economic Partnership, reflected on the bigger picture of what women have achieved, citing several studies, while reminding women that there is room for improvement. Among the facts she presented: there are 8.3 million women-owned businesses in the U.S. this year; a 2010 survey demonstrates that women in corporate management have a positive impact on business performance; and more than one-third of Silicon Valley businesses have no women in the top executive suite.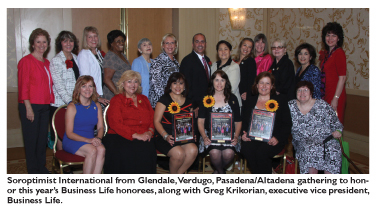 Event director and Business Life Magazine VP Greg Krikorian introduced this year's Women Achievers individually. He named Katie McKnight of Pasadena as this year's "Unsung Hero." He also announced that the magazine is establishing a new scholarship fund, with an award planned annually at the luncheon for a student pursuing higher education at a local college, in honor of the late Julie Burroughs Shermer, who was very active in Glendale community endeavors and was last year's Unsung Hero.
Marlene Cooper, President Elect of the Links, Inc., Pasadena/Altadena Chapter, was one of this year's honorees. "It was a very positive experience to meet so many women who are able to balance their 'day jobs' and provide meaningful social and cultural services to their respective communities," she said.
Glendale Educational Foundation President Laurel Patric, formerly director of the Glendale Library, said "This award brought recognition to the Glendale Educational Foundation as well as honoring me, and it inspired me to continue to serve with renewed enthusiasm and commitment. Thank you Business Life!"