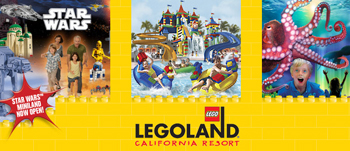 Enchanted Treasures and the Brick-mobile – to the Park's entertainment line up.

The all-new medieval adventure, Enchanted Treasure, runs daily at the Courtyard Theatre. In this 20-minute interactive live show, guests can experience action, comedy and a chance to help save the day! The castle has been invaded and two greedy knights are racing to find the crown of King Leo and unlock the magical secrets of the castle's enchanted treasure! Will the princess be able to stop them? Enchanted Treasure is sure to be entertaining for all members of the family. The show runs through Aug. 27.

And while strolling through LEGOLAND, guests of all ages will want to be on the lookout for the Park's Brick-mobile! This one-of-a-kind car features roaming entertainment that changes daily. From magicians to mad scientists, to LEGOLAND California's very own trio –The Brickettes – you never know who you might run into!

"This is an amazing summer for entertainment." states Shawn Greiner, entertainment supervisor at LEGOLAND California Resort. "Our guests will have plenty of options of how to spend their time in our Park. Many of these shows are street performances, so the guests will be entertained as they travel from attraction to attraction."

The Brickettes, a trio of girls age 11 to 12, are all about dancing and having fun, and they want LEGOLAND guests to do the same. This highly energetic performance group will encourage kids (and even parents) to learn choreography or make up their own so they can dance along with the trio to fun songs such as Party in the USA, Get this Party Started, Girls Just Wanna Have Fun, Happy Birthday (rock version), Let's Twist Again, Twist and Shout, Shout, We Got the Beat, Dynamite and You Can't Stop the Beat. The Brickettes perform Fridays and Saturdays.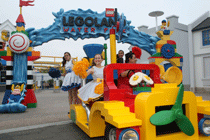 LEGOLAND California's wacky scientist, Mad Marty, and his sidekick Sally, run into a bit of trouble when they take over the Brick-mobile and it breaks down. In an effort to make it work again, Mad Marty and Sally take LEGOLAND guests through a series of science experiments, all while having fun. This interactive show takes place Wednesdays and Thursdays.

More Brick-mobile entertainment includes Street Magic, a father and son duo who will dazzle the crowds with hands on magic, mental magic and comedy magic every Tuesday. And little tykes will want to meet Bob the Builder, who can be found cruising LEGOLAND in the

Brick-mobile on Sundays and Mondays.

The Brick-mobile performances with The Brickettes, Mad Marty, Street Magic and Bob the Builder meet-and-greets run daily June 25 through Sept. 4 with show times at Water Works at 11:45 a.m.; Fun Town at 1 p.m.; Skipper School at 2:45 p.m. and LEGO Showplace at 4:15 p.m.

The Enchanted Treasures show and Brick-mobile performances are in addition to the Park's current show line up of favorites including Journey to the Lost Temple at Playtown Theatre; Big Test at Fun Town Stage; Clutch Powers and LEGO Racers at the LEGO Showplace. These shows run daily and show schedules may be found at www.LEGOLAND.com

All of the new summertime entertainment is included in the cost of admission to LEGOLAND California Resort. For ticket prices, operating schedule and additional information, visit www.LEGOLAND.com or call (760) 918-LEGO.