By: Rebecca Mikkelsen



As a highly-regarded plastic-reconstructive surgeon in Glendale, Dr. Norick Bogossian's first association with the Cancer Center at Glendale Adventist Medical Center (GAMC) was as a collaborator, when he served those with cancer among his patients. The collaborator became a patient in 2006, when the Doctor developed colon cancer and received services from the GAMC Cancer Center, before dying of the disease in 2009. To honor Dr. Bogossian's work, The Glendale Adventist Healthcare Foundation has reacted by naming its new guild in his memory.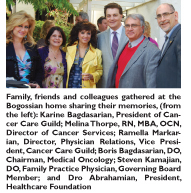 "Where life, love and hope connect" is the slogan for the newly-created Dr. Norick Bogossian Cancer Care Guild. That caring optimism was on full display at the reception to launch the Guild, hosted by Dr. Bogossian's widow Hilda on May 15, 2010. More than 150 family, friends and colleagues gathered at the Bogossian home to hear about the many free services offered to cancer patients and their families at the GAMC Cancer Center, and how they can extend the Center's reach
Drs. Bagdasarian, Carvajal and Kamajian Recalled Bogossian
At the reception, three of Dr. Bagossian's colleagues shared their memories of him. Dr. Boris Bagdasarian is chairman of the Cancer Committee at GAMC as well as a member of the Board of Governors (his wife Karine is the Guild's Chairperson); Dr. Sam Carvajal is Chairperson of Hospital's Tumor Board and Dr. Steven Kamajian, is a Montrose-based General Practitioner. The physicians paid tribute to Bagossian's humility and service to his patients. They remarked that his larger than life spirit touched everyone he met.
Event Raised more than $53,000 to Extend the Center's Services
"My children and I are deeply honored that the Foundation named the Guild after Norick," explained Hilda Bogossian, who recently joined the Foundation as Manager of Auxiliary Relations. "And the generosity of those who want to support the Cancer Center in this new way is overwhelming and humbling," she stated. The evening netted in excess of $53,000 for the new Guild to fund the Cancer Center's support services.
The Guild's Community Support
Membership in the Dr. Norick Bogossian Cancer Care Guild membership has grown quickly and its leadership is planning more events. Karine Bagdasarian is the Guild chairperson, assisted by Ramella Markarian as vice-chair. Donna Wammack is the group's treasurer and Christeil Gota is its secretary. Members of the Guild include Annette Aghadjanians, Armineh Alyanakian, Arpi Andonian, Stella Baghdasarian, Hilda Bogossian, Marianna Clarizio, Anik Davoodian, Stella Derrostomian, Armineh Djanece, Sharon Feinberg, Donna Galoostian, Dr. Steve Kamajian, Dr. Sara Kim, Pamela King, Cynthia Klinger, Teryl MacDougall, Guadalupe Mendoza, Karineh Minassian, Liz Mirzaian, Kerry Nelson, Cynthia Norman-Bey, Tina Parsegian, Melina Thorpe and Susanna Tamazyan.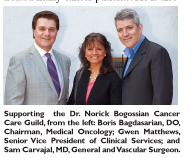 Center Services
The Cancer Center at GAMC helps cancer patients and their families with support groups, fitness programs and an image-enhancement service that provides wigs, hats and scarves to patients. These important programs are possible through the support of generous donors, volunteers and dedicated healthcare professionals. Money raised by the Guild will help ensure the continuity of service provided by the Cancer Center to the brave men, women and children battling cancer.
Dr. Norick Bogossian
Dr. Bogossian was passionate about the advancement of clinical care at Glendale Adventist Medical Center and treated many cancer patients. He is also renowned in the medical community as the surgeon who performed the first successful micro-vascular tissue transfer at Glendale Adventist Medical Center. He died of colon cancer in 2009 at the age of 56 and is survived by his wife, Hilda and their three children.
Trained at the top schools in the country, including New York Hospital - Cornell University Medical College, UCLA and the University of Miami's School of Medicine, Dr. Bogossian was also a resident in surgical oncology at Memorial Sloan-Kettering Cancer Center in New York.
For More Information
To learn more about the Guild or make a donation, visit their Facebook page (www.facebook.com/NBGuild) or call Hilda Bogossian at (818) 409-8055. To access the numerous free services offered by the Glendale Adventist Medical Center, call Melina Thorpe, RN, director of Cancer Services at (818) 409-8198 or email her at thorpeMC@ah.org.