30th Annual Small Business Awards Recognize 11 Local Entrepreneurs and Small Business Champions in conjunction with National Small Business Week Observance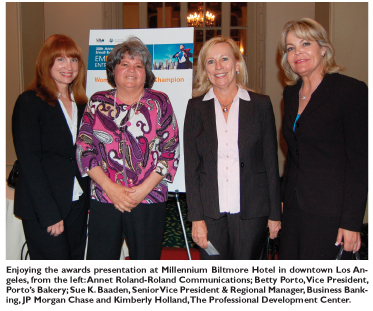 The U.S. Small Business Administration (SBA) announced the Los Angeles District Office winners at the 30th Annual Small Business Awards event co-sponsored by the Los Angeles Area Chamber of Commerce.

This year's competition presented awards to 11 entrepreneurs and small business champions in the Los Angeles area who are helping to drive the regional economy and accelerate economic recovery.

Entrepreneurs and small business owners from various industries competed from Los Angeles, Ventura and Santa Barbara counties and were nominated by local trade associations, chambers of commerce and business organizations.

"The SBA commends the 2011 winners for their hard work and dedication," said Monique Fortenberry, Los Angeles SBA acting district director. "These local small businesses are driving our economy and pointing the way for other entrepreneurs."


"Small businesses are a powerful and positive force on our economy," said Gary Toebben, President & CEO, Los Angeles Area Chamber of Commerce. "The L.A. Area Chamber is proud to serve small businesses, and we applaud this year's award winners for their contributions in helping to drive our economic recovery."

Award Recipients: Small Business Person of the Year, Barry C. Levin, Snak King, Corp. (City of Industry); Women in Business Champion, Madelyn Alfano, Maria's Italian Kitchen / NAWBO-LA (Van Nuys); Veteran Small Business Champion,

Frank Mancini, ELITE SDVOB (Santa Monica); Financial Services Champion
Antonio Zate, Wells Fargo Bank, N.A. (Los Angeles); Minority Small Business Champion, Dorothy C. Randle, City of Los Angeles, Mayor's Office of Economic & Business Policy (Los Angeles); Home-Based Business Champion, Derek A. Romo, Work-at-Home Business Expo (Fallbrook); Environmental "Green" Conservator of the Year, Elham Ebiza, California Recycles (Los Angeles); SBA Young Entrepreneur of the Year, Paul Mazbanian, Small Business Community Lending (Glendale); SCORE Chapter of the Year, SCORE – Ventura Chapter, Michael Scotto, Chapter Chair; Small Business Development Center Service Excellence and Innovation Award, Santa Monica SBDC (Santa Monica), Michelle King, Director; Women's Business Center of Excellence Award, Asian Pacific Islander Small Business WBC (Los Angeles)
Colleen Seto, Director.