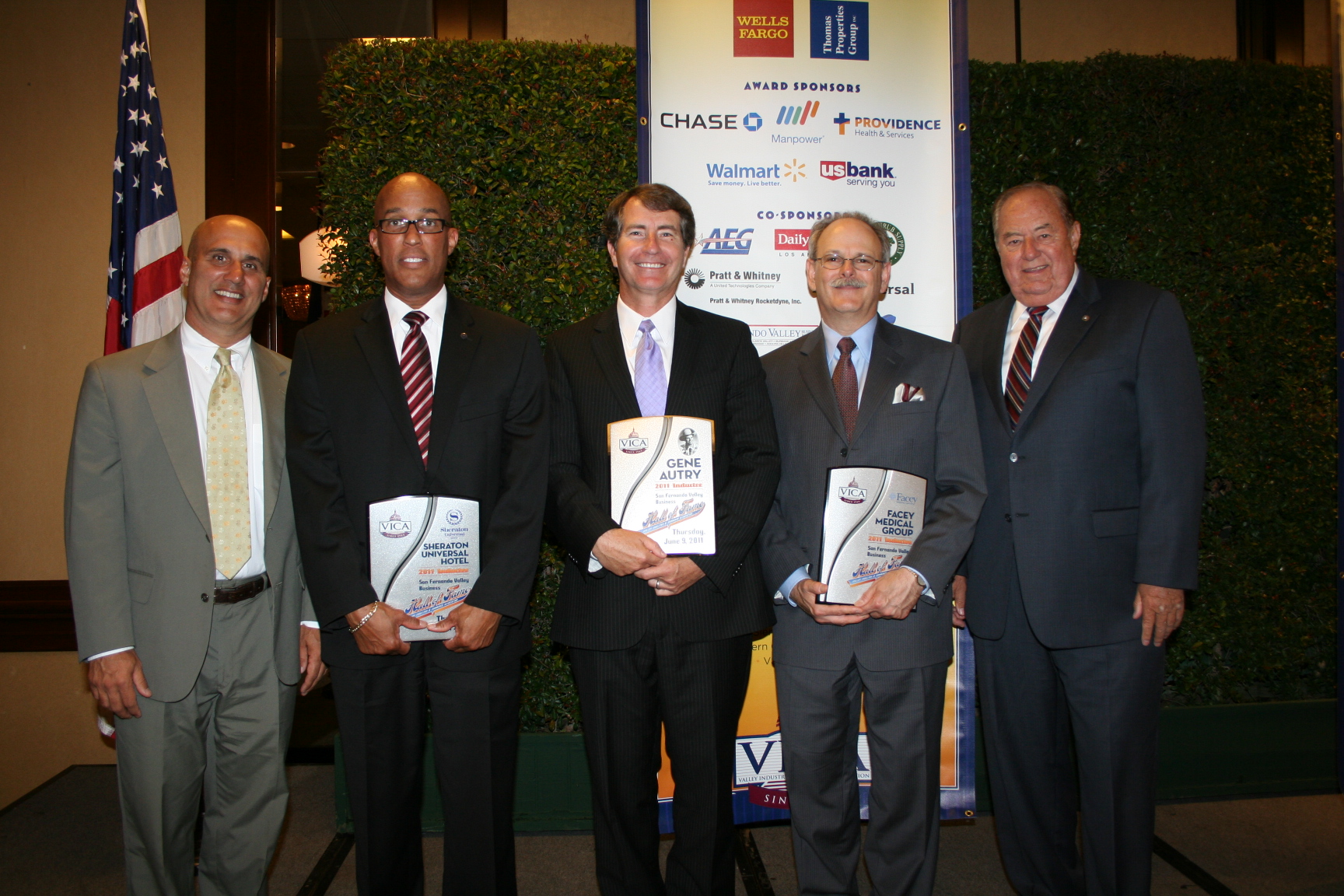 VICA inducted a group of distinguished community members into the San Fernando Valley Business Hall of Fame. For the fourth consecutive year KNBC 4 Weathercaster Fritz Coleman served as the master of ceremonies, helping VICA honor Clay Lacy Aviation, Gene Autry, Facey Medical Group, Sierra Canyon School and the Sheraton Universal Hotel. More than 400 VICA members and other community leaders joined the inductees to celebrate their success. The San Fernando Valley Business Hall of Fame was created by VICA in 2008 to recognize significant contributions to the Valley community.
The event was held at the Sheraton Universal Hotel, and presented by Wells Fargo and Thomas Properties Group. Representatives from the inductee organizations were on hand to accept the award on behalf of the 2011 honorees, (left): Jim Skrumbis (Sierra Canyon School); Beresford Wall (Sheraton Universal Hotel); Autry National Center President and CEO Dan Finley (representing the Autry Family); Fredrick Russo (Facey Medical Group;) and Clay Lacy (Clay Lacy Aviation).

Fourteen Californians from our San Fernando Valley, who have received national education recognition this year, were honored at the 11th annual Steve Allen "Excellence in Education" Awards. The awards, named for long-time Valley resident and legendary entertainer Steve Allen, salute nationally recognized achievements in the education field, and pre presented annually by The Valley Economic Alliance. The "Steve Allen Excellence in Education" Award is named for Steve Allen, who is best known as the creator of the original "Tonight Show" and composed more than 9,000 songs, valued learning, and spent much of his later years focused on and writing about the importance of education. Also being honored in the 2011 Valley of the Stars Business & Education Partnership award recipients. These awards are presented to an outstanding business in the community that have partnered with a Valley School. The award was presented to Citi Bank and North Hollywood High School. The "Champion of Education" Award recognizes individuals and organizations who have dedicated their lives to improving public education. The three recipients of this award are Dr. Ken Nielsen, President of Woodbury University, Van Nuys and Los Angeles World Airports and Diana Sanchez, Public & Community Relations Director, Van Nuys Airport.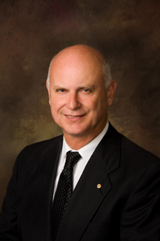 Dr. William Scroggins, who has served as Superintendent/ President of the College of the Sequoias in Visalia for the past five years, has been named the ninth President of Mt. San Antonio College, the state's largest single-campus community college district. Scroggins replaces Dr. John S. Nixon, who will retire on June 30 after serving as Mt. SAC's president for the past three years. "Bill Scroggins brings a wealth of experience as a leader in higher education and is well-versed in the issues and serious fiscal challenges facing the state's community colleges today," said Board President Judy Chen Haggerty. "He is also committed to our values of educational quality and student success, and he embraces our culture of excellence." Located on an expansive 420-acre campus in Walnut, Mt. SAC serves more students than most colleges and universities in California—some 65,000 credit, noncredit and community education students annually.