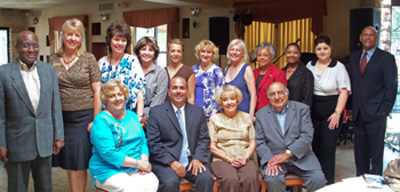 The Steering Committee making Plans for the September 26 Women Achiever's Business and Healthcare Conference, shown from the left: Ron Carter; Kathy Lefkovitz; Sandy Doughty; Paula Devine; Liza Boubari; Elizabeth Manesserian; Pam Corradi; Juanita West-Tillman; Lynnette West-Carter; Anahit Tovmasyan and Derrick Chevalier. Bottom row from left: Lynda Burns: Greg Krikorian; Lynne Raggio and John Krikorian. Others missing from meeting: Gerda Govine; Adel Luzuriaga; Marlene G. Bello; Zarmine Naccashian; Marsha Ramos and Elise Kalfayan.
This year Business Life is honored to have as Honorary Co-Chairs Senator Carol Liu and Supervisor Michael Antonovich & Mrs. Christine Antonovich, along with inspired and invigorated motivational Guest Speakers: Anita Q. Gabrielian, Regional Vice President, AT&T External Affairs - Los Angeles and Beverly White, Veteran General Assignment Reporter for the "Channel 4 News."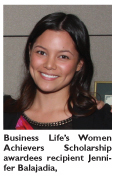 By popular demand Business Life has expanded last year's "sold-out" 600 plus Women Achievers celebration by adding dynamic morning "Workshops." Followed by the Women Achiever's Luncheon that will recognize the 2011 Women Achievers, along with the Top 20 Women Achievers from 1990-2010. Our host committee is excited to also recognize our very first Business Life's Women Achievers Scholarship awardees recipient Jennifer Balajadia, a student majoring in Marketing & Communications at Woodbury University in Burbank. Jennifer will part of our Luncheon program and early morning "Workshops".

Join us and take advantage of the outstanding opportunities prepared for you!
2011 Business Life Workshops: "Blueprint for Survival" you will:
Learn valuable skills from powerful seminars covering a broad range of topics:
• Balancing Work, Health, Family Dynamic Time Management
• Leadership Retooling Skills: To Survive & Jobs
• Gain Knowledge on Acquiring Capital
• Small Business Government Contracting and Certification
• Healthy Living: Body, Mind, Soul – Lean & Fit
• Healthcare Reform Impact
• Connecting with other top professionals

Registration & Networking: 8;30 am – 9:30 am. Workshops: 9:30 am – 11:30 am
Luncheon 12:00 – 1:30 pm Glendale Ballroom Glendale Hilton Hotel.

We are expecting over 400 in attendance, representing various civic, service, professional and business organizations in the Twin Valleys of San Fernando and San Gabriel, linked by Burbank, Glendale, and Pasadena.

Business Life was recently awarded the "Small Business Journalist of the year" for 2010 by the US SBA Los Angeles District and the Soroptimist International award for "Improving the Status of Women" for a 20-country region. Business Life, founded in 1990, is a family owned business, that is Certified by the State & LA County as a Small Business Enterprise.

A Special Speedy Recovery to Ann Erdman, POI, City of Pasadena


Longtime city of Pasadena Public Information Officer Ann Erdman is recuperating from emergency surgery. She was rushed to the hospital in mid-July, and will remain away from the office until approximately October. Linda Centell, Assistant Public Information Officer, is the acting PIO.

Ann manages the Public Affairs Office and is editor of the beloved Pasadena In Focus community newsletter delivered to 62,000 households. She is in charge of media relations, writing news releases, annual reports, and other city documents, including the city's PIO blog and much more. She sits on the board of Pasadena Community Access Corporation.
Ann was nominated as a "2011 Women Achiever" --- Her Nomination will be entered in 2012!

Our paths last crossed at the 50th Anniversary of the Villa Esperanza, when Ann opened the program by singing a sensational rendition of "God Bless America".
Business Life and all her friends wish her a full recovery!