By: John Krikorian and Elise Kalfayan



Business Life is proud to introduce you to its 21st annual collection of remarkable women who are making a difference in our communities. These women are always inspiring and refreshing.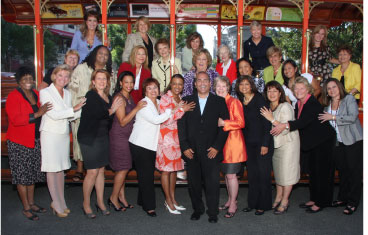 This year's photo shoot at The Americana at Brand featured a congratulatory reception for these outstanding women business owners, elected officials, nonprofit executives, and community leaders. Many of the women honored this year are aware of the struggles of women, men, and families in this economy, and have talked about their commitment to job creation, pay equity, and more opportunities for all.

The women featured below are marked by their gratitude for the encouragement, examples, and mentoring that others gave to them, and emphasize that they are determined to give back. Some of their comments in response to questions from Business Life talk about their definitions of success, and the importance of mentors and 'giving back' in their own lives. The future for those whose lives they touch is definitely brighter. Congratulations to each and every Woman Achiever listed below.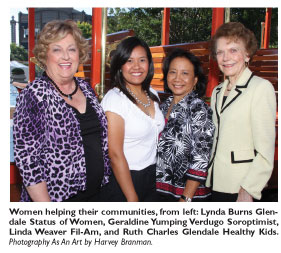 Business Life once again gave its women achievers the option of responding to a series of questions. Below are their answers, each edited by our editors.

Mary J. Alvord
Leadership Burbank
Completing a successful thirty-eight year career in service to the City of Burbank, rising from Junior Recreation Leader to City Manager, Alvord retired in 2009. Since then, she has focused on teaching opportunities to share her leadership experience and knowledge, and her passion for public service.

As an adjunct faculty member for Woodbury University and a member of the Leadership Burbank facilitation team, Alvord puts that experience and knowledge to good use. With increased time available to her, she also appreciates working on behalf of community causes, non-profit services, and events that improve the lives of Burbank residents.

Alvord's career mentor, her first female boss in Burbank's Park and Recreation Department, hired her because of her "can do" attitude. Alvord quickly "grew" into the job….and well beyond. Never defined by a job description, Alvord took on all challenges and responsibilities that came her way. She has carried that spirit into retirement, seeking to inspire others.

Diane Balsamo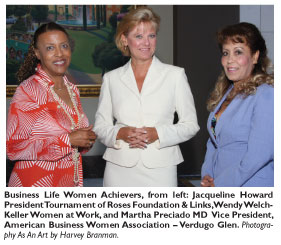 .
Santa Anita Family YMCA
Balsamo is Bank of America Assistant Vice President, Retail Sales Manager, and Platinum Club Retail Sales Originator. She has been in the mortgage business for over 21 years. Her goal at Bank of America Home loans is to continue to help customers realize their dream of home ownership.

She strongly believes that her success enables her to give back to the community through professional and charitable organizations. "My professional and personal successes are intertwined," she says. "One benefits the other. In all areas, I always strive to do better and never settle for second best."

Balsamo is an active member of Kiwanis of Monrovia, a Board Member of the Santa Anita Family YMCA, and a Board Member of Monrovia Reads. "Being involved in your community gives you so much back in the relationships you develop and the great work to make the world a better place. It makes you feel connected in a very real way."

Rima Boghossian
President,
Western Prelacy of the Armenian Apostolic
Church of America,
Rima Boghossian is President of the Western Prelacy of the Armenian Apostolic Church of America, headquartered in La Crescenta, CA. She has served in this position for nearly two years.

The Prelacy oversees schools from preschool through 12th grade, churches, Saturday schools, and youth programs including Bible study and choir. "Our goal is to promote education and inspire faith in God among the youngest members of our society so they build a strong foundation for a fulfilling future," she says.

Boghossian says she has always considered her primary career to be that of wife and mother of two—and today, a grandmother of three. Her second "career" has been volunteerism. She was proud to be the first woman appointed to the board of trustees of Glendale's St. Mary's Armenian Apostolic Church 22 years ago, serving in that position for 11 years. Now she is the first woman to be appointed president of that board's governing body—the Western Prelacy. In her own way, she's cleared a path for other women who have had to sit on the sidelines for far too long.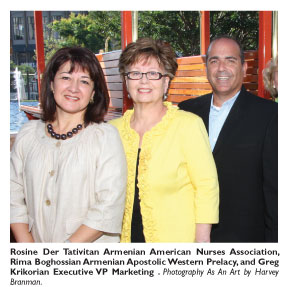 Lynda Burns
Glendale
Status of Women Commissioner
Burns is now serving an appointed term with the City of Glendale's Commission on the Status of Women. Born, raised, and educated in Toronto, Canada, she was a teacher prior to moving to Southern California in 1969. She has worked in real estate and fund raising for many years.

Burns has enjoyed being a member of the Southern California Sportscasters Association for 30 years. She has taken on leadership roles in many groups, including the Verdugo Hills Hospice Association, the Glendale Mayor's Prayer Breakfast Committee, Glendale Beautiful, Women's Civic League, and the Friends of the Glendale Public Library. She has enjoyed being a member of the Southern California Sportscaster's Association for 30 years.

Assessing challenges to government in these difficult times, Burns emphasizes a return to local initiative, individual responsibility, and the Golden Rule. "Success is striving for balance and doing the best one can at any task while always seeking to do better," she says.

Burns is very proud of the two successful daughters and achieving women she's raised: Melissa Dant, a corporate attorney for 21 years; and Amanda Beck, an insurance broker.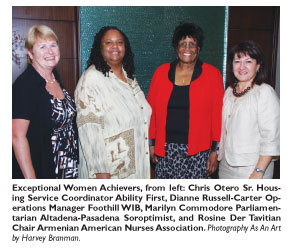 Phyllis Campbell
Glendale Association for Retarded (GAR)
Phyllis Campbell founded the Glendale Association for Retarded Children in October, 1954. When her daughter Janice was born, the doctors examined her and they told Phyllis that they were 99% sure that Janice was a Down Syndrome baby. Since she had taken a course in abnormal psychology in college, she knew what the doctor was talking about. When the doctor left the room, Phyllis lay in her hospital bed stunned. Then she heard a voice. There was no one else in the room but the voice was clearly saying to her, "keep yourself open and you'll know the reason and her life won't be wasted." She remembers these exact words to this day. Phyllis felt that these words were what kept her motivated to keep going even during the times when she felt discouraged.

In 1954, Phyllis took her daughter to a local elementary school in Glendale. The school would not let Janice attend school because of her disability. Phyllis was determined to put her daughter in school. She did some research and found a school over 45 minutes away from Glendale. The Director of that school met Phyllis and encouraged her to start a school in Glendale. As time went by, parents of older children heard about the small school asked if there were classes for their children. Eventually, there were five classes in various church Sunday school rooms in Glendale and La Crescenta.

Phyllis' definition of success is being useful and resourceful. She says, "I have always had a need to be useful…that is how I measure success." Helping the Association grow and serve more people has given me much satisfaction. When a need arose, I would create a new program, I wanted to broaden life experiences for the clients, and I started a work activity program and a bowling program. I worked with no salary for 11 months. I told the staff I would only stay for another three months, but kept working for another 14 years. For many of those years, I worked for $200 a month.

If I had been told what I would be faced with, I probably would have said "I can't, I'm not prepared." Because of Janice, many lives have been changed for the better. Phyllis strongly believes that, "God doesn't choose the prepared, he prepares the chosen."

Today, GAR serves 70 clients with developmental disabilities. Thanks to the vision of this extraordinary woman, GAR continues to give these men and women the opportunity to achieve their highest level of independence.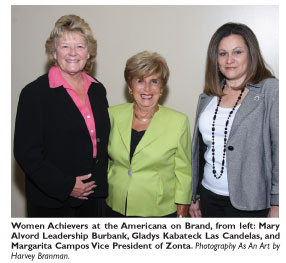 Margarita Campos
Vice President
Zonta Club of Burbank
Beginning as a City of Burbank Legal Secretary, Campos' public service career began in 1974. She has worked at City offices to the present time, now serving as City Clerk. "My goal has always been to provide excellent work and service to our community," she says.

Campos believes that America is truly the land of opportunity and the odds for success are in favor of those who are willing to work hard to achieve their goals.

She also recognizes that women and men at all levels are challenged in achieving a work-life balance. "During the 1960s and 1970s, employers considered work-life mainly an issue for working mothers who struggled with the demands of their jobs and raising children. During the 1980s men also began voicing work-life concerns. Recent years have solidified the recognition of work-life balance as a vital issue for everyone: women, men, parents and non-parents, singles, and couples."

As Vice President of the Zonta Club of Burbank, part of a global organization of executives and professionals working together to advance the status of women through service and advocacy, Campos has a channel for supporting women's causes worldwide. She is proud of Zonta's funding for literacy, health, youth, and leadership skills programs.

Dianne Russell-Carter
Foothill Workforce Investment Board
Russell-Carter's goals are to provide leadership and direction, to obtain excellence in performance, and to be a resource to the business community. Her mentors are her older siblings who have achieved great success in their lives despite their humble upbringing.

She currently mentors many children and young adults. An entrepreneur by nature, she has had several businesses in addition to her workforce development career. "My definition of success is total self-sufficiency and the ability to help others along the way. I am still on my journey."

Speaking of the Foothill WIB, she says, "We are changing with the demographics of our region regarding the unemployed. The jobless do not have a specific look or feel anymore. It is everyone from minimum wage to six figures. We have had to flex and change our service delivery system to accommodate this. The government needs to realize that the world has changed, so old plans, techniques, agendas, and ways of getting things done have changed."

President of the Pasadena Black Municipal Employees Association, she has been a member since beginning with Foothill 19 years ago, and has served all 19 years on the executive team. The association promotes unity, self-development, upward mobility, economic self-sufficiency, higher education, political awareness and community involvement for African Americans and other minorities.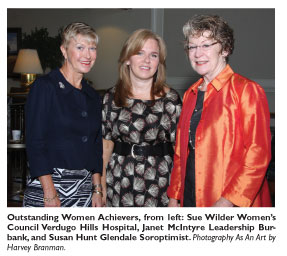 Ruth Charles
Glendale Healthy Kids
President – Charles Music Store & Studios, Inc
Charles has been a musician all her life, and a music teacher and owner of Charles Music store for 60 years. She has retired three times, but says, "How do you shut the door on music? Impossible! Fortunately, I still teach and love it!"

When she and her husband started their careers, they wanted to instill in their students and their audiences their passion for music. This passion took them all over the world; each place they made friends which Charles has to this day.

They moved to California to be near the creative hub of music in the film industry. Although they both had wonderful jobs in the University and Los Angeles school system, they "retired" from those positions after two years to teach privately and to play professionally. They were very successful as their own managers, and the store they started is still thriving and now catering to the second and third generation of customers.

"Success is being happy in what you are doing, realizing a good return for your creative efforts, and making life-long friends through your work," Charles says.

Her husband passed away 17 years ago, but the Charles Music Store & Studios still continue. "Fortunately I am still able to enjoy my life of music – giving and caring for my friends and supporting those who need help with their music profession," she says.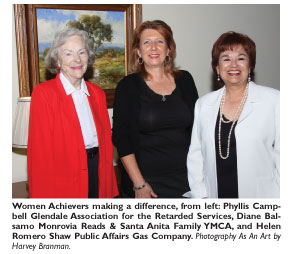 Marilyn E. Commodore
Soroptimist International
Altadena/Pasadena
Commodore is immediate past President and current Vice President of Finance of Soroptimist International of Altadena/Pasadena. A retired 20-year Vice President & Manager at Bank of America, Altadena, she had a 30-year career in the banking profession. More recently, she spent ten years in the elder care profession, ending as Administrator of Bella Vista Retirement Center for the Elderly.

Commodore's goals are to increase Soroptimist membership by 20 percent, with young energetic professional and businesswomen who have fresh ideas for improving the lives of women and girls in our local community.

She had several mentors who were instrumental in her advancement. As a result, she has committed herself for several years to mentoring young women and men in their business careers, and has made similar contributions to her community life.

My motivation to become involved came from my need to learn and to assist. The benefits have been rewarding. I've assisted others, made friends and contacts, wiped away tears and enjoyed many smiles."

Rosine Der-Tavitian
President
Armenian American Nurses Association
Der-Tavitian has more than 25 years of nursing experience in education, management, neonatal air/ground transport, and curriculum/program development, and she is currently president of the Armenian American Nurses' Association. Her nursing career started from at American University of Beirut. Later, she pursued her education at CSULB, obtaining a Master degree in Nursing, a Masters degree in Public Health, and a CNS certificate. She is on the nursing faculty at CSUN.

In her professional career outside of academia she is a member of Sigma Theta Tau, Phi Kappa Phi, and the LA Public Health Department's medical reserve corps. She has presented at international conferences in Vancouver, Ecuador, and Armenia.

Her family is very important to her: her husband Harut, son Razmig, daughter Araz, brother Nazareth, and her super achiever mom Baidzar. Her hobbies are reading, travelling, cooking, and making liquor from kumquat, pomegranate, and Limóncello.

Tamika Farr
Executive Director
YWCA Pasadena-Foothill Valley
Farr represents the YWCA Pasadena-Foothill Valley. As a woman, minority and resident of the Pasadena community, she says she is honored to have the opportunity to serve the community at her post.

"It is my goal to continue the honorable work the YWCA has done for the past 150 years, with a focus on the needs of Pasadena. I maintain my dedication to eliminating racism, empowering women and promoting peace, justice, freedom and dignity for all. Along with the YWCA's Mission committee, I will evaluate employment opportunities, education and housing to ensure that all people are equally represented and given equal opportunity. The YWCA is here to train and advocate on behalf of those how cannot do it for themselves. "

Farr says that many of the biggest workplace challenges facing women revolve around gender and pay equity. She is moved by the willingness of the community to come to the table for dialogue when there is perceived injustice or conflict. "The willingness to talk, listen, empathize and compromise is what makes Pasadena an innovative city. Each October we host our annual Women for Racial Justice Breakfast, attended by 500 community members seeking knowledge and understanding of others. This event creates a spirit of inclusivity that resonates for months after the event. The spirit is carried into our places of employment, our communities and our homes."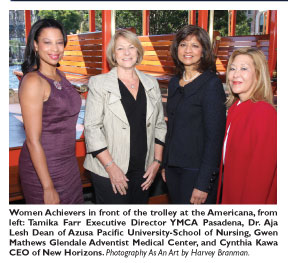 Nancy E. Guillen
Glendale Latino Association
Family Promise
Guillen is CEO of True Integrity Insurance and Payroll Services; she is a licensed insurance agent and is current serving as president of the Glendale Latino Association and on the board of Family Promise.

One of her overarching goals is to bring more agents on board in the professional, assist them with their growth in the industry, and with that financial growth encourage them to help local non-profits on multiple levels.

"I measure success on multiple levels. There is always work in progress on family, spiritual life, and business, and although I am content with many aspects, I know I there is always room for improvement."

The several organizations she is involved with have each touched her heart in different ways. GLA is an organization that helps raise scholarship funds for students seeking higher education. "Awarding scholarships to students who have excelled through adversity is very rewarding." Family Promise is an organization that gives families a hand up during these difficult economical times. "Although I have always known that hardship can happen to anyone, seeing the faces of the children and families we serve really puts things in perspective. I am reminded that no matter how minor my act is, it helped someone and for that I am truly thankful."

Jacqueline Howard
President, Tournament
Roses Foundation Board
Western Area Vice-Director The Links
Howard is enjoying a transition from elementary education and administration to teaching at the university level. She has been an Adjunct University Professor at CSUN for five years, and at National University for two years.

She currently heads the Tournament of Roses Foundation Board, which grants funds to charities in the greater Pasadena area. She was also recently elected Western Area Vice Director of The Links, Incorporated, a national women's dedicated to service and philanthropy. "Participation in this organization has allowed me opportunities to impact and improve the lives of others through service in the arts, international service, national service, health and human services, and youth programs."

After 32 years of working in elementary education, her work at the university level gives her the opportunity to help shape future teachers and administrators. "I agree with the saying that if you enjoy your job (career), you will never work a day in your life. I get to mold, mentor and help shape the next generation of educators so that they enjoy their job as much as I did. Mentors are vital - I have had numerous positive mentors throughout my career that have helped to shape and influenced by life. My mentors include my strong loving parents, key teachers and professors, as well as special professional, civic leaders and friends. I am passionate about service and giving back to others - 'passing it on.' I currently serve as a mentor to a 10th grade student at John Muir High School."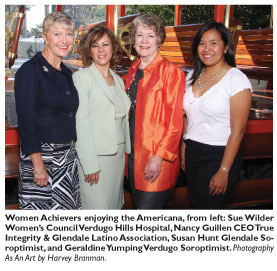 Barbara Howell
Executive Director
Burbank Temporary Aid Center
Howell's current goals at Burbank Temporary Aid Center include expanding services and facilities available to the homeless and low income in Burbank, while keeping up with the strong current demand.

Howell believes mentors are critical to success: "When I started my nonprofit career, many people didn't consider it legitimate, so I had to look for mentors and guidance in nontraditional ways. Because of this, I don't draw from any one person. I have had wonderful mentors – some may not even be aware of how much they have helped me. Often, a seemingly insignificant comment, idea or action will stay with me for a long time, providing guidance and perspective. My parents provided a strong foundation and have been a guiding influence throughout my life. I hope that through my actions and my experience, I am able to mentor others, both formally and informally. I have been involved with some youth mentoring programs and find the dynamic very exciting."

"Success can be such a subjective concept. I always ask myself, 'Is the organization/project better off now, than when I first became involved?' Another measure is whether I have grown personally and professionally from the work I've accomplished."

Susan Hunt
Soroptimist International of Glendale
Glendale Educational Foundation
Hunt says, "Long ago, I realized that my major areas of civic involvement needed to be women and children. I accomplish the latter through my work with Glendale Schools, and the former through my volunteerism, first in college with my sorority, then with AAUW, then with the YWCA of Glendale, and now with Soroptimist International."

Soroptimist International of Glendale serves women and girls in the Glendale area and around the world by donating funds to the cancer centers in the three major hospitals, granting requests for support to various community organizations, and donating pajamas to women and children living in shelters.

"I like making a direct impact on the lives of women and girls, and Soroptimist International of Glendale accomplishes that - whether it is through a donation to the Commission on the Status of Women for Rosie Goes to Wall Street, or sending supplies to women serving in the military."

Glady Kabateck, M.S. (Emeritus)
Patrons' Club
Glendale Community College
Las Candelas
Kabateck is involved with numerous volunteer and nonprofit organizations in the Glendale area, including Las Candelas, Assistance League, YWCA, GCC Patrons' Club, AAUW, the Character and Ethics Project, and scholarship and booster committees.

"Hopefully, I have helped make some difference in the lives of others by way of my counseling, encouraging and mentoring over the years. It has always been most rewarding to me! I have always wished to give back to the community, individuals and organizations just a fraction of what they have given me," she says.

Her professionals goals are to continue mentoring and encouraging women to pursue and receive educational degrees or vocational certificates and matriculating to even higher education levels.

She remembers her personal mentor: Dr. Patricia Lienhard, V.P. of Glendale Community College Services, and appreciates the continuous support and encouragement of her husband Jack and sons Brian and John. "Without their assistance and total backing I would not have been able to complete and earn my Master's Degree in Counseling Education at CSULA. Subsequently, I developed the GCC Mentoring Program in 1988 permitting me to continue counseling both at GCC and in the community at large.

"Achieving educational and career success for women of all ages and from all walks of life as well as for myself has been a matter of setting personal goals based on one's aspirations and interests."

Cynthia Kawa,
CEO
New Horizons,
Kawa has made it her mission to serve the needs of developmentally disabled people. New Horizons is a non-profit organization dedicated to helping adults with developmental disabilities live full and productive lives. "Our goal is to continue to serve this community to help them live to their fullest potential," she says.

"My success is based on leading my organization to meet the needs of the developmentally disabled while being a contributing member of the region's business community. She joined New Horizons in 1988 as administrator of the residential services program and has led the organization since 1992. Previously, she developed the first group home in the San Fernando Valley for people with visual impairments and mental retardation."

Kawa believes that women must continue to work to achieve equal pay for equal work and says that progress – but not enough – has been made in this arena.

She also stresses that government must meet the needs of the developmentally disabled; more than 10 percent of New Horizons' funding has been cut due to California's current economic crisis.

Wendy J. Welch-Keller
Women at Work
Welch-Keller's goals include continued education via on-site training. Her position, as assistant to the president, at Community Bank has given her deposits of both knowledge and experience. She hopes to achieve additional responsibility in matters pertaining to corporate governance and business development.

She says, "I believe in helping people, help themselves. Leading by example and providing a helping hand is the surest way I know how to help folks get on their feet, and that also provides them a sense of confidence, pride and hopefully a desire to give back to their community for the help that they received."

She believes job creation to should be the single largest priority at the national government level. "A focus on our own country's infrastructure, both updating and new, would surely be a catalyst for job creation, efficiency and safety. All facets of industries could benefit from the laborers, contracting companies, communities that will reap the benefits and press as they will have something of local interest to report on."


Dr. Aja Tulleners Lesh
Professor and Dean
School of Nursing
Azusa Pacific University
Lesh has been active in nursing for 40 years as a clinician, educator, and researcher, and is now Dean of the School of Nursing at Azusa Pacific University, a comprehensive, evangelical, Christian university committed to excellence in higher education.

She recalls many mentors along her way. "Everyone whose lives touch us, teach us. Some provide a gentle word or point us in a particular direction. Vivian Weinstein left a lasting impression; she mentored me to care passionately about the fate of children and to speak for those who cannot speak for themselves.

"Nursing is an amazing profession. It is rare that you find a profession that engages your mind completely, is challenging and dynamic, and allows you to touch people's lives in a meaningful and lasting way. Nurses are involved in administration, university faculty, research, and implementing new and innovative health care practices.

"The continual process of growth, identifying and pursuing challenges is success. And my failures are success, because they teach me as well. They help me along the path. My faith allows me to view my successes in this world as gifts from God. It is God who directs my goals and establishes my path."

Lesh says nursing is challenged by a lack of qualified faculty and shrinking opportunities for clinical learning within hospitals and clinics. She has worked to address those issues. Since 2003, the school has tripled in size, added two doctorates in nursing, and grown the pre-licensure programs and the advance practice programs at the main campus and at three regional sites."

Gwen Matthews
Senior Vice President and Chief Nursing Officer
Glendale Adventist Medical Center
After serving as a senior executive at Glendale Adventist Medical Center since 1999, Matthews will be moving soon to to a new appointment in line with her recognition as a Woman Achiever.

She will become CEO of Adventist Health hospital in Ukiah, California as well as Senior Vice President for the AH Northern California Network of five hospitals in the region.

Matthews is looking forward to executing a fully integrated approach to healthcare from the CEO seat. "I want to ensure that the community we serve has access to high quality healthcare, leveraging the talents of the local professionals with strong linkages to whatever additional expertise outside the community is needed.

"My definition of success is fully living out your life for its intended purpose, seizing every moment with full engagement so that by the end of the journey you have no regrets; only a sense of satisfaction and joy that you have left a legacy worthy of emulating.

"Moving into leadership roles gave me opportunity to support others in doing the work I found so deeply satisfying. The executive practice level provides an expanded view of the organization and how all the moving parts work together. Stepping into the Chief Executive Officer role gives me the opportunity to deepen and broaden the hospital's reach into the community in partnership with key community leaders."

Janet McIntyre
Leadership Burbank
McIntyre is a communications strategist, writer and editor, and facilitator, with clients in Southern California and the Midwest. She supports organizations in change management initiatives dependent upon internal and external communications. She has extensive experience in crisis communication, helping clients communicate with major national news organizations in times of difficulty. She is a facilitator of leadership and communication at Woodbury University, and leads tailored programs for the City of Glendale, the City of Burbank, and Leadership Burbank.

McIntyre says, "I have been fortunate to have had many mentors, going back to my days as a young newspaper reporter when veteran reporters and my managing editor were patient enough show me the way, as well as correct and cajole. Camaraderie is important in the newsroom and these veterans included me in their work banter and lunch/post-deadline gatherings, where I learned life skills. When I shifted to corporate communications work, I was able to learn from an executive who remains a valued mentor to me today. As I have become more experienced, I have tried to provide mentoring for others, especially young women, who are finding their way.

"My definition of success is related to self-awareness, self-motivation, social awareness, and managing relationships. Using that framework helps me stay focused on being a productive person both personally and professionally."

McIntyre has recently started work on a doctorate in organizational leadership as a way of exploring new possibilities. She is a featured panelist in the Leadership Retooling session at the September 26 Business Healthcare Conference.

Chris Otero
Chair Pasadena Mayor's Committee of
Employment of Individuals with Disabilities.
AbilityFirst
Otero has been a Social Worker with AbilityFirst for ten years, and in the social services field for 20 years. She ensures that the over 300 residents with disabilities living in AbilityFirst Housing are connected to supports they need to live independently and to be active participants in their communities. She is also the Volunteer Program Manager for AbilityFirst, reaching out to those who want to help. "We strive to provide opportunities for people with disabilities to lead full and productive lives, including employment, accessible housing, camping, and recreational and socialization programs," Otero says.

"Volunteering in the community increases my awareness of challenges and obstacles many of our citizens face every day. I serve as the Chair of the Pasadena Mayor's Committee for the Employment of Individuals with Disabilities. Appointed by Supervisor Antonovich, I am also the Chair of the Governing Board of the Personal Assistance Services Council of Los Angeles County. This organization oversees In Home Support Services. The program enables many seniors and individuals with disabilities to remain independent in their homes and communities and out of institutions. I hope that by serving I will be able to make life a little better for some people."

Martha Preciado, M.D., F.A.C.C.
American Business Women's Association
Verdugo - Glen Chapter
Assistant Professor UCLA School of Medicine
The principal and CEO at Preciado Cardiology, Inc., Preciado strives for excellence in treating cardiovascular diseases in the community, especially in the Latino community; and she works to educate the community so there is a greater awareness of how to prevent cardiovascular disease.

She focuses on teaching medical students and residents ethics and awareness of the importance of community involvement, not only the technical skills they need.

"I had no mentors, and grew up in a poor community where I had to work extremely hard. God gave me two great parents who led by example, and always gave me the courage to follow my dreams," she remembers. "My parents gave me the strength to pursue my dreams, and this belief gave me the gift to pursue my higher education at UCLA Medical School.

"My definition of success is a life with purpose. Pursuing everything possible and fulfilling your ultimate dreams and passions. Success is measured by giving back to your community, family and setting good examples for others. Being compassionate, empathetic, and ultimately making a positive difference in others lives. This is ultimate success."

Preciado belongs to the American Business Women's Association, Verdugo/Glen Chapter and is currently Vice President. She recently went on a two-week mission to Kenya with Ordinary Women, where she participated in an assistance program for an orphanage, worked as a physician, and taught in the hospital.

Jacqueline Robinson
Pasadena City Council
Elected and in office since 2007, Councilmember Jacque Robinson is currently serving her second term as member of the Pasadena City Council. Councilmember Robinson represents Council District 1 where she works cooperatively with her council colleagues developing policy to administer municipal services for residents, business, and visitors of the City of Pasadena.

She believes her life has come full circle in that she is now serving the community where she was born, raised, and nurtured. As a youth, Jacque was not exposed to City Hall, so as an elected official she began an intern program to expose college students to the inner workings of City Hall and hopefully encourage them to run for elected office or work for the public sector in the future.

She is a firm believer in the mantra, "Don't talk about it, be about it," and is committed to leaving a legacy of revitalizing the Lincoln Avenue Corridor and providing ongoing resources and opportunities to youth and young adults of the city.

Helen Romero Shaw
Southern California Gas Company
Public Affairs Manager
Responsible for the management of Public Affairs functions for ten cities in the west San Gabriel Valley as well as several communities in the City of Los Angeles, Shaw manages company relationships with political, business and community leaders as well as the media.

Her goals are to work with fields operations on serving ratepayers, creating opportunities to highlight the company's focus on energy efficiency and renewable energy, and strengthening relations with key stakeholders.

"My very first mentors were my older sister Amparo and oldest brother Tom who encouraged me to obtain a college education and as a backup to acquire marketable skills so as to support myself. At The Gas Company, I have had 2-3 managers who have provided good feedback in improving my set skills in the various positions I have held. I am now mentoring two young professionals. While they are well educated, I give them advice on how to manage the corporate system.

"I define success as feeling good about what you are doing professionally and personally and performing related activities as best as you can.

Shaw serves as a commissioner with the Los Angeles City Workforce Investment Board, as well as the Los Angeles County Workforce Investment Board (LA County Supervisor Gloria Molina and Mayor Antonio Villaraigosa's appointee, respectively). A board member of the San Gabriel Valley Economic Partnership , she co-chairs the Marketing Committee. She also is a board member of the San Gabriel Valley Public Affairs Network, immediate past president of the Arcadia Chamber of Commerce, and a board member of the United Latino Fund.

Linda Weaver
President of FABAG
Filipino Children's Foundation
As president of the Filipino American Business Association of Glendale, Weaver recognized the importance of scholarships for deserving Filipino students in the Glendale Unified School District; several Filipino students have been recipient of these awards.

Part of the committee in assisting Filipinos in Glendale to exercise their right to vote; FABAG created a Political Action Committee and did phone banking to get the vote out during elections in Glendale.
As a member of Soroptimist International, Glendale, Weaver has recruited volunteers to work on fundraising for the Glendale Rose Float.

She has worked with the Department of the Navy, Fannie Mae, and now OneWest Bank. "Professionally, my career changes were to my advantage," she says. "I matured and expanded my knowledge and experience.

"I met my mentor at Fannie Mae, Gilmer Boggs. He taught me everything I know in mortgage servicing. It's gratifying to help. With the Filipino Children's Foundation, we raise funds for charity and humanitarian project in the Philippines. We provide food and medical assistance to street kids, abandoned disabled children and impoverished youths. Our goal is to sustain our current level of commitment and add more children to our feeding and early education programs."

Weaver was also her husband Dave Weaver's campaign manager six times since he started running for Glendale City Council, with last year being an exception.

Sue Wilder
President
Verdugo Hills Hospital's
Women's Council
Wilder retired from the Walt Disney World Co. in 1994, after 24 years with Disney, primarily in the Human Resources area. One of her career highlights was being on the opening team for the Disneyland Paris resort.

Currently President of Verdugo Hills Hospital's Women's Council for 2011, her goal is growing the membership and raising significant amounts of money through the council's premier event and other fundraising efforts.

"The Women's Council of Verdugo Hills Hospital is growing. Our monthly programs and other events attract potential new members. The Women's Council has existed for over 30 yrs, and has morphed many times, gaining new members with diverse backgrounds. This year our signature fundraiser is a new venue, and its planning has greatly energized the group."

Her motivation to get involved began with observing the excellent care her father received at the hospital. "My passion is to support this non-profit to continue providing for our community."

Geraldine Yumping
President Soroptimist International
The Verdugos (SITV)
Yumping is the CPA/Accounting Manager for Catholic Charities of Los Angeles, Inc. She has been a CPA for 12 years.

"Catholic Charities of Los Angeles provides services to the poor and vulnerable, promoting human dignity and advocating for social justice. I am also the current President of Soroptimist International of the Verdugos (SITV) and our goal is to help enrich and improve the lives of women and girls.
"We are trying to reach out to the younger generation because they will be the future of the Club. We entice them by letting them join our meetings and see us in action. We also give incentives to current members to encourage them to bring in new members.

"I wanted to help women and girls, as I know what issues they go through, so I can help them better. I have learned a lot about myself and how to empower women in the community and society. I know that as an organization of women, we can make changes in people's lives."

Business Life staff Elise Kalfayan, Elsie Krikorian, Shant Krikorian and Raffi Serafino assisted in edition, proofing, gathering data for this story. Copy provided by the selected women achievers. This coverage will appear on our website: www.businesslife.com Photography As An Art, By Harvey Branman.