Linda Read is driven by dual passions: Making good and doing good. She owns 11 Auntie Anne's pretzel franchises in malls stretching from Central California to San Diego, providing employment to 130 workers, mostly students and other young people. She's a hands-on manager, making good on every element of the business on a real-time basis, overseeing the business through hundreds of e-mails a day and thousands of miles annually visiting the stores. She has an equal passion for doing good, rooted in her prior profession of philanthropy and her deep religious faith.

Her 11 Auntie Anne's stores represent one percent of the chain's 1,100 stores worldwide, and she owns the largest number of franchises in California. Her Pretzel King, LLC is one of the larger women's-owned businesses in Los Angeles County, based on comparative statistics in the Los Angeles Business Journal Book of Lists.

Auntie Anne's sells fresh, hot, hand-rolled pretzels. The company's passion for freshness means that Auntie Anne's stores do not sell any pretzels after 30 minutes. The unsold pretzels are picked up by local charities and re-heated for distribution at food banks. Employees roll the dough into long ropes. Then, holding both ends, toss the rope in the air, twisting it into the familiar pretzel shape in a complicated motion before it returns to the counter ready for the oven. The company was started in Pennsylvania in 1989 by Anne Beiler, following on her success with a family recipe at local farmers markets. Five years later Linda Read was one of the first to open Auntie Anne's stores in California.

Read has one store in the Glendale Galleria and two stores in Westfield Santa Anita in Arcadia. Her other stores are in Northridge, Downey, San Bernardino, Moreno Valley, Bakersfield, Tulare and Escondido.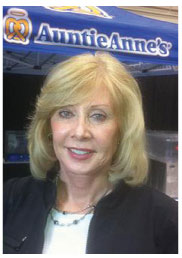 She oversees her far-flung operation from Glendale, where she has lived for 29 years. Raised in Piedmont in the Bay Area, she came south for political science undergraduate and graduate degrees from UCLA and USC and never went back. She was an intern in a Congressional office in Washington, DC, and, after earning her master's degree, she worked in the headquarters of the Los Angeles County Republican Party. She next joined the staff of Southwestern Law School and was soon running the school's development department as one of the first female executives in the fund-raising profession. She became president of the Henry Mayo Newhall Memorial Health Foundation and was later president of the Glendale Memorial Hospital Foundation.

She left the world of fund-raising management to begin her new career in franchising, but she did not leave the world of philanthropy. She has been generous to a number of causes she believes in, including work with the homeless.

Through her company she donates hundreds of cases of water every month for the Union Rescue Mission Water Walks along Skid Row. She also provides thousands of pads of "prescriptions" for hospital emergency rooms, pediatricians and dentists to "prescribe" free pretzels to their young patients, bringing a happy smile to the end of sometimes traumatic hospital or office visits.

As a community service her stores host dozens of youth and adult groups for free behind-the-scenes visits to Auntie Anne's stores. There the guests learn about the fascinating history of the pretzel – the oldest of the snack foods – and learn to roll their own pretzel. The students are rewarded with an Honorary Pretzel Roller certificate, and, of course, their own freshly baked masterpiece. These field trips are especially popular with Girl Scout and Brownie troops, where an activity badge and partial qualification for a merit badge are bonuses. They are also popular with Red Hat Society chapters.

She is married to Nat Read, a public relations executive and author who is currently writing a children's book about pretzels. They live in Glendale. She has two sons, Jonathan and David.