Four of the San Gabriel Valley's most outstanding individuals and one exceptional business are amongst those honored at the San Gabriel Valley Economic Partnership's 8th annual San Gabriel Valley Awards Gala held recently at the Annandale Golf Club in Pasadena.

"This year's honorees are some of the most prominent leaders in our region," says SGVEP Chair Glenn Wallmark and Partner at Lucas, Horsfall, Murphy & Pindroh. "They represent what we define as our mission which is to foster the success of business to enrich the quality of life in the greater San Gabriel Valley."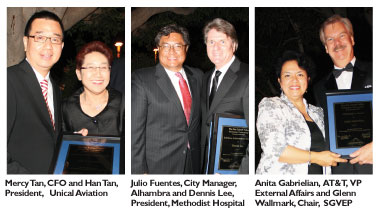 USC President C. L. Max Nikias was honored with the Exemplary Education and
Business Leadership Award; Port of Long Beach Executive Director Richard Steinke was the recipient of the Green Business Award; Methodist Hospital President Dennis Lee is the recipient of the Lifetime Achievement Award; Unical Aviation, one of the largest aviation suppliers in the world is the recipient of this year's Business of the Year Award. This year's Chairman's Award goes to Anita Gabrielian, Area Vice President, AT&T External Affairs, LA for her leadership, dedication, and continuous involvement in the communities she serves. For more information please visit: www.valleyconnect.com.