The Museum of Making Music – a Carlsbad destination chronicling the history of the American music industry – has renamed its retail space The Charles Museum Store after a generous donation by prominent instrument retailer Ruth Charles.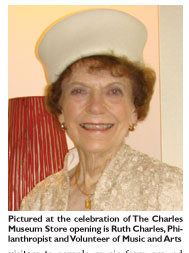 Charles is a longtime patron, philanthropist and volunteer of music and arts in Southern California. Along with her late husband, Dick Charles, the two ran Charles Music, one of Los Angeles's most successful full-line music stores, for more than 40 years. As an avid musician and instrument retailer, Ruth Charles exemplifies the Museum of Making Music's mission to celebrate innovation and encourage music making in future generations.
This year, Charles made a generous donation to the Museum of Making Music, a move she considers a continuation of the important work she and her husband began with their music store.
"Two people can build their entire lives and family around such a wonderful thing of not just selling music, but bringing music and being music to a community," said Dennis Houlihan, former president of Roland Corporation U.S. and Museum of Making Music advisory board member. "That's what Dick and Ruth Charles did and it's a great lesson to anyone who visits the Museum."
The Charles donation, coupled with a large contribution from an anonymous donor, allowed the Museum of Making Music to undergo a significant renovation this summer. The changes were aimed at increasing visitor engagement with musical instruments and updating the story of musical innovations to include the 19th century to present day. A special exhibition area was created to house the Museum's self-curated temporary exhibitions, and the Museum's retail store was updated and renamed The Charles Museum Store.
"Ruth and Dick Charles saw a variety of instruments come and go through their store and witnessed firsthand the innovations of the music products industry over the years," said Carolyn Grant, executive director at the Museum of Making Music. "We are honored to have the Charles Music Store continue to be a part of the story of music making that we tell here at the Museum of Making Music."
Since opening in 2000, the Museum has exposed visitors to the history of music through educational programs, exhibitions and its live performance series. Four of the Museum's galleries showcase musical innovations in a given time period, with "breakthrough" instruments considered to significantly impact the industry identified in each era. The Museum's fifth gallery offers nearly 1,100 square feet of state-of-the-art interactive displays, including an innovation studio with instruments and tutorials. The "Global Spotlight" allows visitors to sample music from around the world and the special exhibition area gives visitors access to instruments on loan from collectors and other museums.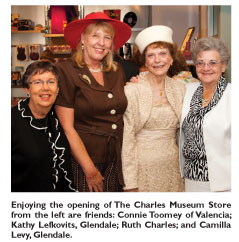 About the Museum of Making Music
Since opening to the public in 2000, the Museum of Making Music has become a cultural destination with interactive and educational programs and exhibits. The Museum showcases the evolution of musical instruments from the late 19th century to present day in five galleries, and regularly hosts intimate concerts and hands-on workshops to introduce the public to the history of American music products.
The Museum of Making Music is located at 5790 Armada Drive in Carlsbad, Calif. General admission to the museum is $8; $5 for students, seniors and active military. Children-ages five and under receive free admission. The Museum is open Tuesday through Sunday, 10 a.m. – 5 p.m., and is closed Mondays. For more information, please call 760/438-5996 or visit www.MuseumofMakingMusic.org.