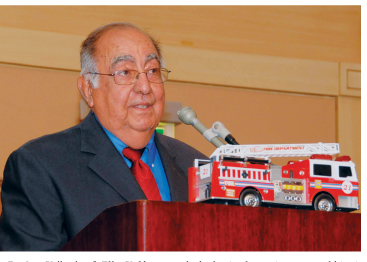 By Greg Krikorian & Elise Kalfayan

The Glendale Sunrise Rotary recently honored our own Business Life publisher John Krikorian with its annual "Service Above Self" Award, presented at the Glendale Fire Department luncheon on October 12 at the Glendale Hilton. Shortly after beginning his acceptance speech, Krikorian collapsed on stage and suffered a major heart attack. Firefighters and paramedics in attendance responded immediately to the stage and performed CPR. Emergency vehicles rushed Krikorian to Glendale Adventist Medical Center. Within hours he had gained consciousness and his vital signs had stabilized Glendale Battalion Chief Greg Godfrey noted. Krikorian spent three weeks hospitalized, and is currently maintaining a steady recovery.

Glendale Fire Chief Harold Scoggins sent this message to Business Life, "I would like to thank John for his ongoing service to the community; all the members of the Glendale Fire Department wish him a full recovery."

"We all love John," said Zaven Kazazian, immediate past president of the Rotary club chapter. "He has been such a cornerstone of business and social activities over the many years he's been in Glendale. He's made an overwhelming contribution to the community."

Krikorian has over 50 years of marketing experience and serves on numerous boards; including, the Los Angeles County Small Business Commission, County of Los Angeles Human Relations Corporate Advisory Council, Glendale Adventist Medical Center Advisory Council, Pasadena's Mayor Disability Award Committee, Woodbury University President's Executive Council, and Pasadena Special Olympics. His past service includes work with the Foothill-Pasadena Branch of the Los Angeles Urban League, Glendale-La Crescenta Red Cross Chapter, Glendale President Advisory Council, Burbank and Pasadena Chambers of Commerce, Consumer Advisory Panel for Sempra's Gas Company/County of Los Angeles Area. He is also associated with the San Gabriel Valley Economic Partnership, Valley Industrial & Commerce Association and the Valley Economic Alliance

A native of Hartford, Connecticut and graduate of Bryant University, Providence, Rhode Island, Krikorian served as a sergeant during the Korean War and is a U.S. Army Veteran. He was Vice President/Advertising Director of a Times (now Tribune) newspaper in Hartford, before arriving in the Glendale area in 1989. He established Business Life in 1990, and over the years has sponsored and hosted many business events, including the well-received Women Achiever awards, and the "2010 Economic Recovery Forum: Access to Capital & Creating Jobs" at Woodbury University. This along with the co-sponsorship of a special forum with the Foothill Workforce Investment Board at the Pasadena Convention Center.

The Rotary Club honored Krikorian's great ability to communicate and to build bridges in the community - both essential talents for turning good ideas into accomplishments. The program also recognized his company's business concierge website, www.BusinessLife.com.

Among Krikorian's many other achievements and honors was his profile in The Business Renaissance Quarterly ( Vol 6, Issue 1 - Spring 2011) as a Business Renaissance Executive, and his selection as "Small Business Journalist of the Year" in 2010.

Married to Elsie (Manoogian) in 1956, they have eight children and 22 grandchildren. His parents immigrated to the U.S. as orphans and survivors of the Armenian Genocide of 1915.

The Business Life family offers our heartfelt thanks to the Glendale public safety professionals who were on hand to provide expert emergency care; and sincere congratulations to John Krikorian on this well-deserved award for his tremendous commitment to the community. The family also extends their appreciation to the many prayers, get well wishes, flowers and telephone calls from all corners of the country. John sends his God Bless to all those that care. Most certainly God's Angels were in his corner that day.