By: Elise Kalfayan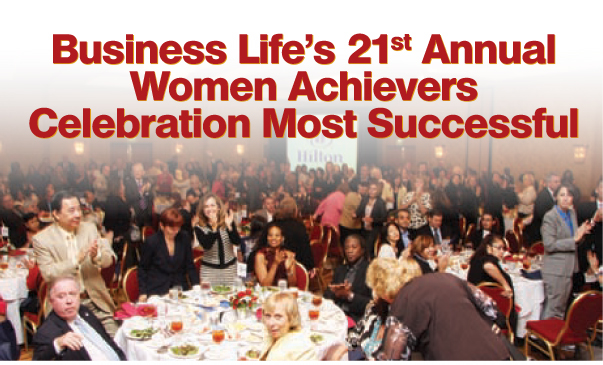 A great turnout for morning workshops, and a capacity audience of nearly 600 in attendance at the Glendale Hilton Ballroom showed strong support for Business Life Magazine's annual Women Achievers event of 2011.

Glendale Mayor Laura Friedman welcomed luncheon guests by challenging them to increase the percentage of women business leaders. Regional Vice President of AT&T Anita Gabrielian urged women to continue seeking challenges as she has done throughout her education and career. NBC4 News Anchor Beverly White inspired the audience with stories of three "Women Making News," ending with Jill Abramson who had just been named Executive Editor of the New York Times. White compared Abramson's new role to the changing role of media in general, and thanked event organizer Business Life Magazine's publisher John Krikorian for his service in producing a great magazine and reporting news across the region. She urged the audience to "Buy the news and read it!"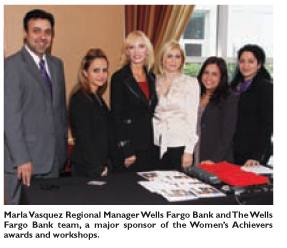 Jennifer Balajadia, a Woodbury University student, was on hand to receive the event's annual scholarship award recognizing a worthy student majoring in Marketing & Communications who is giving back to the community. Presently working at the Walt Disney Company as an undergraduate associate on Corporate citizenship, Balajadia has been working alongside Hanze University in developing a game for the War Child Organization that would introduce normalcy back into the lives of Children of Sudan affected by war.

Major event sponsors included Woodbury University, Wells Fargo, Pacific Federal, Glendale Adventist Medical Center, Charter Business, Metropolitan Water District of Southern California, Southern California Gas Company, and the City of Burbank. In addition, there were 36 table sponsors and 15 exhibitors (including the Foothill Workforce Investment Board's mobile training facility). The day started off with free job search and career workshops.

Organizing committee member Lynne Raggio served as official host for the first early-bird workshop, conducted by PCC Community Education Dean Rick Hodge, Foothill Workforce Investment Board Analyst JB Barakat, and Manpower Client Relationship manager Marcelle Thorne. "We had about 53 attendees," reported Raggio. "They got some excellent information about what the future holds regarding jobs, and how to retrain for better job opportunities."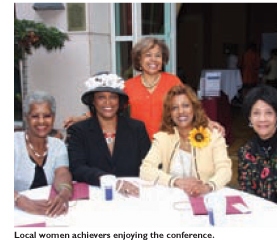 The focus of the business community/career event was health care, and Raggio also hosted a later morning workshop on the impact of healthcare reform. Small Business Majority's California Outreach Director David Chase and PacFed Benefit Administrator Lori Brogin, Esq. discussed health care trusts, their compliance with federal and state law, and what options will be available in 2014 for sole proprietors and small business operators with a list of various insurance programs to choose from. More than 60 people came to hear the experts' predictions for business health care plans. "I heard nothing but positive responses from attendees at these workshops; this was a very well-received conference," concluded Raggio.

Juanita West-Tillman hosted the event workshop focusing on capital, contracting, and certification opportunities, and introduced Wells Fargo Senior Vice President/Regional President Marla Vasquez, and Metropolitan Water District Business Outreach Manager John Arena. These speakers presented tips, procedures, and requirements for small businesses and entrepreneurs to obtain loans or qualify to bid on government projects.

Former Burbank Mayor Marsha Ramos introduced Harrison-Chevalier Inc. Senior Vice President Derrick Chevalier, a business skills, strategy, and negotiating training consultant, who conducted a morning workshop on balancing work, health, and family priorities. Chevalier is a Business Life contributing editor, and published a summary of his tips in last month's issue.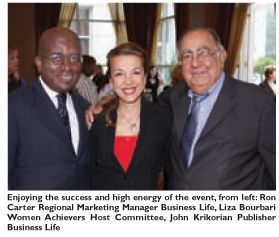 Ramos also introduced a four-woman team of presenters at the last workshop session: former Burbank City manager and Woodbury University Adjunct Professor Mary Alvord (who was also a 2011 Woman Achiever honoree), Woodbury University VP of Student Development Dr. Phyllis Cremer, former Burbank Community Development Director Sue Georgino, and Woodbury University Leadership Academy Facilitator Janet McIntyre. Leadership Retooling Skills was their subject, and their message to women was to be proactive and continually prepare for the next level of responsibility and challenge.

Developing women in business and community leadership roles was the underlying theme of the conference, and this last workshop got rave reviews for its practical suggestions. Alvord outlined the steps to developing and fine-tuning a personal mission statement. Cremer specifically encouraged attendees to keep reading in their field and reading broadly so that they can be mindful of issues coming up in their field and in the world at large. Georgino quoted a recent TED presentation focused on women, saying the keys to success and gaining a leadership role include staying engaged in the workforce, staying at the table, making real partners, and remaining committed ("don't leave before you leave!").



McIntyre drew on lessons from the book "Switch" on moving forward into leadership roles. She stressed making contacts with people that share a common mission, finding and maintaining relationships with people that boost positive energy, and following bright spots along individual paths toward what is working well.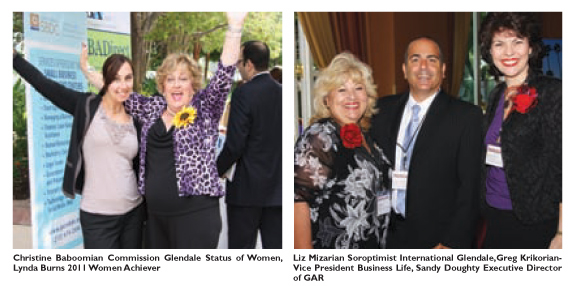 All the morning sessions were organized and offered free to all who attended, and they provided much useful information and encouragement for students and job seekers, as well as established professionals and employers. The luncheon that followed celebrated women who have overcome obstacles, set high goals for themselves, and focused on giving back to the community and encouraging others.

Honoree Jacqueline Howard, Vice President of LINKS, commented, "I was very honored to have been selected to receive the Women Achievers Award and will always remember how wonderful I felt being among such distinguished women. Each of us had diverse backgrounds and took different career paths but we all had one common denominator—SERVICE." Howard continued, "Attendees had an opportunity to see extraordinary women who were role models in their communities and in the world. Women in charge, women leading the way. I would recommend to women beginning their service to find an organization that they are passionate about and volunteer their services. Focus on one or two organizations and do not over extend yourself - quality time not quantity time! The rewards outweigh the sacrifices in creating a volunteer legacy. There is nothing better!"

Helen Romero Shaw reflected on the impact of the event for her: "When I walked into the luncheon hall with my other women achievers, I could feel the excitement and energy of the audience. I felt very proud to be in the same company of the other women who have achieved outstanding personal and professional goals. My company guests were impressed with the caliber of women being honored and felt this was an excellent event. They also commended Business Life for the cover shoot!"

Shaw continued, "I advise other women to finish their education and/or vocational training. But most of all, in whatever you do, do it well! A good education and strong work skills are important for success. Also, you will not need to depend on others to attain financial stability."

"I was very impressed and quite humbled to be selected as one of Business Life's Woman Achievers 2011," said Linda Weaver. "What I got out of this is how incredible these women are and how much women have achieved in life. The same goes for all of my guests (Weaver hosted three tables at the luncheon). All one has to do is read the Business Life Magazine's Women Achievers' backgrounds and contributions. In my opinion, this type of recognition sends a message to all communities that we are a 'vital organ' in families, business life, volunteerism, and career. In today's environment, more women are getting involved in other career capacities. For example, you see more women doing sports announcing in high school, college, and professional games, More women in broadcasting, more CEO's and women receiving Nobel prizes. We've come a very long way!"