By: Stuart Waldman



Each year, the Valley Industry and Commerce Association (VICA) brings together business leaders, academics, economists and elected officials to look at what the upcoming year holds for the business community. Our annual Business Forecast Conference includes an economic forecast, public policy panels and is capped with a notable luncheon speaker.

This year marked our 23rd Annual Business Forecast Conference and, with the recent years of economic downturn followed by slow recovery, Valley business people were anxious to hear what 2012 has in store. We chose the theme, The Big Economy That Should to explore how California can regain its reputation as a state of innovators and entrepreneurs.

Our state has the tools to be great again. There's a reason California is known as the Golden State and it's a tradition that extends far beyond the gold-rush days. During the breakfast forecast, economist John Blank (Kyser Center for Economic Research of the Los Angeles Economic Development Corp.) pointed out the many advantages California has to attract business. We are a state of skilled workers, which means California is home to more than its fair share of high-wage jobs. He also noted that California is number one in access to capital, with 50 percent of venture capital in the United States coming from the state.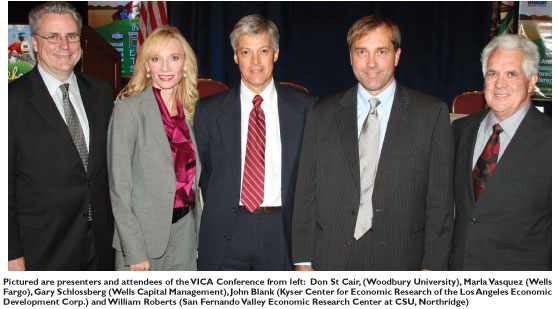 While these strengths should give us hope for economic recovery, there are many obstacles and burdens that our business owners fight every day. Gary Schlossberg (Wells Capital Management) and William Roberts (San Fernando Valley Economic Research Center at CSU, Northridge) joined Blank to complete the forecast panel.

All three economists agreed that California's broad and onerous regulations paired with a complicated tax structure make it difficult to do business in the state. In order for economic recovery to happen we need action from our elected officials. However, Roberts predicted that upcoming elections, or as he called it "the silly season," would postpone any legislative progress.

VICA understands the important role public policy plays in the success of businesses. The conference's breakout panels focused on legislative and business issues surrounding technology, tourism, real estate, banking and finance, transportation, green jobs and employment.

One of the eight panels was titled, Last One Out, Get the Lights and focused on businesses leaving our state. We thought this panel was important to include in this year's conference because so many businesses are finding better opportunities in other states, and these jurisdictions are happy to take the tax revenue generated by our former companies.

We all know California has a reputation for being unfriendly to business and as we continue to lose companies to neighboring states, we decided to address this issue from the perspective of a local business (Don Alecock, REM Eyewear), representative from a competing state (Sugar Land, Texas Mayor James A. Thompson), and California state (California State Senator Tony Strickland) and local officials (Austin Beutner, former deputy mayor of L.A. for economic development and L.A. mayoral candidate).



This panel reiterated many of the points made by our morning economists: regulatory burdens and difficult permitting processes are hurting business growth and costing the state jobs. Strickland, who served as the panel moderator, noted that Carl's Jr. is not opening new franchises in California because it takes two years to do so, compared to three months in Texas.

The business community has been saying for years that companies will leave California for better economic opportunities and this prediction has come to fruition in recent years. VICA wants to see our state return to its original luster, but we need strong elected leadership to make that happen. The situation is not hopeless, but it will take hard work and creativity to get California back on track.

As our keynote speaker and National Retail Federation President & CEO Matthew Shay told nearly 600 luncheon guests, "We can prove that our best days are still ahead. And we can turn The Big Economy That Should into The Big Economy That Can."



Stuart Waldman is president of the
Valley Industry and Commerce Association (VICA).
VICA is a business advocacy organization
that represents employers throughout the
Los Angeles County region at the local
state and federal levels of government.