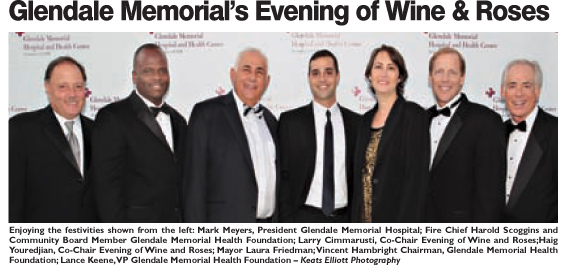 Over 700 people attended the 24th annual Evening of Wine & Roses event, held on the Glendale Memorial campus on October 3rd. The weather was perfect and the atmosphere enchanting. The Foundation raised over $320,000 to benefit the Emergency Department. Guests attending were treated to a wide array of delicacies from local restaurants and wineries. Enjoying the festivities shown from the left: Mark Meyers, President Glendale Memorial Hospital; Fire Chief Harold Scoggins and Community Board Member Glendale Memorial Health Foundation; Larry Cimmarusti, Co-Chair Evening of Wine and Roses;Haig Youredjian, Co-Chair Evening of Wine and Roses; Mayor Laura Friedman; Vincent Hambright Chairman, Glendale Memorial Health Foundation; Lance Keene, VP Glendale Memorial Health Foundation
Keats Elliott Photography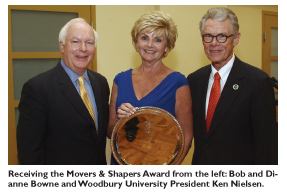 Former Burbank Mayor Bob Bowne and his wife Dianne were the recipients of Woodbury University's 2011 Movers and Shapers Award. They were honored at a luncheon at the school recently for their many years of leadership and community involvement. Receiving the Movers & Shapers Award from the left: Bob and Dianne Bowne and Woodbury University President Ken Nielsen.
The Burbank City Council recently appointed Sue Georgino to represent Burbank as member of the Burbank-Glendale-Pasadena Airport Authority Commission. Georgino has 35 years of experience in local government and community action. She fills the set vacated by the sudden passing of former Commissioner Charlie Lombardo.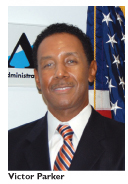 The U.S. Small Business Administration Los Angeles District Office welcomed a new permanent district director. Victor Parker took the Oath for Federal employees administered by Elizabeth B. Echols, Region IX Administrator, and became the newest and most senior SBA employee in Los Angeles District Office as its incoming district director. Parker has extensive management and leadership experience. Parker brings more than 15 years in management and was recently the Division Managing Director at Myers Stevens Group. The Los Angeles SBA District Office oversees SBA programs in Los Angeles, Santa Barbara, and Ventura counties. In addition, the district office supervises eight Small Business Development Centers, four SCORE chapters and four Women's Business Centers.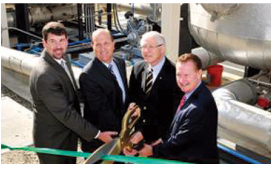 Los Angeles County Mayor Michael D. Antonovich, recently dedicated a new 9.2 Mega Watt Clean Energy Facility at the Santa Clarita Valley's Chiquita Canyon Landfill, converting methane gas from the landfill into energy."This successful public/private partnership generates electricity from the methane gas being produced from the natural process of decomposition and uses two M50 turbines to transfer clean energy to the cities of Burbank and Pasadena through a 20-year power purchase agreement," said Antonovich. "Reducing carbon dioxide emissions by more than 45,000 tons annually, a successful public-private partnership, spearheaded by Supervisor Antonovich, and supported by the Department of Public Works and Regional Planning, resulted in the development and construction of this innovative clean energy facility," said Jim Little, Senior Vice President of Waste Connections, the company which owns Chiquita Canyon Landfill.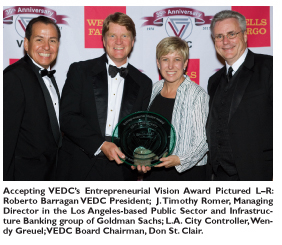 VEDC celebrated their 35th Anniversary with a "Celebration of Small Business" Gala on the grounds of Woodbury University recently. Nearly 500 community leaders and political figures gathered for the dinner and awards presentation honoring strong supporters in the business and banking worlds. VEDC paid tribute to: Wells Fargo Bank with the Investing in the Future Award, Goldman Sachs' 10,000 Small Businesses Initiative received the Entrepreneurial Vision Award, Congresswoman Lucille Roybal-Allard was the recipient of the Hero Award and JPMorgan Chase was honored with the Bank Partner Award.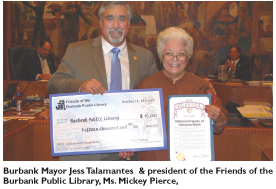 The Burbank Public Library has received a check from the Friends of the Burbank Public for $15,000 to replace books damaged in last April's incident involving a burst water pipe. The April 9th flood ruined over 1,000 library books in the travel, history and biography sections. While many of the books were out of print and can't be replaced, the cost of recovery has been estimated at $25,000. The Friends of the Burbank Public Library is a volunteer non-profit organization dedicated to providing financial support through fundraising activities. For further information, call 818-238-5551. Ms. Mickey Pierce, president of the Friends of the Burbank Public Library, presented the check to Mayor Jess Talamantes at the October 18th Burbank City Council Meeting.
Gary Breaux, who has worked for more than 25 years in local government finance, has joined the Metropolitan Water District of Southern California as assistant general manager and chief financial officer. He succeeds Tom De Backer, Metropolitan's controller who served as interim CFO following the retirement of Brian G. Thomas. "Gary possesses strong finance skills and will bring new and innovative approaches to our financial organization," said Metropolitan General Manager Jeffrey Kightlinger. "He also brings strong and proven communication and presentation skills that enhance our ability to discuss issues and proposals with our board members and the public."
Two new members of the California Lutheran University Board of Regents were recently installed during Founders Day Convocation. The new regents are Rick Lemmo, senior vice president of community relations for Caruso Affiliated, and Deborah Sweeney, CEO of My Corporation. They will serve three-year terms on the 31-member board responsible for helping to guide the policies of the university. The following regents were re-elected to three-year terms Ted Jensen, a retired flight test engineer with Hughes Aircraft; Bill Krantz, former principal with Boston Partners Asset Management; Susan Lundeen-Smuck, vice president of human resources for Kythera Biopharmaceuticals; Ron McDaniel, president and CEO of California Credit Union; David Tiede, president emeritus of Luther Seminary; and Tim Wennes, vice chairman and chief retail banking officer of Union Bank. CLU is a selective university located in Thousand Oaks, with centers in Oxnard and Woodland Hills for graduate courses and its Adult Degree Evening Program. For more information, visit http://www.callutheran.edu.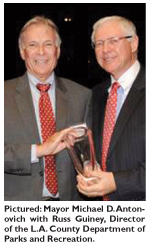 "People for Parks" honored Los Angeles County Mayor Michael D. Antonovich with the 2011 "Park Heroes" award for his efforts in acquiring, expanding and developing county parks, gardens, golf courses, trails and open space areas. "Our public parks and trails are a vital component in our effort to improve the quality of life for County residents," said Antonovich. "Despite challenging economic times, our county has been able to keep our parks open while expanding and improving our parks and trails infrastructure." Pictured: Mayor Michael D. Antonovich with Russ Guiney, Director of the L.A. County Department of Parks and Recreation.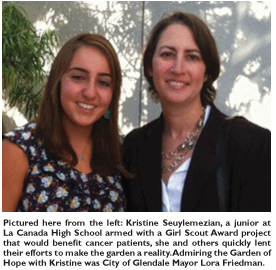 Cancer Services at Glendale Adventist Medical Center recently opened the 'Garden of Hope' for Patients to have a tranquil place to enjoy. The Garden is a place where patients can pass time while waiting for their rides and others can relax in the Zen-type garden. The idea came from Melina Thorpe, a cancer survivor, and became a reality with the help with several others. Pictured here from the left: Kristine Seuylemezian, a junior at La Canada High School armed with a Girl Scout Award project that would benefit cancer patients, she and others quickly lent their efforts to make the garden a reality. Admiring the Garden of Hope with Kristine was City of Glendale Mayor Lora Friedma