A pictorial review of a very special appreciation luncheon for the many Guardian Angels at the Glendale Fire Station sponsored by th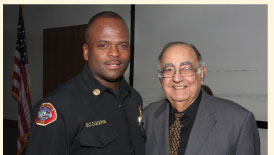 e Krikorian Family and Business Life/Senior LIVING Magazines.
Glendale Fire Chief Harold Scoogins and John Krikorian, Publisher, Business Life and Senior LIVING Magazines.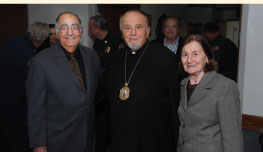 Blessing the special event from left, Krikorian, Archbishop Vatche Hovsepian, Western Diocese, Armenian Apostolic Church and Arshagouhi Tavitian (mother of Drs Ara and Avo Tavitian)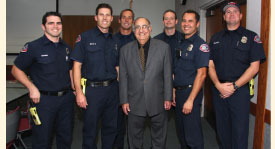 Glendale Firefighters and Paramedics, part of the Guardian Angels that saved Krikorian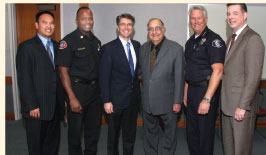 Enjoying the moment, from left Glendale Fire Chief Harold Scoggins, Robert Kevin, new CEO Glendale Adventist Medical Center, Krikorian, Glendale Police Chief Ron De Poma and Rob Marchuk, VP of Ancillary Services ((includes Cardiac Services and the Cath Lab).
Sharing the appreciation event from left John Haedrich, CEO of Dreier's Nursing Care Center of Glendale, Jory Potts, President Glendale Sunrise Rotary Club, Krikorian and Zaven Kazazian, Co-Chair Glendale Fire Department Awards Lunch and Past President Glendale Sunrise Rotary Club. Krikorian was presented the Rotary "Service Above Self" annual award at the Glendale Hilton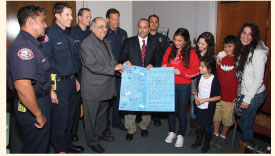 Seran Krikorian, with Seta, Sossy, Haig and Gayane Krikorian, representing 5 of the 22 Krikorian grandchildren, presenting a Thank You card to Glendale Paramedics, that all had signed. Looking on are Paramedics, Krikorian and Greg Krikorian, executive vice president, Business Life/Senior LIVING Magazines and Board member, Glendale Unified School District
Photos by Photography As An Art, By Harvey Branman 818-954-92944