Brief Cases...and Other Corporate News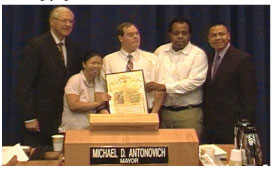 Foothill Vocational Opportunities, Inc. was presented with a certificate from LA County Mayor Michael Antonovich at the Board of Supervisors meeting in October. Foothill was recognized during National Disabilities Employment Awareness Month for providing vocational training, employment opportunities, and mentoring programs to individuals with disabilities. Foothill Vocational Opportunities' mission is to maximize the personal and economic potential of individuals with disabilities and other challenges through meaningful employment opportunities. With a 17,000 square foot manufacturing and production facility located in Pasadena and connections to over 100 businesses nationwide, Foothill provides jobs and vocational services to over 250 individuals each year.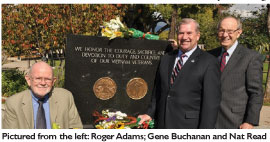 Three figures who have been extremely involved on Pasadena boards and in Pasadena events over the past decades got together on November 21 to celebrate the 50th anniversary of a long-ago, faraway time and place when the three entered the Naval Officer Candidate School in Newport, RI on the same day. Roger Adams, Gene Buchanan and Nat Read entered OCS on November 21, 1961. The three were among the 776 officer candidate cadets to survive the training and earn commissions as ensigns in the Navy on April 13, 1962. Officer Candidate School was a four-month crash program designed to augment the supply of Naval officers being trained in the Naval Academy and in campus NROTC programs for shipboard leadership at the height of the "cold war." The training was more mental than physical, subjecting cadets to a college-type 25-hour course load, washing out about 13 percent of the candidates in the process. Pictured from the left: Roger Adams; Gene Buchanan and Nat Read

Glendale's exclusive 4-Diamond hotel, the Hilton Los Angeles North/Glendale has recently promoted their Business Transient Sales Manager, Peter Choi to Senior Sales Manager after three years of service. Choi has been an integral piece in the hotel's success the past few years in these tough times. The Hilton Glendale, which boasts two restaurants, over 19,000 square feet of meeting space and 351 recently renovated sleeping rooms. For more information call: 818-551-4039.

Renowned health care executive Dr. Diana M. Bontá will lead The California Wellness Foundation as its next president and CEO, effective January 2012, announced David S. Barlow, chair of the Foundation's Board of Directors. Dr. Bontá, a nurse with a doctorate in public health, is currently vice president of public affairs for Kaiser Permanente's Southern California Region, where she has served since October 2004. A health care executive with strong public policy credentials, Dr. Bontá previously served as director of the California Department of Health Services and director of Health and Human Services for the City of Long Beach, among other executive health management positions.
Dr. Devorah A. Lieberman, Wagner College's provost and vice president for academic affairs, a nationally accomplished and innovative senior academic administrator and award-winning educator, became the 18th President of the University of La Verne when she officially took office on July 1, 2011. She will be the first woman in its 119-year history to hold the position. Dr. Lieberman has worked at Wagner since January 2004, overseeing the college's academic and curricular programs and strengthening diversity and internationalization initiatives.

Dr. Harold Hellenbrand, provost of the California State University, Northridge, has been named as interim president of the university and will serve in the capacity until a permanent president begins at the campus. Hellenbrand was appointed as CSUN Provost and Vice President for Academic Affairs in 2004. He also served as Dean, and Professor at the College of Liberal Arts at Cal Poly, San Luis Obispo from 1998 to 2004, and Professor at the College of Liberal Arts at the University of Minnesota, Duluth from 1994 to 1998. Hellenbrand began his tenure with CSU as a Professor of English at California State University, San Bernardino from 1982 to 1994.

The Southern California Association of Governments has awarded the distinguished Coro Fellowship to Margaret Finlay, Councilmember and four-time Mayor of the City of Duarte, for the 2011-2012 academic years. This prestigious fellowship is only granted to approximately 20 officials every year in the Southern California area. It is a nine-month program designed to help executives in the public and non-profit areas hone their leadership skills. The Coro Southern California Executive Fellows Program (EFP) is a part-time leadership program that enhances the skills of public officials to effect change in the communities they serve.