By: Linda LaZar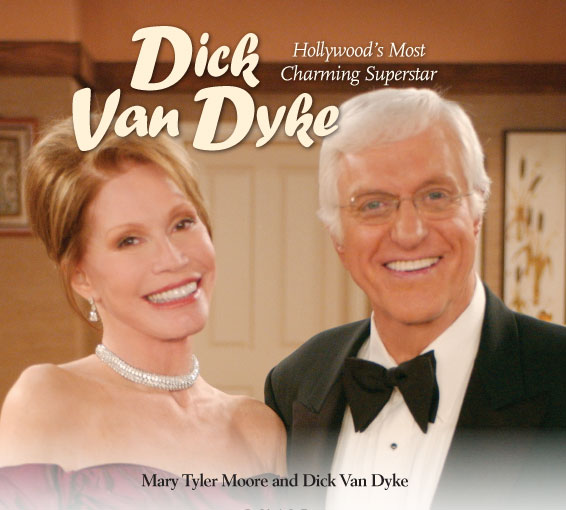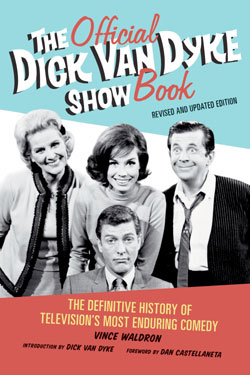 This year The Dick Van Dyke Show celebrates its 50th anniversary. Remarkably, in 1961 when the show began, it had such low ratings that it nearly didn't survive past the first season. If not for the tenacity and prodding of executive producer Sheldon Leonard, begging the show's sponsor Procter & Gamble to bring it back for a second year, TV audiences might never have had the opportunity to fall in love with Dick Van Dyke as Rob Petrie. The character unveiled an intimate view of Dick Van Dyke's unique qualities—his approachable charisma, a safe sexiness, and a charming boy-next-door quality enamored audiences. Van Dyke's handsome, silly, and kindhearted persona has now carried this iconic song and dance man into the hearts of 21st Century TV fans.

According to Vince Waldron's new book, "The Official Dick Van Dyke Show Book," Carl Reiner originally created the TV series out of desperation to find a quality script with a starring role for himself. After a few twists and turns of fate, Reiner ended up producing The Dick Van Dyke Show and playing the recurring role of a campy TV producer.
Executive producer Sheldon Leonard is responsible for introducing TV audiences to the talents of Dick Van Dyke. He discovered Van Dyke on stage in a production of Bye Bye Birdie on Broadway, instantly recognizing Van Dyke's charisma and talent, Leonard was determined to find a role for Van Dyke on TV someday. He recognized that Reiner's show would be the perfect fit.
Dick Van Dyke was born on December 13, 1925 in West Plains, Missouri and raised in Danville, Illinois. Although he grew up during the depression, he remembers those years as being filled with laughter in his home, due to his mother and father's abundant humor. His father was a salesman and his parents didn't discourage his pursuit into the entertainment field.
As a young man, Van Dyke was 6'1" and weighed 130 pounds. He was a star athlete at his high school, winning blue ribbons in track and field. Unfortunately, he was forced to stop running after being diagnosed with a heart condition (later determined by the U.S. Army to be a misdiagnosis). Deterred from joining the track team, he began acting, sang in an a cappella choir, and performed in musicals. Dick Van Dyke is the epitome of humble; he claims that he was easily cast in shows due to the fact that he was tall and consequently noticeable on stage, and his voice was strong and could be heard in the back of the room.

Van Dyke didn't believe he'd ever have the chance to go into entertaining as a career. At 16, during WWII, he found a job on radio and worked as a late night disc jockey and newsman until he joined the military. He originally began in the Air Force pilot training, but as the war was winding down, new pilots were no longer needed. He entered into Special Services and served as a performer in the military.
Last year his memoirs were released in a book, "My Lucky Life, In and Out of Show Business." He talks candidly about his life, his career, and his relationship with the women in his life. Van Dyke married Margie Willett in 1948 and later divorced. During the filming of The Dick Van Dyke Show, he and Mary Tyler Moore had a crush on each other. Since they were both married at the time, a romantic relationship did not developed from their crush. "If we had been different people, maybe something would have happened. But neither of us was the that type of person. Still, we were stuck on each other."
Van Dyke begins his memoir candidly—he writes, "While I have reached that point in life where, like it or not, I am circling the drain, I am happy to report that I am still with all my wits and faculties, still working, still getting calls, and counting my blessings for all of the above."
He quickly introduces the love he felt for Michelle Triola (former live-in girlfriend of Lee Marvin whose relationship is responsible for adding the term "palimony" to the American lexicon).
He describes Michelle Triola as his beloved companion of thirty-five years, and goes on to explain, "I always expected her to be looking over my shoulder when I wrote this book, reminding me of stories that I might have forgotten. Sadly, she succumbed to cancer shortly after I started this memoir. But in her battle, as in every other aspect of her life, she reminded me of the qualities that go into living a good, full, and meaningful life. Even though she hasn't been here with me, I have still employed her in this effort as my muse, asking many times throughout the process, 'Honey, what do you think of this one?' And it was with her rich, hearty laugh in mind that I decided to start this book."
As an actor, Van Dyke offered our lives, and our culture, a quality of character for which to aspire. His bright soul and enthusiastic persona sets a tone in our lives that is richly vibrant. On January 29, 2012, he will reunite on stage with his former TV wife Mary Tyler Moore at the 18th Annual SAG Awards, which airs on TBS and TNT.
You will be delighted by every word of his memoir, "My Lucky Life, In and Out of Show Business," which is available on Amazon.com for $16.50. And Vince Waldron's, "The Official Dick Van Dyke Show Book," offers an in-depth history of the show.