By: Elise Kalfayan



Dr. Thanh T. Nguyen is driven to preach prevention of heart disease to patients and to community groups. Dr. Nguyen specializes in interventional cardiology, and has served as Chair of Glendale Adventist Medical Center's Cardiology Steering Committee, as well as on the Neurovascular Science and Internal Medicine Committees. He currently serves on Glendale Adventist Medical Center's Institutional Review Board and as Director of its Chest Pain Center.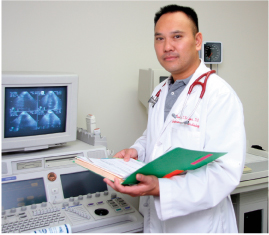 Dr. Nguyen, who has practiced in Glendale for the past eight years, established Excel Cardiology Group, Inc., in 2005 with the goal of providing compassionate, individualized attention to patients requiring cardiac treatment.
Coronary angiograms are the most common procedures Dr. Nguyen performs, to discover if arteries are blocked and to re-open blocked areas with stents. An angiogram uses catheters – thin, flexible tubes – which are much less invasive than bypass surgery, but still a dramatic intervention, he says. "I always tell my patients that I would like to have a predictable, boring relationship with them – helping them with their cholesterol, risk factors, family life, and preventive practices – rather than seeing them rushed to the hospital and opening their arteries."
Unfortunately, Dr. Nguyen has seen the disease population getting younger because of the obesity epidemic. "Obesity is related to a lot of 'co-morbidities' such as diabetes and hypertension," says Nguyen. "The lack of preventive education among some demographic groups where these are rampant is not helping."
Dr. Thanh Nguyen, Interventional Cardiologist
Board Certified in three subjects – Internal Medicine, Cardiovascular Medicine, and Interventional Cardiology – the last is his chosen specialty and focus. He received his D.O. (Doctor of Osteopathy from Western University of Health Sciences in 1994. He completed a residency in Internal Medicine at the Cleveland Clinic Foundation. He served as Chief Fellow during two subsequent fellowships: one in Cardiovascular Medicine at UC Davis, and the second in Interventional Cardiology at William Beaumont Hospital. He also contributed to several projects and his name appears on published research studies in specialized medical journals.
Angioplasty was first performed at William Beaumont Hospital some years ago. "The procedure of inserting stents is not 'new' but we can now do multi-vessel procedures, intervening in more than just one vessel," Dr. Nguyen says. "Sometimes we can either delay or prevent patients from having bypass surgery this way."
What are his hopes for the contributions of future research? "We keep focusing on finding the factor or factors that can help predict people who will develop heart disease," says Dr. Nguyen. "The hot topic now is genomics – doing a gene test to see if a patient is at high risk. The problem with heart disease is that by the time it is getting treated, it is already too late to repair damage. In the future, we need to get years or even decades ahead of what could happen."
He also points to research on blood chemistry: "Reducing bad cholesterol, and raising good cholesterol might reduce the chance of having blocked arteries or strokes."
Dr. Nguyen offers these tips to patients and readers interested in personal prevention strategies: "The main issue here is to identify your cardiac risk factors. If you parents have histories of heart attack or stroke, if you smoke, or if you are obese, you are at higher risk. We can help you from there, working with you on lifestyle modification, and hopefully preventing a stroke, heart disease, and visits to the hospital for angiograms or bypasses."
At educational meetings, hospital screening events, and other heart health programs, Dr. Nguyen has worked to get the word out to people seeking advice and has consulted with those who need follow-up. He also enjoys talking to local service clubs and other community groups about heart disease and what to do about it.
"The practice of cardiology has evolved in leaps and bounds as we are able to look at arteries of the heart, and unblock them. By going to the artery directly and by using specific drugs, we have been able to decrease mortality rates from heart disease," he says. "Ten to fifteen years ago, patients with heart failure had very high mortality rates, now they can live longer and have a better quality of life."