Most local residents in Southern California take water for granted, we use it, abuse it and waste it. But, there is a whole range of complex technical problems behind the simple act of opening a tap of water. The problems that Southern California faces could be served by a new institute that brings together the best minds to address resource, treatment and delivery challenges we face.
At the recent annual Water Technology Conference 2012 at La Verne University, political, industry and research leaders came together to discuss these challenges. Trammell Crow Company a major sponsor along with The Metropolitan Water District (MWD) representatives were on hand to discuss several major policy issues. The MWD, while serving 28 million people, needs the collaboration of many local municipalities that form an integral part of the system. La Verne U. has a vision of becoming a center for research and policy development. Bradley Cox, Senior Managing Director of Trammell Crow was part of a panel, along with Cynthia Kurtz, President of San Gabriel Economic Partnership discussing the "Growing Water Industry"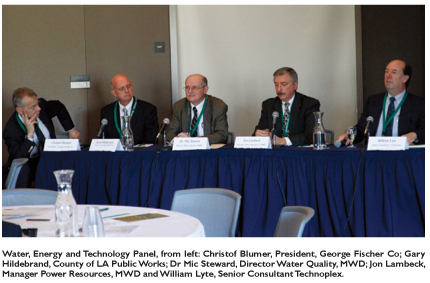 The underlying themes of the conference were in education and financing, highlighted by the need of an $11.4 billion bond issue that will come before California voters later this year. There is a huge backlog of deficiencies that stakeholders must decide to correct along with the other budget needs Californians face.
Timothy Brick, Director MWD was moderator of the panel "Water Funding, Engineering and Economy" . Panelist included Cecilia Estolano, of Estolano LeSar Perez Advisors LLC, who noted that the U.S. faces a crumbling infrastructure with an unmet need of $600 billion dollars. In Los Angeles County alone there are $127 billion in water related sales with 200,000 workers directly and indirectly engaged in the industry. Ms. Estolano estimates that for every $1,000,000 in sustainability investments 12 to 16 jobs are created. The bond issue would address significant local infrastructure problems while serving as a boost to the local economy.
Greg Dewey, Provost La Verne U. gave a special presentation on the prospects of launching "Water Institute". He proposing three options: 1. Should they create an incubator? 2. Should they create a think tank, or 3. Should they provide education for water technology jobs?
The think tank model might well be the easiest to get off-the-ground by inviting the best-minds in the business to Southern California, there is an urgent need in educating the replacements to retiring baby-boom engineers, biologists, chemists, and technicians. Such a program will make La Verne U. the center for careers in water-related technology.
But creating an effective outlet to meet the workforce development is just the start, politicians and those aspiring to leadership roles in water policy also need an immersion in these issues. As John Foley of the MWD urged, leaders need to surrender their parochialism. If politics is about who gets what, maybe this institute will help elected officials get the education they need to promote sound long-term water policy.
Source: Herbert Molano is a sales director for Solugenix, a software delivery firm to engineering, construction, consulting and other Professional Service Organizations. He can be reached at 818.974.6374 or Herbertmolano@Solugenix.com